J.D. Simo & Clay Underwood, Nashville Musicians
November, 28th thru December 6th
We are staying in Two Rivers Campground near Opry Land in northeast Nashville over the Memorial Day weekend. Two Rivers is the private campground we recommend for anyone visiting Nashville. We like it because it is $21 cheaper than the next best campground. When staying at Two Rivers Campground we pay $31 for water & 30-amps. Full-hookup and 50-amps are a bit more. But, and it is a big BUT the Yogi Bear Campground next door starts at $51 and goes up while the KOA a block away starts somewhere above that and the sky is the limit. In Nashville you are paying for LOCATION and Two Rivers Campground has LOCATION. Besides that they sponsor good entertainment in the park several times a week. When I say "GOOD" entertainment I mean FREE afternoon shows from the likes of Hot Damn out of South Florida, Paul Hill who operates out of Nashville and the incomprehendable Mel McDaniel who still resides in Nashville.
We normally look for 1/2 price PPA Campgrounds COE Campgrounds or National Park Campgrounds. But in Nashville, during the winter the COE Campgrounds are closed.
This travellog covers a December visit to Nashville where we spent some wonderful afternoons & nights with musicians performing in the honky tonks along Broadway (between 4th & 5th) Street.
We had planned to stay at Seven Points COE Campground but it was closed for the season so we stayed with our friends at Two Rivers Campground/RV-Park on Music Valley Road near the Grand Old Opry and the Gaylord Hotel complex. We like staying with Two Rivers because of their location and price. KOA and Yogi Bear flank Two Rivers Campground but they are MUCH more expensive.
When honky tonking in Nashville you just have to check out each honky tonk and see who is playing and the performers change out at 2PM, 6PM and 10PM so after each change you have to scout out who is performing at each venue.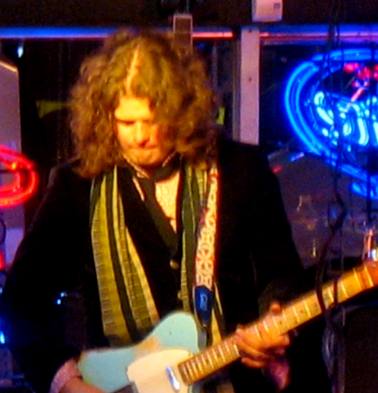 Around 6PM during the 45-minutes it takes for bands to change out in the Honky Tonks we generally head someplace to eat. Sometimes it is Jack's BBQ and other times it is Robert's. Robert's has the same house band every night featuring some really talented musicians. The base player spent 10-years with Johnny Cash's road band in addition to another lifetime with a variety of other performers of equal stature. But it is J.D. Simo, the 23 year-old sensational lead guitar player that we like to see in action. So many afternoons we will slip into Robert's to eat and watch the first hours of their show. J. D. Simo is so accomplished on the lead guitar that he is a regular studio guitarist that works cutting the new CD's. Only the best of the best work in the studio and he is only 23 years-old. What an excitement this young fellow is. Talk about tearing up a guitar, -- he rips it with every song.
When you visit Nashville make sure you stop by Robert's to watch J. D. Simo tear up that guitar like nothing you have ever seen. He plays from 6pm to 10pm most nights.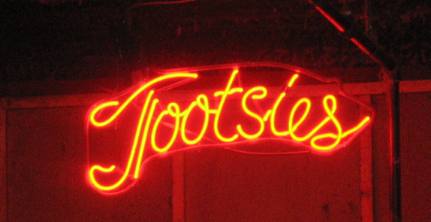 Tootsies was featuring Anthony Orio, Allen Duhon, and Clay Underwood simply great entertainers that we have enjoyed not only at Tootsies Nashville but Tootsies on Panama City Beach, Florida.
One night we were eating at Jack's BBQ located on Broadway between The Stage on Broadway and Roberts; two of our favorite honky tonks. A group of 30'ish young men in Nashville for the Brown's vs Titans pro football game on Sunday were eating at the table next to us. They were commenting on how much they had enjoyed the Grand Old Opry in the Ryman Auditorium that is until they went in Tootsies and watched Clay Underwood's show.
Then each expressed how much more they had enjoyed Clay Underwood's performance than the time they had spent watching the more famous performers at the Ryman with the Grand Old Opry.
We love Clay as well and were tickled to hear their comments about Clay being better than the show they had enjoyed so much at the Grand Old Opry. They all said that when they were next in Nashville they would hit the honky tonks on Broadway instead of paying big bucks to see shows in other venues.
Clay Underwood performs at Tootsies in Nashville and the Tootsies in Pier Park on Panama City Beach on a regular basis. If you are ever in Nashville or on Panama City Beach be sure to see if Clay Underwood is the featured entertainer at Tootsies honky tonk.
Ain't life grand?
That is all there is.
Taking a cruise on the General Jackson Showboat is something else to do when in Nashville. Check these links to read about our adventure on the General Jackson Showboat: Peking Acrobats, Delta Queen, General Jackson, Joyce touring the wheelhouse on the General Jackson.
Until next time remember how good life is.
Click here for more Nashville Attractions
Click here for Nashville Honky Tonks
Click here for Nashville Musicians
Click here for an index of our Tennessee Travel Adventures
Mike & Joyce Hendrix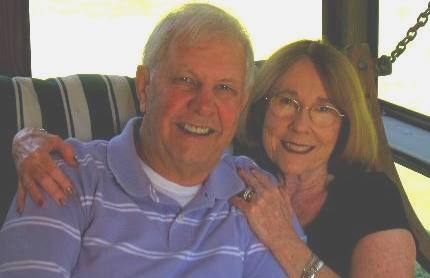 Mike & Joyce Hendrix who we are
We hope you liked this page. If you do you might be interested in some of our other Travel Adventures:
Mike & Joyce Hendrix's home page
Travel Adventures by Year ** Travel Adventures by State ** Plants ** Marine-Boats ** Geology ** Exciting Drives ** Cute Signs ** RV Subjects ** Miscellaneous Subjects
We would love to hear from you......just put "info" in the place of "FAKE" in this address: FAKE@travellogs.us
Until next time remember how good life is.