Clay Underwood, Anthony Orio
Tootsies Orchid Lounge
February 10th through 14th, 2009
This travellog covers five days on Panama City Beach. We enjoyed the live music at Tootsies Orchid Lounge a Buffetesque honky tonk in Pier Park. Clay Underwood & Anthony Orio were headlining, it doesn't get any better.
We were staying in Saint Andrews State Park. $27 a night for paved interior roads, 30-amps, water and central dump stations. Camp sites are on compacted sand. Location & price are the attraction in this park. Campsites outside the State Park start at $50 a night and quickly escalate from there.
Joyce with Aaron Tippin Tootsies Panama City Beach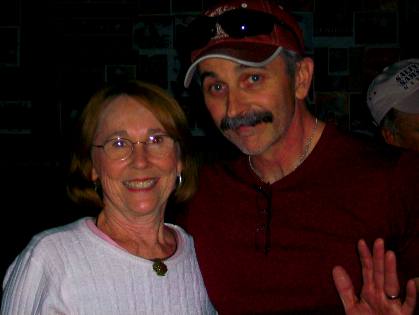 While the snow white beaches are a definite attraction for us when visiting Panama City Beach we also enjoy Tootsies famous honky tonk located in Pier Park on Panama City Beach. The place always has an interesting variety of folks in it. Tonight Joyce got her picture taken with Aaron Tippin the Country Music super star. He was vacationing in the area and stopped by to visit with the band. Thankfully, we know the band real well.
For those of you who need help recalling who Aaron Tippin is this might help: He was born in Pensacola, Florida way back in 1958 ---- ooooh that makes him a codger. VBG some of his hit records that you may recall are:
You have to Stand for Something, There Ain't nothin Wrong with the Radio, Kiss This, Where the Stars & Stripes and Eagle Fly, and Working mans PHD. There are more, many more I just can't remember them
This was a good night. VBG
This is Joyce with recording artist Randy Houser and his band. Randy currently has a hit in the top 20 (Anything goes) and several others climbing the charts.
You can hear "Anything Goes" here: http://www.youtube.com/watch?v=rBY2u-evaHc
Or you might Google Randy Houser. If you listen to Country Music you will recognize his music.
Greg Allen was also in town and had told Tootsies he was going to stop by after his concert in Panama City. Greg never showed up. Oh well, we had to settle for Randy Houser.
Houser playing at Tootsies Panama City Beach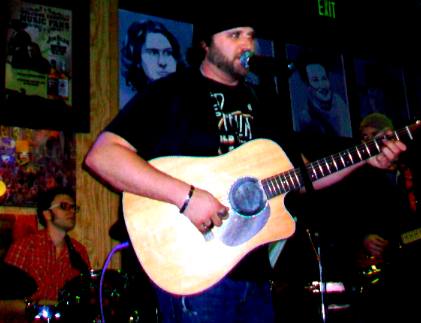 This is another picture of Randy Houser and his band performing at Tootsies on Panama City Beach. The talent appearing daily/nightly in Tootsies is the same level of talent you get in the top Nashville night clubs. In other words it doesn't get any better. Randy Houser was the opening act for Gary Allen's concert at the Civic Auditorium on the marina in down town Panama City.
Gary & Randy were playing a concert tomorrow night in Columbus, Georgia. I suspect that Gary was exhausted after their concert downtown and just pointed their bus toward Columbus instead of partying with us at Tootsies.
Billy Pierson & Beth at Tootsies Panama City Beach
These are two of the regular artist that perform at Tootsies posing together. Billy is a Nashville Recording artist that currently resides in Panama City where he is part of the "House Band" performing nightly/daily at Tootsies.
Billy currently has a hit song climbing the charts. It reminds me of the laid back beach music of "It's 5-oclock somewhere" by Allen Jackson & Jimmy Buffet but it is called "Don't get no sand in it". Click on this link to hear the song and watch the video --- you will like it:
http://www.youtube.com/watch?v=5F6BU03Gwhc
Beth is a bar tender at Tootsies and local college student. She just happens to have a set of pipes second to none. Besides a set of pipes, she has pizzazz ---- that special quality that performers have that make you get into the music. Billy will call her to the stage on occasion to do a few songs with him. The two team up to knock the Kid Rock - Cheryl Crow song "The Picture" out of the park. In my opinion it may be better than Kid Rock and Cheryl Crow. In any event make sure you ask Billy to call Beth to the stage to do "The Picture". That is as good as it gets.
Anthony Orio at Tootsies Panama City Beach
Anthony Orio is another one of the artist that we enjoy at Tootsies Panama City Beach as well as Nashville. Here Anthony is getting the audience into one of his songs. The beautiful lady with Anthony is his lovely wife Natallie so don't think he is going to be getting in trouble when he gets home. VBG
Check his music out here: http://www.anthonyorio.com/ and here:
http://profile.myspace.com/index.cfm?fuseaction=user.viewprofile&friendID=70821729
Anthony has a new CD with original music about to be released. I think you will like Anthony like we do
Clay Underwood posing with us in Tootsies Panama City Beach
While this might be the last picture in this travel log it is just by coincidence. Clay Underwood is one of our favorite artist. I am here to tell you that Clay is going places. He has an excellent CD set for release with several hit songs on it.
You can listen to Clay's new hit that is climbing the charts right now (Behind these Walls):
http://profile.myspace.com/index.cfm?fuseaction=user.viewProfile&friendID=106299302
I think Clay told us his new CD would be available in WalMart sometime next month. Something tells me this is going to be a very special picture one day soon. Thanks for the memories Clay
We have been gone from our home in Pensacola since the day after Christmas --- almost two months. After an awesome week on Panama City Beach enjoying our favorite artist we arrived at our "stick & brick" home in Pensacola in time for the arrival of our fourth grand child a baby girl that will arrive Friday morning at 7:30. It still boggles my mind how they schedule these things
Until next time remember how good life is.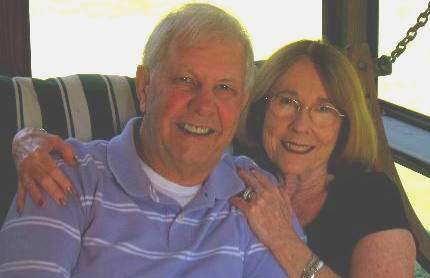 Mike & Joyce Hendrix who we are
We hope you liked this page. If you do you might be interested in some of our other Travel Adventures:
Mike & Joyce Hendrix's home page
Travel Adventures by Year ** Travel Adventures by State ** Plants ** Marine-Boats ** Geology ** Exciting Drives ** Cute Signs ** RV Subjects ** Miscellaneous Subjects
We would love to hear from you......just put "info" in the place of "FAKE" in this address: FAKE@travellogs.us
Until next time remember how good life is.