Tootsies Honky Tonk Nashville
May 15 through 18, 2008
We are staying at Poole Knobs COE Campground near Smyrna, TN.: $9 a night with elect & water (we have the National Park systems 1/2 price geezer pass) so if you aren't 62 years old or disabled yet it will cost you $18. Smyrna and Poole Knobs COE Campground, is about 20-miles SE of downtown Nashville. We are on site # 41 and it is a beautiful site but there are many wonderful sites.
If you can not find a COE campground like Poole Knobs in Smyrna you need to look for a 1/2 Price PPA Campground.
Tootsies is arguably the best known honky tonk on Broadway but we did not like either of the bands performing when we stopped by. They feature a band downstairs and one upstairs. We will try them again before we leave town but their entertainment was a bit off tonight.
We did stop by Tootsies several times in the next few days and enjoyed several good musicians.
Tootsies bar keep with nice church key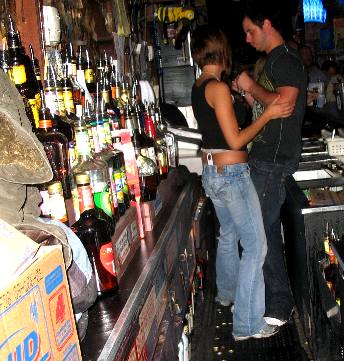 Well, when I said Tootsies entertainment was a bit off I spoke a bit soon.
I just love where this barkeep in Tootsies stored her church key between opening customers long necks. While I understand some beers are good with a little salt sprinkled on the rim and others need a slice of lime. At tootsie's you might say you get a little "tush" to go with your long neck. VBG
This was the entertainment that substituted for a less than stellar band. Ya reckon this might be a "tush key"?
As we prepared to head back to the motorhome I stepped across Broadway and took this picture of Tootsies Honky Tonk on Broadway.
Robert's is a few doors down from Tootsies. When you are doing Broadway in Nashville you should stop in both of these honky tonks.
Robert's Honky Tonk has also been host to several good groups.
This is the honky tonk where J. D. Simo plays his hot guitar in the Don Kelly Band.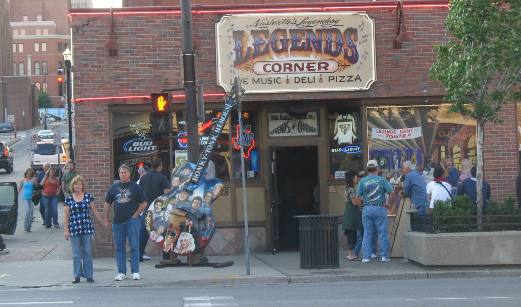 This is what Legends looks like from across the street. Note the guitar that Joyce stood beside for her picture.
Tootsies, is two doors to the right of Legends. You will want to stop in and sample both when doing Broadway Street.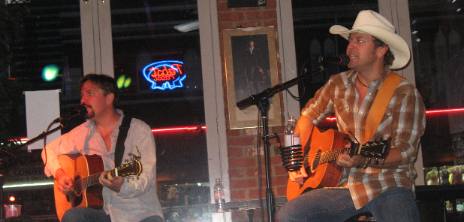 Across Broadway Street from Legends Corner and Tootsies we found Rippy's Ribs. This is where we ate dinner Saturday night while enjoying these artists. Both of these aspiring stars could perform on any stage in the world. I wonder why they do not have a contract.
This is TO Townsend O'Donnell. We have enjoyed them several times performing at Rippy's on the corner of Broadway & 3rd Street, across the street from Tootsie's and Legends Corner. Don't visit honky tonk row without stopping in at Rippy's to enjoy these guys: www.townsendodonnell.com
Saturday turned out to be another "home run", what could be better than a day & night "honky tonkin" with your best friend?
Thankfully, for me, my best friend also happens to be da boss. VBG
That pretty much summs up this honky tonkin experience on Braodway in Nashville.
Click here for more of our Tennessee Travel Adventures
Until next time remember how good life is.
Mike & Joyce Hendrix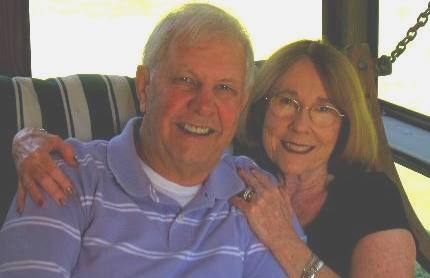 Mike & Joyce Hendrix who we are
We hope you liked this page. If you do you might be interested in some of our other Travel Adventures:
Mike & Joyce Hendrix's home page
Travel Adventures by Year ** Travel Adventures by State ** Plants ** Marine-Boats ** Geology ** Exciting Drives ** Cute Signs ** RV Subjects ** Miscellaneous Subjects
We would love to hear from you......just put "info" in the place of "FAKE" in this address: FAKE@travellogs.us
Until next time remember how good life is.