General Jackson Showboat
June 3, 2008.
We are staying in Two Rivers Campground near Opry Land in northeast Nashville over the Memorial Day weekend. Two Rivers is the private campground we recommend for anyone visiting Nashville. It ain't cheap $31 but it is $21 cheaper than the next best campground. The $31 is for water & 30-amps; full-hookup and 50-amps are a bit more. But, and it is a big BUT the Yogi Bear Campground next door starts at $51 and goes up. KOA a block away starts somewhere above that and the sky is the limit. In Nashville you are paying for LOCATION and Two Rivers Campground has LOCATION. Besides that they sponsor good entertainment in the park several times a week. When I say "GOOD" entertainment I mean FREE afternoon shows from the likes of Hot Damn out of South Florida, Paul Hill who operates out of Nashville and the incomprehendable Mel McDaniel who still resides in Nashville.
Visiting honky tonk row is one of the main attractions in Nashville but there are other things to do. Today, we spent the afternoon on The General Jackson Showboat a stern wheel boat plying the Cumberland River in Nashville.
166 years later, on July 2, 1985, a 1489 ton, four deck, diesel-electric powered, sternwheel showboat plied the Cumberland River. Commissioned by Gaylord Entertainment, it would be christened the General Jackson. Named in honor of that first riverboat ever to land in Nashville back in 1819. Today the General Jackson operates as an entertainment showboat plying the Cumberland River between Opry Land and downtown Nashville.
These musicians were providing good music on the top deck of the General Jackson Showboat as it cruised down the Cumberland River.
This is a better picture of the top deck and the live entertainment on the General Jackson Showboat.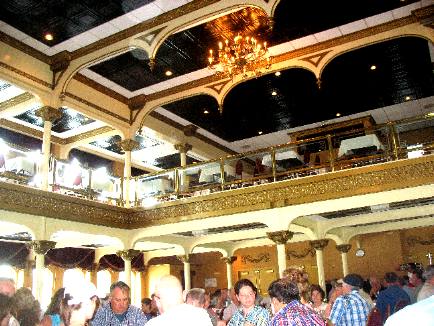 This is the main deck, the main floor of the two-story Victorian Theater, on the General Jackson Showboat, which seats 480 guests. This is where guest dine and enjoy top entertainment.
General Jackson Showboat passing Riverfront Stage at CMA Fan Fair with Titan Stadium in background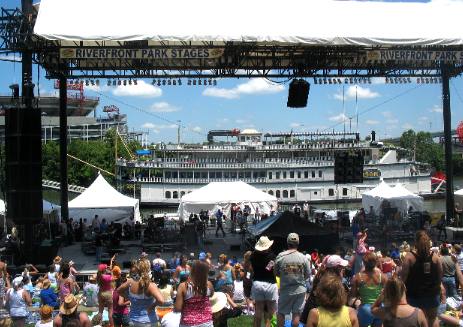 This picture of the General Jackson was taken on Thursday the first day of CMA Music Festival activities were going on on the Riverfront Stages. Mindy McCready was on stage as the General Jackson passed.
Mindy McCready performing on Riverfront stage at CMA Fan Fair as the General Jackson Showboat passes
Mindy McCready can be seen in the monitor behind the General Jackson. Across the Cumberland River is LP Field where CMA Music Festival activities will be held every night though Sunday night.
For more of our adventure on the General Jackson check these links: Peking Acrobats, Delta Queen, General Jackson, Joyce touring the wheelhouse on the General Jackson.
Click here for more Nashville Attractions
Click here for Nashville Honky Tonks
Click here for Nashville Musicians
Click here for more of our Tennessee Travel Adventures
Until next time remember how good life is.
Mike & Joyce Hendrix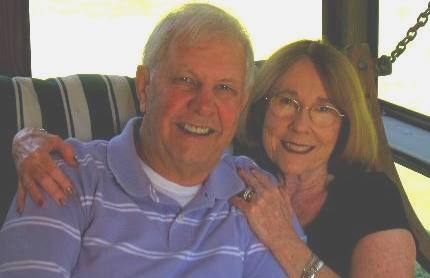 Mike & Joyce Hendrix who we are
We hope you liked this page. If you do you might be interested in some of our other Travel Adventures:
Mike & Joyce Hendrix's home page
Travel Adventures by Year ** Travel Adventures by State ** Plants ** Marine-Boats ** Geology ** Exciting Drives ** Cute Signs ** RV Subjects ** Miscellaneous Subjects
We would love to hear from you......just put "info" in the place of "FAKE" in this address: FAKE@travellogs.us
Until next time remember how good life is.