June 3, 2008.
We are staying in Two Rivers Campground near Opry Land in northeast Nashville over the Memorial Day weekend. Two Rivers is the private campground we recommend for anyone visiting Nashville. It ain't cheap $31 but it is $21 cheaper than the next best campground. The $31 is for water & 30-amps; full-hookup and 50-amps are a bit more. But, and it is a big BUT the Yogi Bear Campground next door starts at $51 and goes up. KOA a block away starts somewhere above that and the sky is the limit. In Nashville you are paying for LOCATION and Two Rivers Campground has LOCATION. Besides that they sponsor good entertainment in the park several times a week. When I say "GOOD" entertainment I mean FREE afternoon shows from the likes of Hot Damn out of South Florida, Paul Hill who operates out of Nashville and the incomprable Mel McDaniel who still resides in Nashville.
Visiting honky tonk row is one of the main attractions in Nashville but there are other things to do. Today, we spent the afternoon on the General Jackson Showboat a stern wheel boat plying the Cumberland River in Nashville.
Today the General Jackson Showboat is the largest showboat in the world. At 300 feet in length is can carry 1,200 passengers with 157 crew members. It is 55' tall not counting the folding smoke stacks that rise to 77'. This behemoth weighs 1489 tons with a draft of almost 7'.
A cruise on the General Jackson showboat provides an excellent meal, entertainment, and service in grandeur and style reminiscent of it's historical namesake.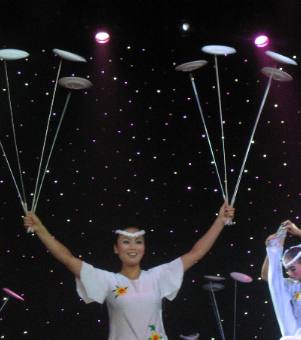 This is the entertainment we enjoyed in the Victorian Theater after dinner on the General Jackson Showboat.
These are members of the Peking Acrobats.
Costumes for one of the Peking Acrobats acts included this dragon.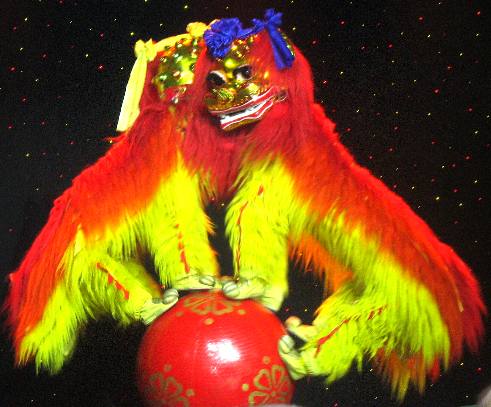 This is another picture of the Peking acrobats.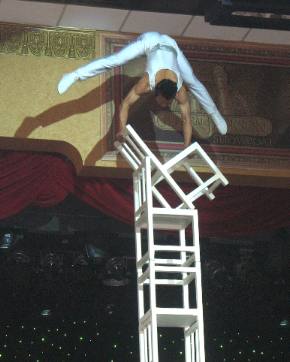 This Peking acrobat is within a foot of the ceiling in the two-story Victorian Theater.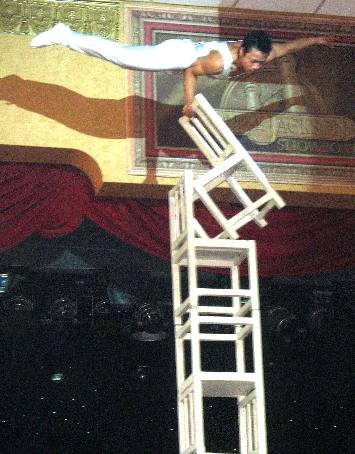 This Peking acrobat is much too far from the deck to be doing this stunt! He is at least two stories high on a moving boat.
This is the top of a multi-layer gymnastic maneuver the Peking acrobats were performing.
The General Jackson showboat as it nears downtown Nashville.
For more of our adventure on the General Jackson Showboat check out these links:
Joyce visiting the wheelhouse, the Delta Queen in downtown Nashville, General Jackson Showboat, and the General Jackson.
We hope you liked this page. If you do you might be interested in some of our other Travel Adventures:
We would love to hear from you......just put "info" in the place of "FAKE" in this address: FAKE@travellogs.us
Until next time remember how good life is.