Natural Bridges National Monument
May 20, 2007.
There are two commercial campgrounds in Blanding. We decided to stay in the one with some shade so we picked it but both RV-Parks were OK: $19.80 for FHU, gravel interior roads and sites. It is located on US 191 on the south side of town behind the shell station (hint, it is easy to find since Blanding is very small).
Natural Bridges National Monument is located some 35-miles or so west of Blanding, Utah on SR-95.
We enjoyed the drive especially exciting and amazing was road cut that took us across Comb Ridge. If you have never heard of or seen Comb Ridge, it is every bit as awesome as Natural Bridges National Monument.
In 1883, Cass Hite wandered up White Canyon from his mining claim on the Colorado River and "discovered" three stone bridges. He brought them to the attention of area residents and the scientific community. Nowhere else had three such monolithic structures been located in such close proximity. They were described as having "spans far greater than any heretofore known to exist." On April 16, 1908, President Theodore Roosevelt signed the proclamation creating Natural Bridges National Monument - Utah's first National Park Service area.
At the time of the monument's establishment, little had been known of the location and character of prehistoric ruins near the bridges. Extraordinary cliff dwellings and mesa-top ruins deserved study and protection within the new monument. In response, the park boundary was expanded.
Today, the three bridges - Sipapu, Kachina and Owachomo - their names taken from the Hopi Indian culture, are among the largest natural stone bridges in the world.
Unlike national parks, which require an act of Congress to establish, national monuments can be created by presidential proclamation. And that is the method Roosevelt used in 1908 to create Natural Bridges National Monument.
Roosevelt was a champion of establishing national parks, forests, preserves and refuges. Over 125 million acres of land were set aside during his tenure so that future Americans and people throughout the world could experience the natural and cultural riches of this nation.
Roosevelt's proclamation which created Natural Bridges National Monument read in part:
"Whereas, a number of natural bridges situated in southeastern Utah, having heights more lofty and spans far greater than any heretofore known to exist, are of the greatest scientific interest, and it appears that the public interests would be promoted by reserving these extraordinary examples of stream erosion...I, Theodore Roosevelt, President of the United States of America, ... do hereby set aside (this area) as the Natural Bridges National Monument..." April 16, 1908.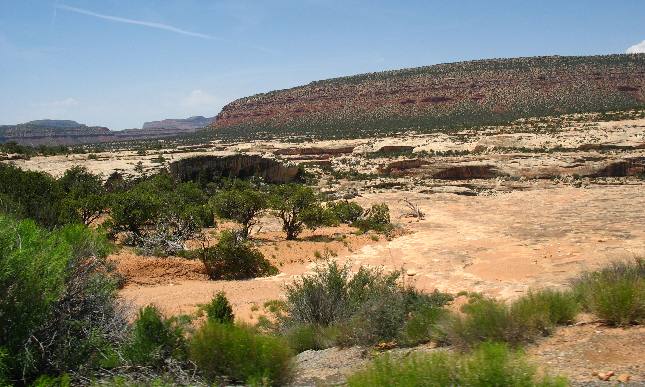 The light colored sandstone in this picture is what natural bridges are carved out of. This pale sandstone is called the Cedar Mesa Formation which was formed from ancient quartz sand dunes along a beach.
Look closely in the center of this picture you will see one of the natural bridges. It would look much more impressive if the picture were taken down in the canyon but I don't have the time or energy to climb down there for a picture. While we are not trekking down to get a better look some people are.
Water carved all of this out of Cedar Mesa Sandstone.
How did all this geology come to be? That is the question posed by everyone who lays eyes on these marvels of nature. Geologist tell us, that 260 million years ago, dazzling white beach sand migrated inland from the shore of a warm sea. Blown by prevailing northwest winds, grain by grain this sand moved up the windward slope of large dunes until the weight at the top sent cascades of sand sailing down the opposite slope. These dunes retreated before ancient winds, forming cross bedded layers.
Over long expanses of time, rainwater percolated down through the dunes, dissolving calcium carbonate. Slowly, this natural cement fused the individual grains of sand to form the Cedar Mesa Sandstone.
Eons later this area was uplifted and meandering streams cut into the rising earth. Over millions of years the uplifting of the plateau combined with the cutting power of these meandering streams created these canyons we see today.
Is this a better view of that natural bridge of stone? It was still taken from the rim.
This formation is know as the "Horse Collar". It is fairly easy to see how it got that name. Remember that meandering streams cut through this Cedar Mesa Sandstone over millions of years. In a way this reminds me of the "Great Goosenecks of the San Juan" that we saw earlier on this trip.
This layer of mudstone was on top of the Cedar Mesa Sandstone. This looks to me like many different layers of mud laid down over millions of years.
If you liked this Travel Adventure you might like one of these:
Goosenecks on the San Juan River southern Utah
Moki Dugway Moki Dugway is a series of sharp switchbacks down a steep gravel road over less than three miles: One of the best drives you will ever do.
Mike & Joyce Hendrix
Mike & Joyce Hendrix who we are
We hope you liked this page. If you do you might be interested in some of our other Travel Adventures:
Mike & Joyce Hendrix's home page
Travel Adventures by Year ** Travel Adventures by State ** Plants ** Marine-Boats ** Geology ** Exciting Drives ** Cute Signs ** RV Subjects ** Miscellaneous Subjects
We would love to hear from you......just put "info" in the place of "FAKE" in this address: FAKE@travellogs.us
Until next time remember how good life is.