Montana: Billings, Beartooth Highway, Red Lodge, Park City, Columbus
Wyoming: Beartooth Highway (US-212)
Places Visited:
Montana: Billings, Beartooth Highway, Red Lodge, Park City, Columbus
Wyoming: Beartooth Highway (US-212)

Monday (Labor Day) September, 6: Yellowstone River Campground in Billings, Montana: N45° 45.646' W108° 29.049' $31.78 - 50 amps Full hookups & Cable paved interior roads with gravel pads & good shade.
Note: The owners of Yellowstone River Campground & the KOA next door approached and worked with city fathers in Billings trying to get the city fathers to prohibit overnight parking of RV's at Wal-Mart. Because of this we will not stay with them in the future.

This is our anniversary and we are going to celebrate. Remember that today is Labor Day so there are a lot of people out and about. Our plan for today is to enjoy the Beartooth Scenic Highway.
The Beartooth Scenic Highway is situated between where we are in Billings, Montana and the north east entrance to Yellowstone National Park near Cook City & Silver Gate, Montana. The Beartooth Scenic Highway is also known as the Chief Joseph Trail and US-212. The highway meanders along the border of Montana and Wyoming. Nearly 50% of the drive is in Wyoming. The Montana town of Red Lodge is located on the northeastern end of the highway and provides visitors with a place to stay and eat. The tourist community caters to hoards of people visiting the area for the purpose of driving the highway.
Above the tree line in the Absoroka Range on the Beartooth Highway in Montana
Most books presenting Scenic Drives list the Beartooth Highway as one of the top scenic drives in this country. Although this highway climbs up and over the Beartooth Mountain Range drivers enjoy scenic views of the Absaroka and Beartooth Mountain Ranges, with scenic panoramas of the highest peaks in this region of the country. During the drive visitors will experience pristine alpine tundra, glacial cirques, sheer cliff walls, clear alpine lakes and old growth forests of lodge pole pine. Glaciers, rugged mountains, alpine meadows replete with wildflowers are all part of the scenery. Wildlife was a bit scarce today.
Beartooth Mountains of Montana as seen from the Beartooth Highway
With 20 peaks over 12,000 feet in elevation the Beartooth Mountains lie within the 943,377-acre Absaroka-Beartooth Wilderness. This highway claims the highest paved highway in both Wyoming at 10,950' and Montana at 10,350' and is the highest elevation highway in the Rockies outside the state of Colorado.
Warning sign along the Beartooth Highway in Montana
Grizzly and black bears make their home here, as do elk, deer, moose, bighorn sheep, Rocky Mountain goats, mountain lions and bobcats. However, we didn't see any of them. What we did see was a number of hawks that I could not identify, some ground squirrels begging at the rest stops and scenic pullouts, one marmot and a single magpie. Both the marmot and the magpie were where we would expect them to be. The marmot was located in the tundra above 10,000 feet and the magpie was located in some conifers at around 8,000'.
Not withstanding the lack of wildlife; sensory overload struck us early on.
Charles Kuralt, the bard of America's highways referred to the Beartooth Highway as the most beautiful roadway in America. Now that we have driven the Beartooth Highway we agree with others that rate it is one of the more spectacular drives in the country. It would definitely make our top-10 list.
Tuesday September, 7: Rim Rock Truck GMC, Billings, Montana: N45° 45.340' W108° 34.228' Free boondocking in the repair shops parking lot with 120V 15amps.
We have been leaking oil for about 300-miles. I have been keeping an eye on it trying to determine exactly where it is coming from. I finally came to the conclusion that it must be coming from the main seal. For those of you not into mechanics this is fairly serious. The seal only costs around $12 but in order to put the seal in mechanics have to remove the transmission from the diesel engine and that is a big job.
I started calling places this morning since it is the day after the big Labor Day weekend I was afraid places would be backed up but that was not the case. By 9 AM we were in the repair shops parking lot and he promised to work us in. As of the end of the day they had cleaned up some of the oil that had made such a mess on the motor so they could put some dye into the oil that would make the leak visible from the old oil. While visible oil is dripping from the inspection plate the mechanics want to make sure that the oil isn't coming from another place and just dripping from the hole in the inspection plate. They are unable to determine for sure that the oil is not coming from a leak on top of the engine and just finding its way down and dripping out the inspection plate hole. It would be wonderful if the oil was leaking from almost any place other than the main seal.
They wrapped things up for the day and will start looking at it again in the morning.
After we dropped the motorhome off this morning Joyce and I headed out to do our normal sightseeing in the Saturn. We were searching for rather obscure place where Clark and his party stopped along the Yellowstone River and built (chopped down & hollowed out) two 28' canoes that they used to float down the Yellowstone River to the confluence with the Missouri River where his party was to meet up with Lewis's party. On the return trip Lewis took part of the men and returned home via Great Falls, Montana and the Missouri River while Clark and his men went overland from near present day Missoula, Montana toward present day Yellowstone National Park. Clark and his men were looking for the Yellowstone River. Upon finding the Yellowstone River Clark and his began following it downstream. Between present day Columbus and Park City they found cottonwood trees large enough to hollow out and make canoes to ride downstream.
We were looking for the area where Clark and his party stopped to make these canoes. We located the turnout near N45 36.565' and W109 10.347' where locals say you can view the most probable place Clark and his men constructed those canoes. Of course we are not on the River but viewing it from a turnout highway 10 that parallels I-90 from Columbus to Park City. There are no markers or kiosks commemorating the site. To find it we had to stop and ask directions from a shop in Columbus that doubled as a tourist information place. The nice people running the business were also part of the L&C committee in the area and knew a lot about what we were interested in. If we would not have run into these individuals we probably would not have found the spot we were looking for.
Making a 28' canoe like the Lewis & Clark expedition used on their return trip down the Yellowstone River
One man at the store had worked on hollowing out one 28' canoe that a group of locals were going to ride down river from here to the Missouri River in 2006. They had hollowed out one canoe and were going to hollow out the next one this winter. He told us about 20 locals wanted to join the ride down the river. Only about 10 would be able to ride at a time while the others would drive or join them for short periods.
I would like to ride down the Yellowstone on a large rubber raft. Possibly I can interest my son in an expedition like this. It could probably be done in a few weeks. I suppose we would have to do some research and ask how long it would take.
In the small town of Columbus we located a city campground along the Yellowstone River that featured FREE camping. The spots were shady and central water was available. A free dump station is available in town near I-90 at the "Town Pump" on east 8th avenue.
Every chance we got we drove on local roads and highways instead of I-90 on our way to and from Billings. Near Park City we stopped to watch a farmer/rancher harvesting corn. The harvester was chipping the corn stalk and all into what will probably become silage. In any event the harvester was chopping about 4-rows at a time and blowing it into a large truck that was following beside the harvester/tractor. The harvester was keeping two trucks busy. Since we are not farmers we are fascinated with what they are doing and spent some time watching the process.
Joyce with a sculpture located in front of the Billings, Montana Visitor Center
Park City is known for being a feed lot although we do not see many cattle in any of the feedlots. Cattle prices may be down therefore feed lots may not be investing in cattle or possibly they only do that part of the business in other parts of the year. Everyone in the region is storing hay for the coming winter. Each ranch appears to be in competition with his neighbor for having the most bales of hay.
Joyce is standing in front of a wonderful sculpture located in front of the Billings Visitor Center.
It was time to return to Billings and talk with the mechanics working on our motorhome. They have not yet determined that the oil is coming from my main seal so we will spend the night in their parking lot and let them resume the process tomorrow.
Wednesday September, 8: Rim Rock Truck GMC, Billings, Montana: N45° 45.340' W108° 34.228' Free boondocking in the repair shops parking lot with 120V 15amps.
We spent the day hanging around the repair shop that is dropping my transmission to replace the main seal on our motorhomes diesel engine. I am not happy about having to replace a main seal but things like this happen and I guess it was my turn. We are making the best of things.
There is a mall just down the street that Joyce liked. And we spent time planning what we were going to do the next two months. We have now decided to head back to Pensacola instead of continuing to the west coast.
It now looks like we will spend the remainder of September bumming around Cody, Yellowstone National Park, Grand Teton National Park and Jackson Hole. Then in early October return to Custer State Park in the Black Hills of South Dakota and watch their annual Buffalo roundup on the 4th and 5th. In between Yellowstone Country and Custer State Park is the Big Horn Mountains. We intend to stop along the western edge of these mountains and use the Saturn to take some of the Scenic Drives over and through those mountains. The Scenic Drives that we know about and want to experience are US-14 and US-14A east of Lovell and Greybull. Then we plan to drop down to Worland and take the motorhome over US-16 to the east side of the Big Horn Mountains. Then from Custer State Park and the Buffalo Roundup we plan to drop down the east side of the Rockies and visit Rocky Mountain National Park, Pikes Peak with its unique Cog Train then Royal Gorge at Canyon City, Colorado before dropping down into New Mexico and Capulin Caldera actually Capulin Volcano National Monument. From there we want to cross over into Texas and stop at Palo Duro Canyon State Park near Amarillo.
Now, that is the rough plan-----we will have to see how things work out. Our goal is to be back in Pensacola by November 1. We need to be there for the big national election plus I am being harassed by an irascible government worker in charge of the federal jury pool for our district of Florida. It seems that this gorilla sent a jury summons to my house while we have been on the road. We have a mail slot in the door so the mail person dutifully dropped that summons in the mail slot and it fell into the pile of mail on the floor. We have all our bills on automatic pay so we have no mail that is important enough for us to have someone check it (or so I thought). However, my son dropped by the other day and looked through our mail and spotted this summons along with a questionnaire that I was supposed to have filled out and returned before reporting to jury duty in the Federal Building in downtown Pensacola on the morning of September 7, 2004 (yesterday). That was yesterday and my son did not call me until late yesterday afternoon. I called the number ----------hoping to assuage some clerks concern.
That was wrong thinking on my part. When I identified myself to the clerk and tried to explain that we were in Billings, Montana and on an extended trip in our motorhome you would have thought I was on the FBI's most wanted list. She started popping questions at me like she was the head interrogator at the Nuremburg trials. Finally she demanded "when are you returning to Pensacola". I replied "in November" I suppose. She replied "Good, I am signing you up for jury duty in November you are to report November 1st I'll send the jury summons and questionnaire to you. You need to fill that out and return it". I sputtered something like "maam I said I would be home in November not that I would be home before November so I could fill out paperwork and be ready to report for Jury Duty on the 1st of November". She spat back some smart retort to which I blurted something about working at the local Navy Base for 30-years without being summonsed to Federal Court and now that I am retired all of a sudden she is on my back like a duck on a June bug, what gives? She didn't respond and that ended the conversation.
Who knows, I may be a Federal felon or something. When I get back I plan to discuss this with Roger (The Honorable Judge Roger Vinson that is) sometime in a social setting or possibly in open court during jury selection if the opportunity presents itself. I'll depend on my lawyer friends (yea, I admit to having friends that are lawyers) to steer me into the proper method of approaching my frustration. I will be glad to serve I even look forward to it. What is the big deal with this clerk and her attitude? Does her performance appraisal give bonus points for kicking ass and taking names? Obviously so!
That phone conversation, early this morning, was the only excitement in our otherwise boring day at the repair shop. Come to think about it the conversation was about as exciting as a trip to the Admiral's office on Monday morning. I know some of you can look back and chuckle about those days.
Thursday September, 9: Rim Rock Truck GMC, Billings, Montana: N45° 45.340' W108° 34.228' Free boondocking in the repair shops parking lot with 120V 15amps.
Our motorhome in the repair shop in Billings, Montana
Try as they did--------Rim Rock Truck was not able to extricate my transmission from the diesel engine yesterday. Ouch! A days worth of labor and they have not even gotten to the seal that has to be replaced. By 3PM they had all the bolts lose and the transmission free of the engine. The only rear main seal in Billings costs $47 from the Chevy Dealer. The Chevy Dealer may not work on Chevy Trucks but they know how to gouge for their parts. I thought the seal would be around $12 give or take. Oh well I guess the Chevy Dealer has to extract his pound of flesh also.
By 6:00 when the mechanic quit for the day he still had not installed my new seal. I am getting the uneasy feeling that we are not going to be out of here by the weekend. This is going agonizingly slow. I can only imagine what my repair bill is going to be.
Joyce and I went to the local livestock auction this morning. They were auctioning cattle of all descriptions. I paid close attention to what bidders were paying for various cattle being paraded through the auction pit. Older female cows weighing around 1,000 pounds were bringing from $.48 per pound to $.55 per pound. Small cattle in the 500 pound range were bringing around $.58. Angus bulls weighing around 1,000 pounds each went for $.94 to $1.04 per-pound. There was a huge variance in price that they were bringing. I finally cornered a cowboy that was watching but not bidding. He told me what the bidders were doing and why. I was putting the questions to him like that gorilla woman being paid by the Federal Government to round up jurors for Federal court in Pensacola. This cowboy was amused at my questions. I am trying to determine how they are making money in the cattle business and can't for the life of me figure it out. I was pretty certain the cowboy answering my questions had not figured it out either since my math didn't concern him in the least. He had no idea how much feed it took to grow a cow from 900 pounds to 1,800 pounds.
This cowboy told me that the bidder that purchased the lot of 20 angus steers weighing about 900 pounds each for $1.04 per-pound was planning on feeding those steers until they weighed 1,800 pounds or so then sell them hopefully for $.94 per-pound.
My mind started doing the math: He was paying (900 * $1.04) $936 each for steer today in the hopes of feeding the critter until he weighed 1,800 pounds and then sell the animal for (1,800*$.94) or $1,692 for a possible gross profit of ($1,692-$936) $756 per head. But that is IF he can sell the animal for $.94 per-pound when and if the critter reaches 1,800 pounds. I suppose if you did not have to feed the animal for another 6 to 8 months you could make some money but it has got to cost something to feed those things.
It just seems to me that by the time feed is deducted from the equation that there wouldn't be enough profit potential to fool with them.
It seemed to me that the cattle selling for from $.43 to $.58 were going to the hamburger industry. I never did determine what the ones selling for around $.6 4 per-pound were being purchased for. Most of them were Black Angus and weighing around 1,000 pounds. I don't know if the buyers were purchasing steaks or thinking about feeding them to greater weights. I didn't understand why these were selling for $.64 per-pound while others that looked identical to them (at least in my eyes) were selling for $.98 per pound.
They auctioned off some really nice bulls. One huge Black Angus Bull weighed in excess of 2,400 pounds. Several Hereford Bulls were auctioned that weighed around 2,000 pounds. They auctioned a dozen or more Black Angus Bulls that weighed in the 2,000 pound range. I never did determine if the buyers were purchasing a stud animal or one that was headed for hamburger. As I recall most of the "big-bulls" sold for around $.64 to $.68 per-pound.
We have been keeping an eye on the Wal-Mart Super Center located about 2 blocks from our repair shop. RV's start piling into their lot in the late afternoon and by 9PM there are 12 to 20 settled in for the night. This just happens to be the "right-time" for boondocking at Wal-Mart, the right time being in the fall when temperatures do not require air conditioning. Temperatures have been climbing into the 80s during the day and fall into the 40s at night. That is perfect weather to boondock or dry camp. It is obvious that a lot of RV'ers are taking advantage of both the weather and Wal-Mart's hospitality as they transition across the great state of Montana.
Until next time remember how good life is.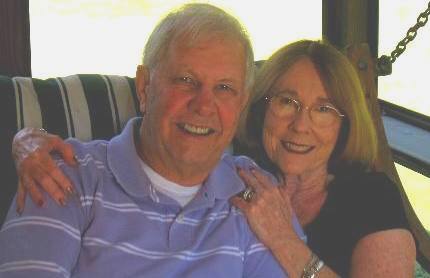 Mike & Joyce Hendrix who we are
We hope you liked this page. If you do you might be interested in some of our other Travel Adventures:
Mike & Joyce Hendrix's home page
Travel Adventures by Year ** Travel Adventures by State ** Plants ** Marine-Boats ** Geology ** Exciting Drives ** Cute Signs ** RV Subjects ** Miscellaneous Subjects
We would love to hear from you......just put "info" in the place of "FAKE" in this address: FAKE@travellogs.us
Until next time remember how good life is.