Capulin Volcano
Places Visited: New Mexico: Clayton Lake State Park, Capulin Volcano, Folsom, Raton & Raton Pass on I-25
Sunday, June 4 2006: We stopped for the night in Capulin, New Mexico (Northeast corner of New Mexico) Capulin RV-Park N36° 44.43 W103° 59.622'. The Capulin RV-Park is a totally gravel city block with pull-thru sites (trees are limited) but they do have several large ones; 50-amps, water and sewer, $22.50 per-night 505-278-2921 the owners are delightful people.
We left Amarillo, Texas this morning heading to Capulin, New Mexico via, Dumas and Dalhart, Texas then into Clayton, New Mexico before stopping in Capulin. The entire 198-miles was up hill. Amarillo is around 3,500' and Capulin is 6,000'.
Irrigated crop circles west of Dalhart, Texas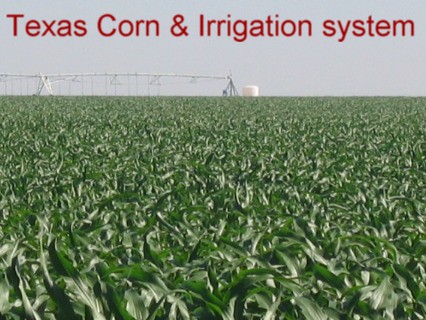 The area between Dalhart, Texas and the New Mexico border is dotted with giant circular irrigation systems. When viewed from an airplane the area must be a maze of green dots. Corn and alfalfa seemed to be the crops of choice.
Irrigated crop circles west of Dalhart, Texas
Wheat & grain elevators west of Dalhart, Texas

Wheat is also one of the crops.
Chicken head oil well in Texas Panhandle
We call this type of oil well a chicken head for the way that head moves up and down like a chicken pecking the ground. You can see these Chicken head oil wells all across Texas.
Baled hay in the Texas Panhandle
Some of the agriculture involves growing hay.
Texas grain elevators in the Panhandle west of Dumas
The panhandle of Texas is agriculture personified. Each town has huge grain silos and the ubiquitous Dairy Queen. Advertisements tout Dairy Queen as "the official Texas stop sign".
Official Texas Stop Sign: Dairy Queeen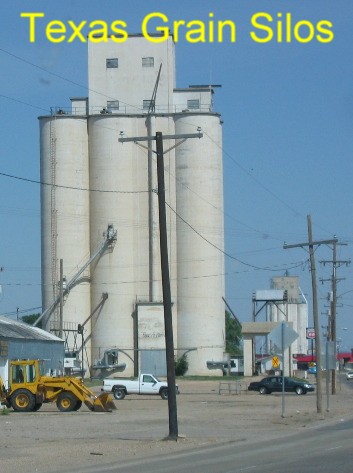 The larger towns have stockyards and a truck stop in addition to grain silos and the ever present Dairy Queen.
Rabbit Ear mountain landmark from the old Santa Fe Trail
As we approached the New Mexico border we can see mountains or hills near the New Mexico town of Clayton. These "mounds" are called Rabbit Ear Mountain. They were the first landmark traders on the old Santa Fe Trail could see in New Mexico after crossing the plains of Oklahoma and Kansas. I first read about Rabbit Ears Mountains in The Commerce of the Prairies by Josiah Gregg. Gregg wrote about his adventures of putting together a group of men in Missouri and stocking wagons with trade goods then heading out across the prairie to Santa Fe, New Mexico which had been a Spanish Stronghold and the Spanish forbid trade with America or Americans. However, in 1821 Mexico declared independence from Spain. That changed things dramatically. Mexico was want for goods delivered by American Traders. While William Becknell led the first trading party to Santa Fe he was followed by others including Josiah Gregg who even took goods deep into Mexico. Gregg also wrote about his travels across the American Prairie. His account of heading off across the prairie with a wagon train full of trade goods is captivating reading. Anyway, it was on page 79 of his book that he mentioned passing the Rabbit Ears Mounds. Once traffic on this major 19th century commercial route reached the Rabbit Ear Mountains they still had about 200 miles to travel before reaching Santa Fe.
Dinosaur footprints Clayton Lake State Park: Clayton, New Mexico
In Clayton, New Mexico we dropped the motorhome at a Love's Truck Stop and took the Saturn to Clayton Lake State Park 12-miles north of town. The State of New Mexico put an earthen dam across Seneca Creek in a narrow canyon that formed Lake Clanton. Engineers created a natural spillway by cutting through natural sedimentary rock in the canyon wall. After water ran through the spillway it washed away softer portions of the sedimentary rock exposing dinosaur footprints. While finding these ancient footprints was an accident it has become one of the major attractions at the state park.
Pronghorn antilope in NE New Mexico
On the way out to the State Park we spotted the first prong horned antelope of this trip. We looked hard for them in Texas but never saw any. Here we are only a few miles from the Texas border and we spot them but they are in New Mexico not Texas.
Capulin Volcano National Monument in NE New Mexico
We stopped in Capulin, New Mexico so we could visit Capulin Volcano and take a scenic drive through this volcano influenced landscape. Both Capulin Volcano, a National Monument, and the scenic drive turned out to be super. Capulin Mountain is a classic cone-shaped cinder cone. Capulin Volcano has been preserved as a National Monument. A road has been cut into the steep sloping side of the mountain that leads to the rim. At the rim there is a parking area. A foot path circles the craters rim, affording stupendous views of the surrounding countryside Another trail takes you down into the cinder cone.
View from Capulin Volcano National Monument in NE New Mexico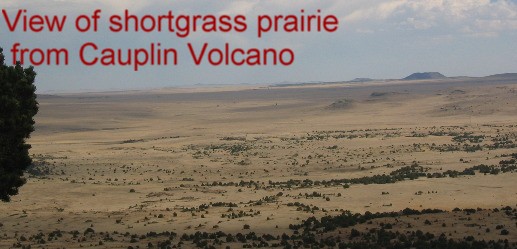 The views from the rim are totally awesome since the rim stands approximately 1,400 feet above the prairie and surrounding apron of lava that covers around 16 square miles.
View from Capulin Volcano National Monument in NE New Mexico
View from Capulin Volcano National Monument in NE New Mexico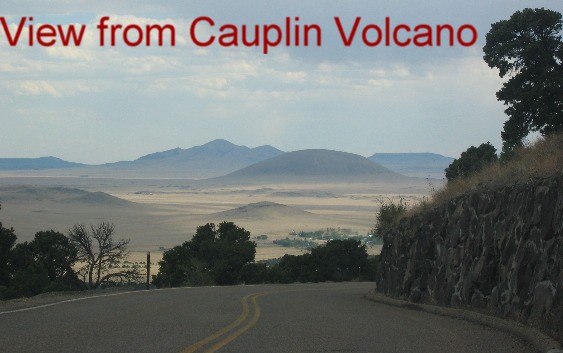 Cauplin Volcano in NE New Mexico is a cinder-cone volcano
The mountain is a "cinder cone" surrounding a volcanic vent. As the volcano belched liquid magma high into the air it would fall back to earth as various sized and shaped cinders and ash. As more and more cinders were thrown out of the vent they piled up around the vent forming the classic "Cinder-Cone" volcano.
View from Mesa between Folsom and Raton on SR-72
After enjoying Capulin Volcano we headed north on SR-325 to Folsom where we headed west on SR-72 toward Raton. This route is a Scenic Drive suggested by an unknown publication. It turned out to be stunningly beautiful. SR-72 follows a strikingly beautiful valley before wending its way up the side of a mesa where the road traverses some of the most picturesque scenery anywhere. The views from the top of that mesa were as spectacular as any we have seen.
View from Mesa between Folsom and Raton on SR-72
View from Mesa between Folsom and Raton on SR-72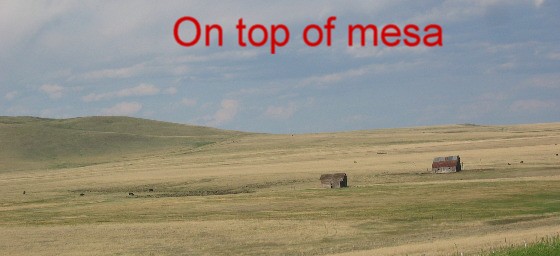 View from Mesa between Folsom and Raton on SR-72
View from Mesa between Folsom and Raton on SR-72
View from Mesa between Folsom and Raton on SR-72
View from Mesa between Folsom and Raton on SR-72
Ranches with thousands upon thousands of acres of shortgrass prairie make up this scarcely populated region on top of the mesa.
View from Mesa between Folsom and Raton on SR-72
View from Mesa between Folsom and Raton on SR-72
Magpie
Meadowlark
Meadow larks, horned larks, magpies and mountain blue birds lined the barbed wire fences along this drive.
West of Folsom, NM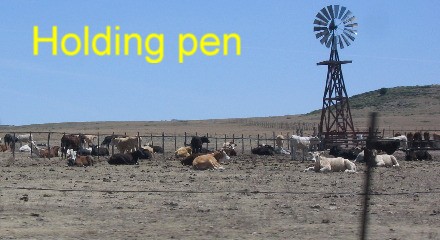 Pronghorn antelope, mule deer, horses and cattle were the mammals of note.
Mule deer near Cauplin Volcano in NE New Mexico
Ancient lava flow now acting as a caprock
The violent volcanic history of this area is evident in the geology. Lava flows form the rimrock around canyons. Layers of tuff and welded ashflow can be seen throughout the area.
Ancient lava flow
Ancient lava flow now an exposed caprock
The view from on top of the western end of the mesa was breathtaking. A canyon is beginning to take form. Erosion has already cut a deep hole. In the center of the picture you can see a small wooden cross held in place by a pile of volcanic rocks. It is obviously the grave of someone who wanted to be buried in this beautiful spot.
View from top of mesa west of Folsom, New Mexico
Folsom Inn: Folsom, New Mexico near Capulin volcano in NE New Mexico
Around 8:PM we stopped in the tiny town of Folsom at the Folsom Village Inn. The Inn wasn't an Inn at all, it was a rustic biker bar, dance hall and burger barn. It was the only place serving food so we stopped. They had burgers but were out of buns so they fixed us "Mexican-burgers" something they concocted with a big patty of beef wrapped in a tortilla and smothered with green chili and cheese. A group of city-slicker bikers out for a Sunday afternoon ride were enjoying some bruskies when we arrived. They downed their brew, mounted their bikes and roared off down that scenic highway toward Raton.
We reluctantly bid the place good night and headed back to the motorhome.
It doesn't get much better than a day like today.
Until next week just remember how good life is.
Until next time remember how good life is.
Mike & Joyce Hendrix who we are
We hope you liked this page. If you do you might be interested in some of our other Travel Adventures:
Mike & Joyce Hendrix's home page
Travel Adventures by Year ** Travel Adventures by State ** Plants ** Marine-Boats ** Geology ** Exciting Drives ** Cute Signs ** RV Subjects ** Miscellaneous Subjects
We would love to hear from you......just put "info" in the place of "FAKE" in this address: FAKE@travellogs.us
Until next time remember how good life is.