Pikes Peak
Saturday June 10 through Tuesday June 13 2006: Pueblo, Colorado (On I-25 100-miles north of the New Mexico border). We are in Pueblo West Campground N38° 20.522 W104° 43.097'. Pueblo West Campground is located on US-50 about 5-miles west of I-25. It is totally gravel with huge pull-thru sites (trees are limited); 50-amps, water and sewer, $20 per-night 719-547-9887. This is a campground and equestrian facility.
Monday morning was our day to drive up Pikes Peak. Joyce wasn't all that excited about doing Pikes Peak but I insisted that is was one of those things we had to do. By the time we were half way up she had changed her mind, this was going to be a great ride.
To get to Pikes Peak we had to go through Colorado Springs then take US-24 west through the chic little mountain town of Manitou Springs to Cascade where we turned on to the Pikes Peak highway. It may be named Pikes Peak highway but it doesn't resemble most highways, however, it does take us to Pikes Peak and that is where we wanted to go.
Red Sandstone formation at base of Pikes Peak
The red tilted sedimentary rocks in this picture are 280-million year old Permian red sandstone. This is the same red sandstone that forms the rock shapes in Garden of the Gods not far from here. When Pikes Peak was pushing its way up these sedimentary rocks were being tilted up with it. In Garden of the Gods those red sandstones are pushed up to vertical. We saw this particular formation on US-24 west of Colorado Springs on our way to Cascade, CO and the entrance to the road taking us to Pikes Peak.
The elevation where our motorhome is in West Pueblo is around 5,100', while Colorado Springs is around 6,300. From Colorado Springs we climb to 8,000' by the time we get to the Cascade and the entrance (Toll) gate to the Pikes Peak highway. That is a fairly steep grade from Colorado Springs to Cascade on US-24.
View from Cascade where the toll gate to Pikes Peak Highway is located
As we near Cascade on US-24 this formation of sedimentary rocks come into view. They do not seem to be tilted much at all and are from a much later time than that 280-million year old Permian Sandstone.
From the gate to the top of Pikes Peak is 19-miles and it takes about an hour to get to the top doing the speed limit of 25-mph and that does not take in to account any stops. Signs warn you to have at least a half tank of gas before heading up the mountain, they are right it takes a lot of gas to pull a vehicle to the top.
Cascade, Colorado from Pikes Peak highway
This picture was taken early on in our ascent of Pikes Peak. From here we are able to look down on the city of Cascade, Colorado and US-24, the highway we were just on from Colorado Springs.
As we might have know there is a toll booth collecting a toll to drive up Pikes Peak. It seems that the city of Colorado Springs owns the road to Pikes Peak. We started out on a paved road. However, it changed to a dirt road before long. This was something we were not expecting. But, we have paid our money and we are going to the top, dirt road, dirty car and all.
Weather changes dramatically as we climb. It is hot at the 5,000 and 6,000 foot level. At the 14,110' summit it is cold. At the summit air has only ½ the oxygen as air at sea level.
View from Pikes Peak Highway at a lower elevation
We are still below the timberline and the road is still paved. Note how they cover that rock outcropping in chainlink fencing material to keep rocks from falling on the highway. It seems to me it would have been cheaper to dynamite the rocks, but that is just me.
It is a loooooooong 19-miles to the summit with the automobile laboring all the way. It is a hard climb to ascend 6,110' in 19-miles.
Gnarled tree on Pikes Peak
This gnarled old tree has led a tough life. Note how stunted it is.
Motorcycles on the dirt road to Pikes Peak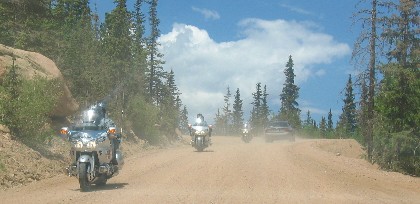 Note that the road has turned to dirt and we still aren't to the timberline. This has to be between 10,000 and 11,000 feet of elevation.
Timberline on Pikes Peak
You can see we are nearing the timberline (upper limit at which trees will grow). The major factor preventing tree growth is temperature. Trees cannot grow where the average temperature of the warmest month is below 50 degrees. On Pikes Peak that will occur around 12,000 feet elevation.
Timberline on Pikes Peak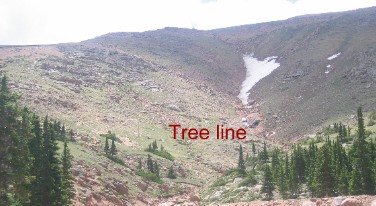 We are getting very close to the timberline.
Timberline on Pikes Peak is at 12,000 feet
The official sign notifying us that we have arrived at the timberline.
Dirt Road at higher elevation on Pikes Peak
Looking back over our shoulder we can see a reservoir and a stretch of that long, grueling dirt road we have been climbing on.
Timberline on Pikes Peak
Looking down we can see a small stretch of paved road passing through the tree line area.
Pikes Peak road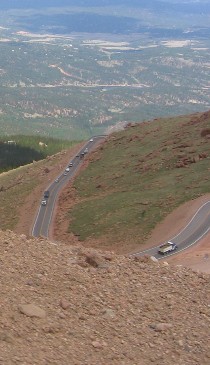 Amazingly, there is another stretch of paved road just above the tree line
View of the Rockies from Pikes Peak
This picture is taken looking west at the 14,000 foot peaks comprising the interior range of Rockies.
Snow on Pikes Peak
There it is, SNOW in mid-June.
Igneous rock intrusion or dike that pushed up Pikes Peak
And a hogback of what looks to be igneous rock injected into long crack in an overlying rock formation. That overlying rock formation is long gone, eroded away over the millions of years since this dike of igneous rock was thrust upward.
Pikes Peak Highway at 13,000 feet
We are getting closer to the summit. The trees are long gone. Nothing but bare rocks and tundra survive at this altitude. The dirt road and that incessant grade drone on and on.
Joyce at Summit of Pikes Peak
Here we are at the top of Pikes Peak. We did not walk the remaining 250' to the summit. It was hard enough for us to breathe without moving. Our "sea-level" lungs were not functioning well at 14,100' of elevation. It is also cold up here. We had to put on sweatshirts and jackets.
For those that don't know America the Beautiful was penned on Pikes Peak. You can see a lot of those purple mountains.
Pikes Peak was a major landmark for the early travelers making their way across the plains. Pikes Peak is higher than the other mountains comprising the front range of the Rockies.
Pikes Peak Cog Railroad
This is the Cog RR arriving with a load of passengers that boarded in the quaint old town of Manitou Springs.
Heading down Pikes Peak on that dirt road

More dirt road, but we are headed down this time.
Heading down Pikes Peak on that dirt road
That dirt road is like a hamper of dirty laundry, it just goes on and on.
Hairpin turn on Pikes Peak highway
Joyce loves these hairpin turns. Thankfully, this one is paved.
Hairpin turn on Pikes Peak highway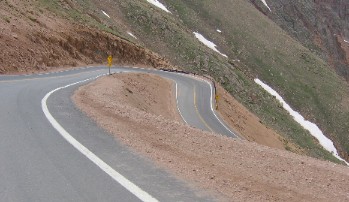 Another neat hair pin turn, also paved.
Mandatory Brake Check on Pikes Peak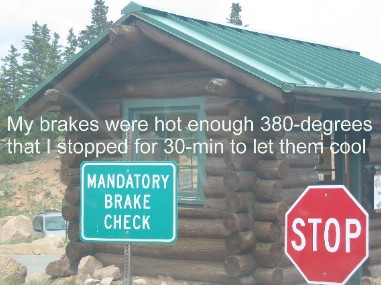 We do not normally have to brake coming down a grade. Pikes Peak was different on the top 3,000 feet of elevation. Our automatic transmission Saturn does not have a 1st gear so the lowest gear we can shift down to is 2nd. That holds us to speeds of around 30 on most grades. It would have held us to 30 coming down Pikes Peak as well. However, Pikes Peak had one 10/15 mph hairpin turn after another and I kept having to apply brakes to get us around those hairpins. By the time we had descended 3,000 feet of elevation my brakes were getting warm to hot. They have a "brake checker" with an infrared heat sensing gun that checks all brakes coming down. Anything over 300 degrees has to stop and let their brakes cool. Since ours were at 380 degrees I pulled over and let them cool. As luck would have it the remainder of the descent was decent enough that 2nd gear would hold just fine.
Manitou Springs, Colorado
On our way back to Pueblo and the RV-Park we stopped by Manitou Springs.
Manitou Springs is an artsy old mining town, west of Colorado Springs, in the shadow of Pikes Peak. This old building on main street gives you an idea of what the town is like. At one time Manitou Springs was famous for the mineral springs in town.
The cog RR that runs to Pikes Peak leaves out of Manitou Springs.
It was a good day.
Until next time remember how good life is.
Mike & Joyce Hendrix who we are
We hope you liked this page. If you do you might be interested in some of our other Travel Adventures:
Mike & Joyce Hendrix's home page
Travel Adventures by Year ** Travel Adventures by State ** Plants ** Marine-Boats ** Geology ** Exciting Drives ** Cute Signs ** RV Subjects ** Miscellaneous Subjects
We would love to hear from you......just put "info" in the place of "FAKE" in this address: FAKE@travellogs.us
Until next time remember how good life is.