Great Falls, the small community of Belt, then the even smaller community of Sun River, Fort Shaw, Simms and Augusta
July 22 & 23, 2007.
We are staying in Dick's RV Park in Great Falls, Montana. It is a nice enough park with paved FHU sites & Cable for $27. They do charge extra for wifi but we found an open wifi signal in the park. There isn't a lot of choice in Great Falls, it is either Dick's or KOA and we avoid KOA if at all possible. Bottom line, we would recommend Dick's when stopping in Great Falls.
Old river bed exposed in road cut
There is a lot to see, do and experience when in Great Falls. The last time we were here we visited the Lewis and Clark Interpretive Center and we did it again this time so I will not spend time describing that wonderful center except to say that if you are in the Great Falls area it is a "must see" place.
We headed to the southeast of Great Falls on US 87 to the small town of Belt. Belt isn't actually on US 87 it is situated a few miles to the east. We are visiting Belt because it is located to the southeast of Great Falls and we wanted to compare the topography of this area with other areas of Montana.
After driving through Belt we headed north on the only paved road going north out of town. Not long after leaving the business district we came upon this spectacular river cut. I was drawn to the conglomerate layer at the top of this cliff. Long ago a river flowed where those river rocks comprise the top 5' or so of top soil.
Limestone cliff capped by conglomerate
This is that same cliff with a hundred feet or so of limestone exposed. The limestone in this picture was at one time (some 350-million years ago) on the bottom of a shallow sea. The river rocks you see on top of this limestone did not get deposited until that limestone bedrock was uplifted. It appears to me that shortly after the limestone was uplifted enough to become dry land a river began to flow over it depositing the river rocks we see today. I can't help but wonder if the river that deposited those rocks at the top of that cliff is the same river that is flowing at the bottom of the cliff today.
Swallows nesting on/in the cliff wall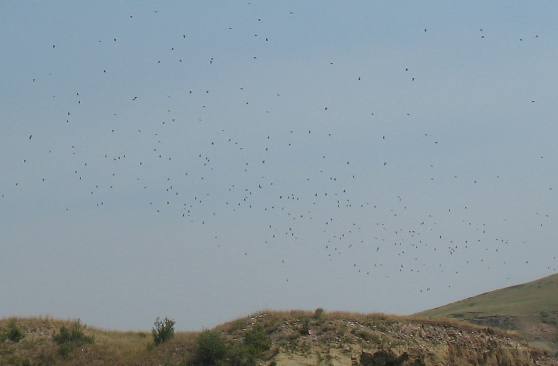 Hundreds, if not thousands, of swallows were nesting on that cliff wall. I could not tell if they were cliff, bank or cave swallows.
Grain fields as far as the eye can see
The area to the southeast of Great Falls is a grain growing region like the area to the northeast. The light color is grain while the darker color is native grasses or perhaps one of the darker grains.

Again the light colors are grain while the darker color is a mixture of land at rest, native grasses or one of darker varieties of grain.
Montana wheat
In this picture two different types of grain can be seen. The darker area is hard red winter wheat, while the lighter colored grain is spring wheat.
Combine drivers have a lonely existance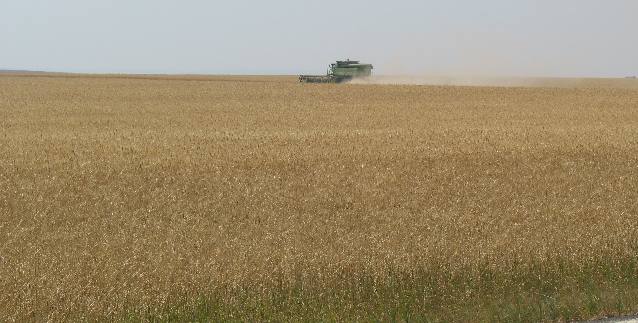 Combines like this one will continue until they are out of sight before making a turn.
Wheat combines and dust
You have to be very patient to wait for one particular harvester to make a complete round of these huge fields. Harvester watching is much easier in fields with several combines working the same field.
Large farm operations have their own grain storage facilities
Like in other grain growing areas large operations have their own grain storage buildings. Some of the harvested grain is going in these bins while other trucks are delivering loads to area grain elevators located along rail road tracks.
Resting grain field
This land is resting while a nice grain field ready for harvest is located in the distance.
Back in Great Falls we drove along the Missouri River stopping at one of a series of falls Great Falls was named for.
One of the Falls in Great Falls, Montana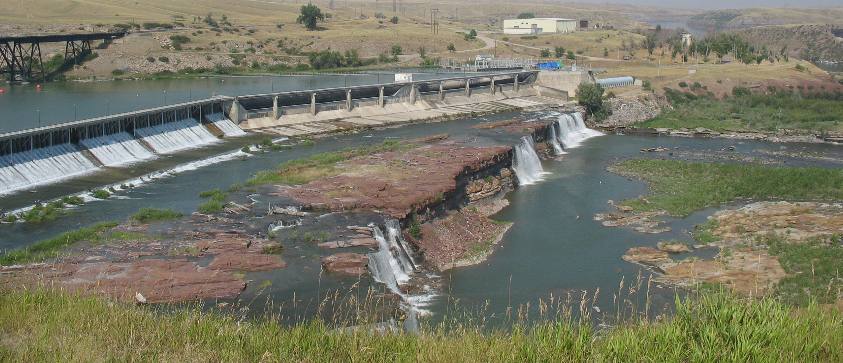 This is Upper Rainbow Falls, one of the "Falls" that Great Falls was named for. It is one of the Great Falls of the Missouri.
Not far from here is Black Eagle Falls. The name came from the journal of Captain Meriwether Lewis where he wrote on the 14 day of June 1805: "...below this fall at a little distance a beautiful little Island well timbered is situated about the middle of the river. In this Island on a Cottonwood tree an eagle has placed her nest. A more inaccessible spot I believe she could not have found, for neither man nor beast dare pass those ----- which separate her little domain from the shores".
The next day we decided to explore to the west of Great Falls. We followed the Sun River as we headed west. When Captain John Mullan build a military road through Montana and Idaho in the early 1860s, he utilized portions of already existing trails used by generations of Native Americans. Although Mullan surveyed the Sun River Crossing in 1862 he was following trails Native Americans had used for centuries. I hope that you read about the Mullan Road in travelogue 125bb-Mullan Road because that background is needed to understand the importance of the Mullan Road in the settlement years of this area.
Construction of the Mullan Road and the discovery of gold in southwestern Montana over the next several years made Sun River Crossing an important place in the state's early history.
A toll bridge was operated near here in 1867 and the community of Sun River sprang up to take advantage of the heavy traffic between the steamboat port of Fort Benton, nearby Fort Shaw, the gold camps and the Gallatin Valley.
Old Saloon in Sun River, Montana
Realizing the potential for quick money, enterprising individuals built two other toll bridges. The arrival of the railroad in 1886 did not diminish the importance of the Sun River Crossing and it continued to thrive until after 1900.
Unfortunately even the Saloon seems to be closed these days.
Old grain elevator in Sun River, Montana
Even this once regal grain elevator in Sun River appears to be abandoned.
Grain is still grown in the area but it appears that it is being stored in modern facilities like these.
Not counting fur trading posts, the first important white settlements in Montana were the mining camps in the western mountains. Everything to the east belonged to the plains Indians and was buffalo range. To protect the miners and settlers from possible incursions of hostile tribes a series of military posts was established around the eastern border of the mining camps and settlements. Fort Shaw, established in 1867 was one of these military posts. It also protected the stage and freight trail from Ft. Benton (head of navigation on the Missouri River) to the Last Chance Gulch placer diggings at Helena. Everything north of the Sun River was Blackfeet Indian territory at that time.

The Sun River is located at the base of that bluff. In the 1860s everything north of the Sun River was Blackfeet Indian Territory. We are looking north from this vantage point so everything on that bluff is in Blackfoot territory.
Hay is the crop of choice in the bottomland surrounding the Sun River west of Great Falls
East of Great Falls grain was the principle crop. Hay is the crop of choice along the Sun River Valley. That volume of hay is evidence of a major hay operation.
Alfalfa is being grown in these irrigated fields.
Deer & elk antler art
We were 30 to 40 miles west of Great Falls near the small community of Augusta when we spotted this "antler art". Look closely at that creation. Someone has collected a LOT of antlers. I would say he needs a T shirt with "deer fear me" in capital letters.
From Augusta we drop south on US 287. Farming has given way to large ranches. The farming we saw as we made our way west out of Great Falls was hay farming in irrigated fields all located in the Sun River Valley. Now that we are not following the river there is no sign of farming.
Large ranches are the norm here
Huge ranches stretch to the horizon in all directions.
Montana ranch land
Only occasionally do we see any green in this open ranching country.
Miles and miles of open range land
If you look closely you can see cattle around that shallow pool of water in the distance.
Livestock loading area
A few cattle are visible in this picture in the distance. The infrastructure you see here is used to load livestock into trailers.
Black angus
This small spot of green has attracted cattle like a magnet.
Montana range land
Again, we are southwest of Great Falls and there is no evidence of grain being grown in this area. Everything we see is open range land.
Until next time remember how good life is.
Mike & Joyce Hendrix