Volcanic Ash
We saw this volcanic ash on SR 95 west of Blanding, Utah when we were on our way to visit Natural Bridges National Monument. It is so unusual in this area that is dominated by sandstone.
Note that this volcanic ash has a greenish tint. I suspect it getting that green coloring from copper?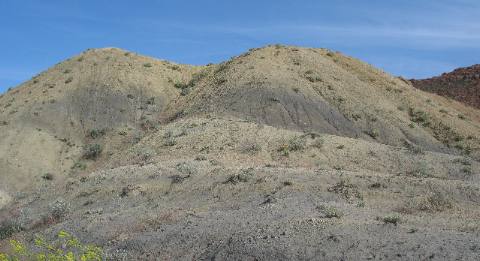 On the left is volcanic ash. I suspect this ash is part of the 150-million year old Morrison Formation. Specifically the Brushy Basin Member of the Morrison Formation (famous for dinosaur fossils) because it is visible as greenish mudstones, originating as volcanic ash that settled into a large alkaline lake.
One source says that the green tint is because of the iron content in the volcanic ash that has undergone a chemical process that creates that green tint.
I would have suspected copper not iron, but who am I?
Volcanic Ash along Colorado River in eastern Utah
We were traveling between Moab, Utah and Grand Junction, Colorado along the Colorado River when we spotted this area of volcanic ash.
Once we cross over to the north side of the Colorado River we start to climb out of that sandstone canyon we had been in since Moab. The bright red cliffs of sandstone have given away to younger formations that are more grey in color and obviously volcanic ash.
Volcanic Ash along the Colorado River in eastern Utah
As we start our climb away from the Colorado River we came upon this area of volcanic ash. I suppose it is part of the 150-million year old Morrison Formation where of volcanic ash was deposited in the large alkaline lake that covered this area. That would make sense since we are gaining elevation and would naturally be in much younger rock formations than the sandstone we were seeing downstream.
This is volcanic ash that has formed white claystone and is common around Wheatland, Wyoming. Geologist think that the ash was blown in on prevailing westerly winds from volcanic eruptions in Nevada. As thick as this stuff is there must have been some heavy volcanic action in Nevada. This volcanic ash appeared during the same time period as the volcanic action was occurring in Nevada.
More volcanic ash (now white claystone) that covers the open range around Wheatland, Wyoming
This is more of that white claystone that is made of compacted volcanic ash.
The gray rock is a layer of volcanic ash that at one time formed a layer of sediment. It is now crumbling and mixing with the much older sandstone sediments.
Volcanic ash also provides a bonding agent that holds the sandstone together.
Sandstone is actually a sedimentary rock formed by the consolidation and compaction of sand, which is held together by a natural cement, such as silica.
As we head north on SR-14 we are treated to a wondrous variety of roadcuts. The layer of sedimentary rock on the bottom is obviously very hard while the sediments on top are much softer. The soft layers contain a lot of volcanic ash.
Click here for some Exciting Drives
Mike & Joyce Hendrix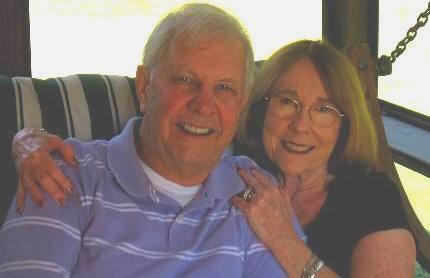 Mike & Joyce Hendrix who we are
We hope you liked this page. If you do you might be interested in some of our other Travel Adventures:
Mike & Joyce Hendrix's home page
Travel Adventures by Year ** Travel Adventures by State ** Plants ** Marine-Boats ** Geology ** Exciting Drives ** Cute Signs ** RV Subjects ** Miscellaneous Subjects
We would love to hear from you......just put "info" in the place of "FAKE" in this address: FAKE@travellogs.us
Until next time remember how good life is.