July 16 & 17, 2009
Wheatland, Wyoming is a small farming and ranching community made possible by irrigation.
We are staying in the FREE city campground in Wheatland. It has electricity 30 & 50 amp. Water & dump station at a central location. The campground is located at the south end of 8th street. Once in town you will be on 9th street when you get to the red light turn east and go to 8th street then turn south and proceed to the city campground about 6 blocks. You will spot the park, the campground is on the south side in a row of large cottonwood trees.
Joyce took this picture out the front window of our motorhome as we were headed south on I-25 between Douglas and Wheatland, Wyoming. This is one huge road cut if you have not noticed. It is obviously fairly hard sedimentary rock since the road cut is almost vertical. My guess is that it is probably a cross between sandstone and limestone, impressive in any event.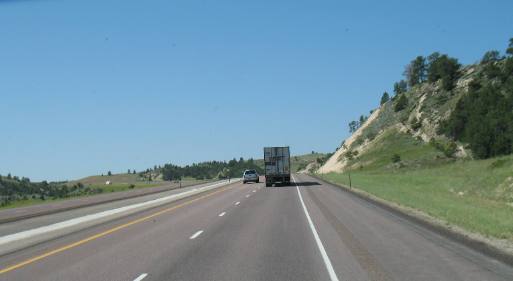 This is another road cut on I-25 but the rock is not nearly as hard as can be seen by the angle of the cut.
Wheatland is a small agricultural city located about 70-miles north of Cheyenne. It is the center of a farm and ranching community made possible in this arid area by irrigation provided by the largest privately owned irrigation system in the country.
Before a modern water system was developed in Wheatland, water was brought to each home by ditches that ran down each street to irrigate lawns and gardens and to furnish water for homes. The city still has many remains of the in-town irrigation system that fed and maintained the myriad stately old trees seen throughout town.
This picture shows some of that old irrigation system still at work. A gravity fed pipe is dumping water in a small ditch that then circles the park you see in this picture. You can follow the path of the water by following the line of trees.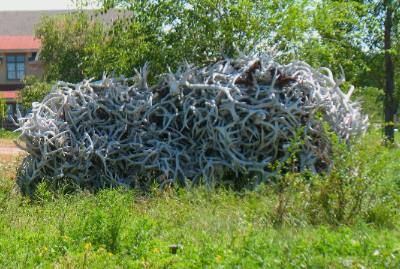 This is a large pile of elk antlers. I wonder what the story is with them. This is a sight you do not see back east even at deer processing facilities.
That is a lot of alfalfa. Irrigation makes this all possible.
Another pile of elk antlers at a residence in Wheatland, Wyoming
With a pile of antlers like that in his front yard there should be a sign reading: "deer fear me". Wow! That is an impressive display. I have to wonder how many years it took to shoot that many deer and elk.
Old homestead built into the side of a hill outside Wheatland, Wyoming
We ran across this very old homestead built into the side of a hill on Fletcher Park road only a few miles northwest of Wheatland. Note how it is built into the side of a hill and facing south.
Old homestead built into the side of a hill outside Wheatland, Wyoming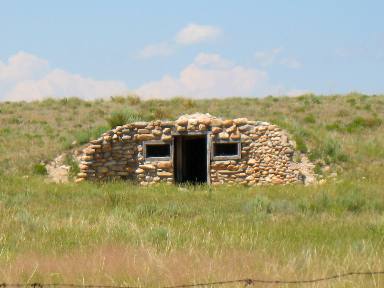 This is a better picture of the old homestead. This was a substantial structure. It was well thought out as it faced south where the sun would warm those rocks in the winter. Those are large rocks so this was a major undertaking when it was constructed. From what I can see those look like river rocks yet there is no river anywhere near here. The person that constructed this place must have located an old riverbed and recovered those cobble stones from it.
Pronghorn grazing on the outskirts of Wheatland, Wyoming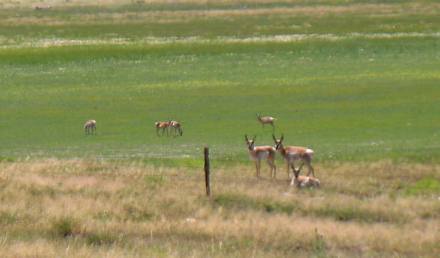 Pronghorn are to Wyoming what squirrels are to those of us back east. They are everywhere. Wheatland sure had its share of pronghorn as is evidenced in this picture.
This is a typical Wyoming prairie scene complete with blue sky and building cumulous clouds.
We have enjoyed our stay in Wheatland and will return. It is a nice place to visit.
That is all there is.