Elk Refuge Jackson Hole, Wyoming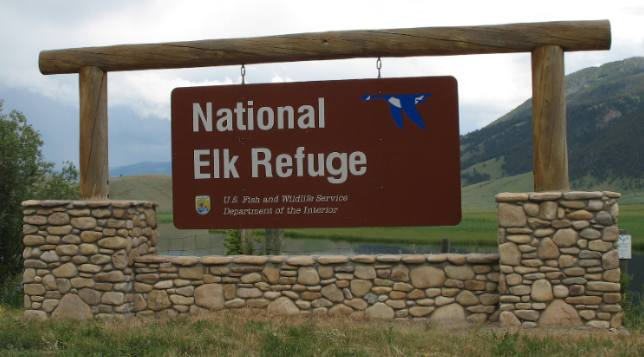 Jackson Hole is a historical wintering area for elk. Competition between elk and cattle for limited winter food became so great that hundreds of elk starved to death in severe winters such as 1908-1909. Land development, poaching and dusk hunting added to the difficulty and by 1909 the Jackson Hole herd was facing drastic reduction in numbers.
Some came to realize that "the Elk Herd is the greatest single thing about the valley. Its history is that of the valley, and to a very real extent so is its fate."

Today, the National Elk Refuge provides winter range for the herd of approximately 7,500 elk that winter on the refuge. When conditions are such that the elk cannot get adequate natural forage, supplemental feed is provided.
An all-out campaign began to save the elk herd. Ranchers, townspeople and other concerned citizens donated hay while others gave time and labor to help feed the starving animals. The U.S. Congress appropriated funds to help feed the elk and purchase critical elk winter range. On Aug. 10, 1912 Congress authorized the establishment of the National Elk Refuge in Jackson Hole.
Elk are the second largest member of the deer family, exceeded in size only by moose. A large bull elk will average about 650 pounds and will stand nearly five feet high. Although there are similarities in general appearance, elk differ behaviorally from deer, in that they are more social, organizing themselves into large herds.
Elk differ from deer in eating habits as well. While deer are primarily browsers, eating young twigs, shoots, leaves and buds, elk are mostly grazers and feed on grasses and sedges.

The breeding, or rutting, season occurs in September and early October while elk are in the high country. At this time the bugling sounds of the mature bulls fill the mountains as they gather harems of cows and challenge rival bulls. During the rut bulls vigorously defend their harems of up to 15 cows. The gestation period, from conception to birth, is 8 & 1/2 months.
The most spectacular feature of a mature bull elk is its magnificent antlers. Elk antlers are often found up to five feet in length with six tines (points) on each side. Antlers, unlike horns, are shed annually in late winter, and a complete new rack is grown each season.
Elk or Wapiti, as the Shawnee Indians called them, were once found throughout the forest and plains to the east of the Rocky Mountains. With the westward push of settlement, the elk that survived were those herds in the mountainous areas. One of the largest herds that remained was the Jackson Hole Elk herd.
Tree swallow nesting in blue bird box along the western edge of the National Elk Refuge
Joyce and I had a game we played when driving from our motorhome in the Gros Ventre Campground on Gros Ventre Road in Grand Teton National Park to Jackson.
Someone has mounted dozens of blue bird boxes on fence posts marking the western boundary of the National Elk Refuge. We try to count the blue birds we see in or around the boxes. We took this "long-distance" picture one day. That is when I realized that this one wasn't a blue bird but a tree swallow. Now I wonder how many of the birds we were seeing were actually blue birds and how many were tree swallows.
Blue birds were thick as flies in Gros Ventre Campground. Those blue birds in Gros Ventre Campground really were blue birds. We watched them out the window of the motorhome every day for weeks.
The National Elk Reserve in Jackson Hole provides a winter home for thousands of elk which spend the summer in surrounding mountains.
Elk stay on the National Elk Refuge for about six months each winter between late October and early May. In the summer months, elk can be seen throughout Grand Teton and Yellowstone National Parks and in the Bridger Teton National Forest. Look for them at dawn and dusk when they emerge from the forest to graze.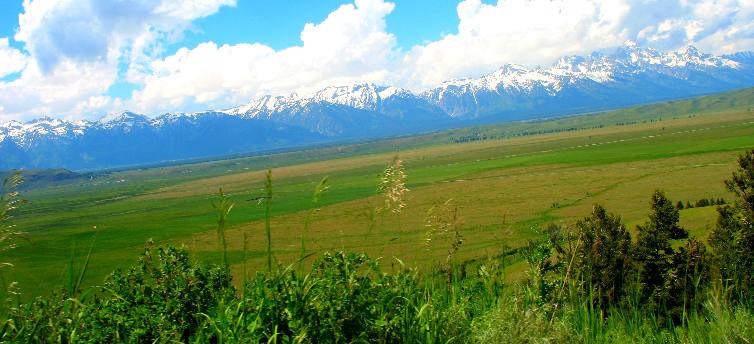 Joyce took this picture from high on the east side of the National Elk Refuge looking west across the National Elk Refuge to the stunning Teton Range located on the west side of the National Elk Refuge.
You can take this scenic drive by following roads leading out of the northeast side of Jackson. If you have a GPS just keep going east and north. That road will wind around the back side (east side) of the National Elk Refuge and on into the wilderness east of Jackson. As you are climbing the mountains east of Jackson you will get periodic views of the National Elk Refuge and the Teton Range.
Until next time remember how good life is.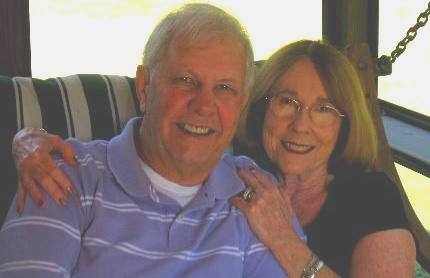 Mike & Joyce Hendrix who we are
We hope you liked this page. If you do you might be interested in some of our other Travel Adventures:
Mike & Joyce Hendrix's home page
Travel Adventures by Year ** Travel Adventures by State ** Plants ** Marine-Boats ** Geology ** Exciting Drives ** Cute Signs ** RV Subjects ** Miscellaneous Subjects
We would love to hear from you......just put "info" in the place of "FAKE" in this address: FAKE@travellogs.us
Until next time remember how good life is.