Cute Key West Signs
Dead Head sign on a California Truck in Key West
I can not remember if this was a truck with a camper shell on it or a van. Whichever, the owner was obviously living out of the vehicle.
I liked the "Dead Head" sign since the owner was obviously spending the winter in that vehicle, in Key West, while "stealth-camping".
Stealth-camping is a term RV'ers use to describe someone who is living in an RV but not making it appear that they are. They park/camp whatever in a different place every night then spend the daylight hours on a public beach or some other public place. But since those public places usually close around 11pm these "stealth-campers" have to park some place for the night without drawing any attention. When they do this successful they are able to leave their overnight spot early enough to be gone by the time normal residents start stirring. They can easily move from their overnight spot to a restaurant like a Waffle House for a few hours then head to the public place in time to get a good parking spot for the day. Of course they can legally stay in that site until around 11pm. There are possibly as many as 20 of these "stealth-campers" wintering in Key West. When it gets warm they will head north until next winter. Life is GOOD and cheap for them. VBG
Stealth Camper
I introduced you to the term "stealth camping" so I might as well show you an example of a well equipped stealth camper.
Another stealth camper told us this gentleman was in his late 80's and still going strong. It seems that this gentleman had been spending the winter in Key West for some time.
Now you have an idea of the type of vehicle that had the "Dead Head" sign on the front bumper in the picture above.
Colorful Parrot on a bicycle
There is a shop just off Duval Street that sells colorful yard flags of every description. Joyce really likes this one but -------NO, you want find it in our yard at home.
She left it in Key West.
Coconuts for sale in front of a home on No Name Key
We have taken a picture of this table with coconuts for sale before. It caught our fancy this time just as it has in the past. I am tempted to see if there are any quarters in that money jar.
This table is located in front of a residence on No Name Key. Tourist flock to No Name Key to see the tiny, endangered Key Deer where they drive up and down this street. Who knows how many tourist actually pick up one of these coconuts to take home as a souvenir.
Folks in the Keys love cute signs and this one on a cul-de-sac is no exception
End of the Road. That is really cute for a house at the end of a cul-de-sac in the Florida, Keys.
One residence on No Name Key has this sign in their front yard. You can see where it is located in relation to the mail box.
I think this sign is in response to another sign down the street.
Check our next picture to see what it says.
We love this sign in front of a residence on No Name Key.
I think this was the first sign and the "Somewhere" sign came later.
I tend to think both are classics.
We enjoy seeing this sign, hanging in Hogfish Grill on Stock Island, every time we dine there.
By the way, Hogfish Grill is one of our favorite dining places when in Key West. You should check it out and try it yourself.
Cute no parking sign in Key West
While the sign is cute, real cute. The residents are not kidding. Parking is extremely limited in Key West and they do not fool around with folks in their parking places. Park somewhere where you are not supposed to and your car will be towed and impounded in a heartbeat.
Restless Native Luxury Catamaran available for charter along Harbor Walk in
This Restless Native Voyage Charters sign caught our eye every time we passed this catamarans slip in Key West Bight Marina.
Until next time remember how good life is.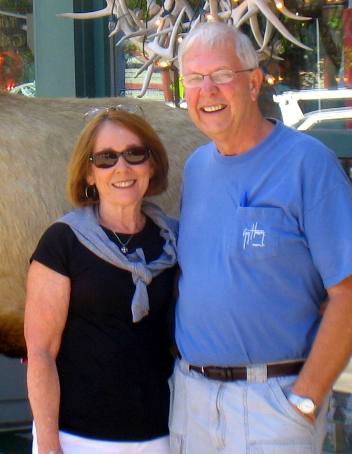 Mike & Joyce Hendrix who we are
We hope you liked this page. If you do you might be interested in some of our other Travel Adventures:
Mike & Joyce Hendrix's home page
Travel Adventures by Year ** Travel Adventures by State ** Plants ** Marine-Boats ** Geology ** Exciting Drives ** Cute Signs ** RV Subjects ** Miscellaneous Subjects
We would love to hear from you......just put "info" in the place of "FAKE" in this address: FAKE@travellogs.us
Until next time remember how good life is.