Trees of Key West
Banana Trees at the Galleon Resort in Key West
Banana trees are a common sight in south Florida and Key West is no exception.
When we pass through Homestead, Florida on our way to Key West each winter we pass by plantations of bananas.
Travelers Palm in Truman Annex Old Town Key West, Florida
Travelers palms get their name because early travelers used to find water in pockets formed where each branch connects to the trunk. It is said that each pocket could contain as much as a quart of water.
These are large tourist trees. Tourist trees get their name because the bark is reddish in color and peals just like a tourist.
You can click here to go to learn more about Tourist Trees and see more examples.
Tourist Trees are also called gumbo limbo trees.
Kapok Tree in front of the Monroe County Court House in Key West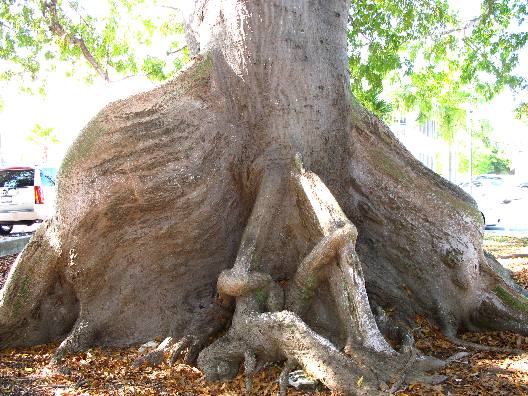 This kapok tree can be found on Whitehead Street in Key West at the Monroe County Court House.
Kapok trees are large and have these unique buttressed roots.
Kapok trees also produce a fiber that was used to make life preservers. In fact during WWII life preservers were all made with kapok fiber.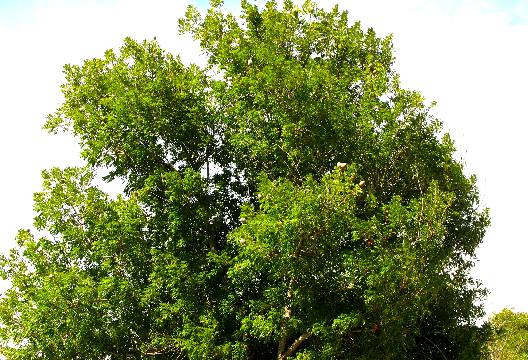 Mahogany tree with a fruits visible. Mahogany trees can get larger than this tree but it will give you an idea of the size of a mature mahogany tree.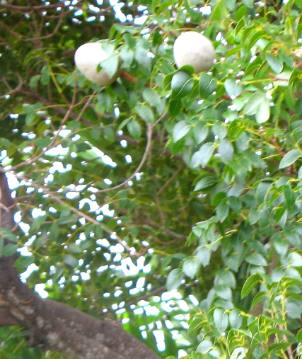 Mahogany trees are easily identified by the large fruit or nuts.
Mahogany trees are the ones that are use to make the dark furniture that used to be so popular.
Banyan Tree at the Banyan Tree Resort in Key West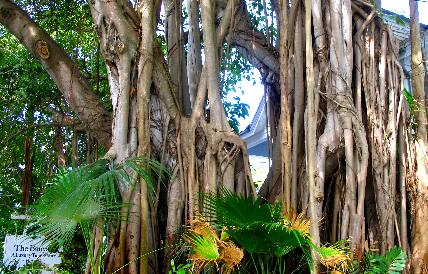 This is a nice size banyan tree in the yard at Banyan Tree Resort on Whitehead Street in Key West.
The most impressive banyan tree we have seen to date is the large one at the Edison mansion and museum in Ft Myers.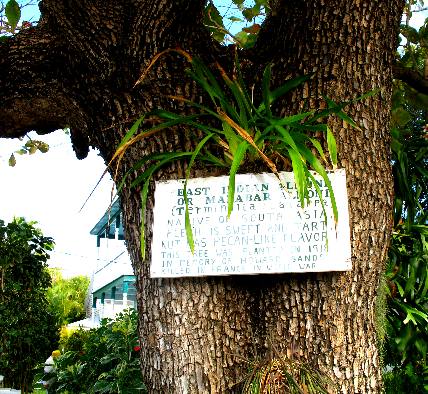 This is an East Indian Almond or Malabar Almond whichever you prefer.
This one has a sign on it but I think we we have seen others in Key West. I am not as sure about the others since they do not have an "identification" sign on them.
Coconut palms are a mainstay of tropical landscapes in south Florida and throughout the Florida, Keys.
Orchid trees have simply beautiful blooms.
Orchid trees are truly beautiful but in some parts of Florida they are discouraged because the seeds pop up everywhere.
Royal Palm trees in front of the Mills Place Condominium in Truman Annex Key West, Florida
Two rows of royal palms line the way to the front door of Mills Place Condominiums in Truman Annex.
Royal Palm tree in Truman Annex Key West, Florida
A beautiful royal palm tree on display in this yard.
Strangler Fig in Truman Annex Key West, Florida
Strangler figs are unique in that they begin life as an epiphyte or air plant.
From that beginning they start sending roots down to the ground. You can see the strangler figs roots wrapped around this large tree in Truman Annex.
I do not know if a strangler fig actually "strangles" the host tree or not but many times when we see one we can not see a host tree. Of course with that thick mass of roots there is no telling what was once there.
Until next time remember how good life is.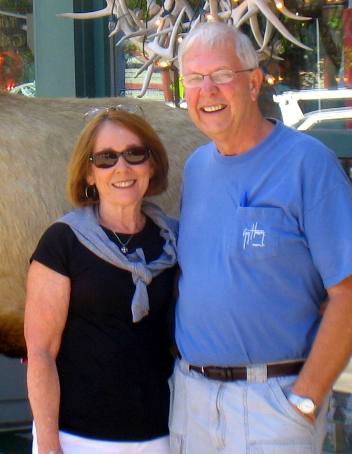 Mike & Joyce Hendrix who we are
We hope you liked this page. If you do you might be interested in some of our other Travel Adventures:
Mike & Joyce Hendrix's home page
Travel Adventures by Year ** Travel Adventures by State ** Plants ** Marine-Boats ** Geology ** Exciting Drives ** Cute Signs ** RV Subjects ** Miscellaneous Subjects
We would love to hear from you......just put "info" in the place of "FAKE" in this address: FAKE@travellogs.us
Until next time remember how good life is.