Florida Bananas
Banana Plants in a Florida yard
Several heavily trimmed banana trees located behind a fence.
Several bunches of bananas
These bananas were growing next door to the Hog Fish Grill on Stock Island which is essentially Key West.
Bananas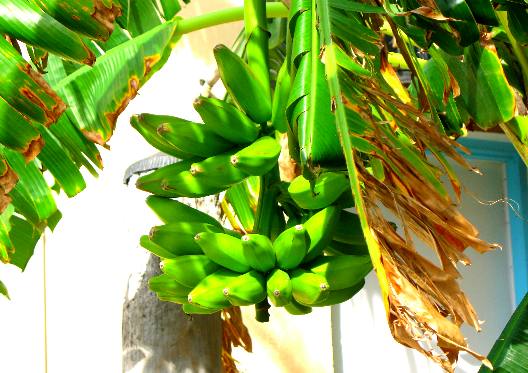 Bright green bananas on this plant.
Florida Bananas
This is a nice bunch of bananas growing in someone's yard here in Key West.
Bananas and the flower on a Florida Banana
The flower, which may also be called banana blossom, grows on the end of the stem holding a cluster of bananas.
Look below the cluster of bananas and you will see the deep purple blossom near the bottom of the picture.
They eat these blossoms as a vegetable in certain parts of Asia.
The blossom is a deep crimson color and consists of tightly packed bracts that wrap around rows of male flowers.
It is the inner pale colored bracts that are used for Asian food dishes.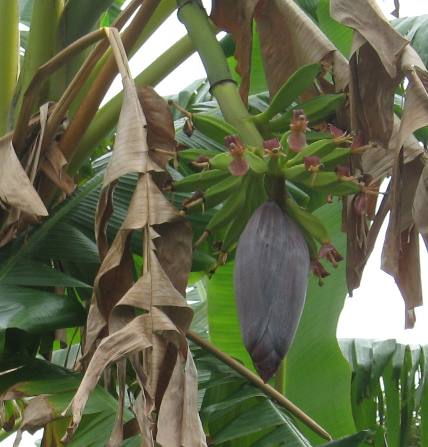 This is the banana blossom when one of the deep purple bracts open you can see the bright yellow flowers.
Bananas growing in Truman Annex Key West
Earlier in the day bright yellow flowers would have been exposed under that lifted bract.
Until next time remember how good life is.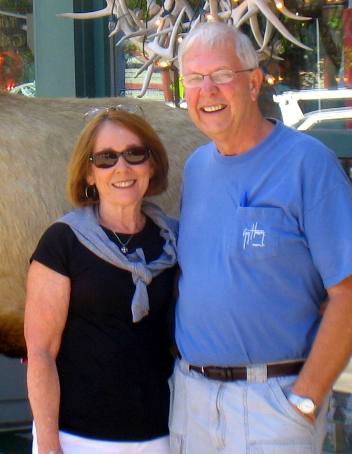 Mike & Joyce Hendrix who we are
We hope you liked this page. If you do you might be interested in some of our other Travel Adventures:
Mike & Joyce Hendrix's home page
Travel Adventures by Year ** Travel Adventures by State ** Plants ** Marine-Boats ** Geology ** Exciting Drives ** Cute Signs ** RV Subjects ** Miscellaneous Subjects
We would love to hear from you......just put "info" in the place of "FAKE" in this address: FAKE@travellogs.us
Until next time remember how good life is.