Banyan Tree
This beautiful banyan tree is in the parking lot of a resort in Key West, Florida.
Banyan trees are a member of the Ficus family of trees.
The banyon tree is unique in that it does not start life like most plants you are familiar with.
Look closely at what you are thinking is the "trunk" of this tree. Those are actually roots.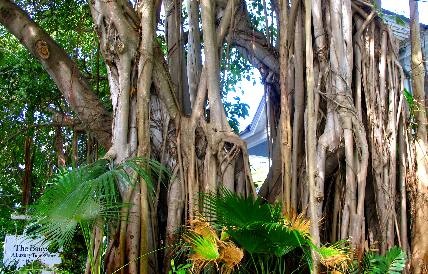 This is one of the banyan trees at the Banyan Resort in Key West.
It is located at 323 Whitehead Street in Key West, Florida, and if you are interested in staying there try (305) 296-7786.
They Banyon Resort actually has many banyon trees on the property and all of them are easily visible from the sidewalk on Whitehead Street in Old Town Key West.

Banyan trees are members of the Ficus Tree family which are noted for aerial root systems.
Banyan Tree at the post office in Key West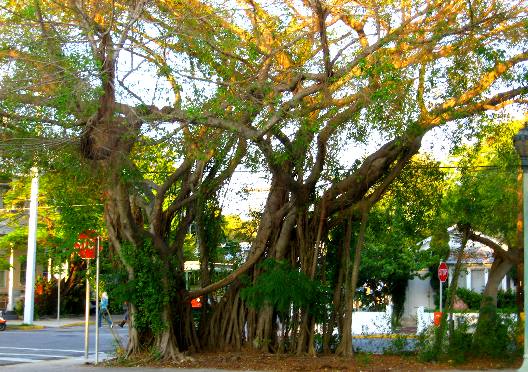 A banyan tree starts life as an epiphyte (an air plant). This takes place when its seed is deposited and germinates somewhere on a host tree. Of course they can also start life on buildings and other structures.
Banyan trees are generally considered to be ficus trees that share that unique life cycle.
When the seeds germinate they begin to send down roots towards the ground. Over time these roots usually envelop part of the host tree or building structure with their roots, giving them the casual name of "strangler fig".
Banyan Tree on Big Pine Key in the Florida Keys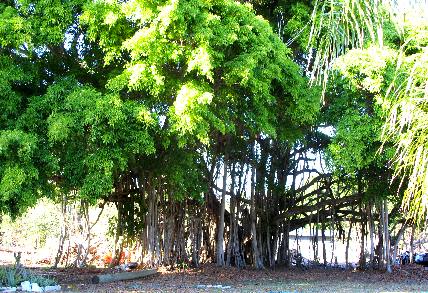 In this picture of a banyan tree (or strangler fig) which ever you prefer I think you can see the dark outline of the host tree. While the light colored roots are the banyan or strangler fig.
What you see here is characteristic of older banyan trees.
You can see their aerial prop roots that grow into thick woody trunks.
As the prop roots age they become part of the "spreading-trunk".
Old trees can spread out laterally using these aerial prop roots to cover a wide area.
Banyan Tree behind Mel Fisher's Museum in Key West
One has to wonder what the host tree was for this huge banyan or "strangler fig" tree located behind Mel Fisher's Museum in Key West.
The original tree may have been totally strangled, or it may still be in there somewhere.
Keep in mind that what you see are "roots" that have extended down from the plant above. Once they become established in the soil they will become woody and over time become part of the "trunk" of the spreading tree.
On this small banyan you can see where where some of the aerial roots are becoming woody enough to be classified as part of the trunk.
Until next time remember how good life is.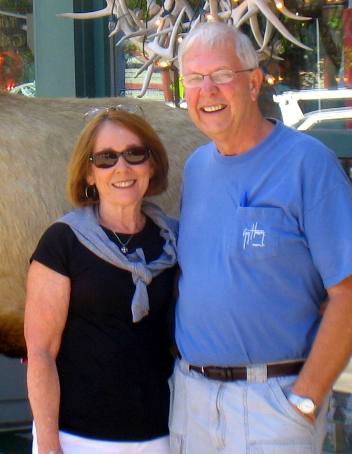 Mike & Joyce Hendrix who we are
We hope you liked this page. If you do you might be interested in some of our other Travel Adventures:
Mike & Joyce Hendrix's home page
Travel Adventures by Year ** Travel Adventures by State ** Plants ** Marine-Boats ** Geology ** Exciting Drives ** Cute Signs ** RV Subjects ** Miscellaneous Subjects
We would love to hear from you......just put "info" in the place of "FAKE" in this address: FAKE@travellogs.us
Until next time remember how good life is.