Key West Waterfront
We took this picture on our return trip from Ft Jefferson in Dry Tortugas National Park. We were on the Yankee Freedom II ferry boat that transports passengers to and from Ft Jefferson.
You are looking at Mallory Square in Key West where hundreds if not thousands of people gather each evening to celebrate the sunset.
Watching the sunset from Mallory Square or Sunset Pier is one of the things you need to put on your list of things to do when you visit Key West.
The large yellow building is Ocean Key Resort & Spa while Mallory Square is to the right and Sunset Pier is to the left.
We wander down to Sunset Pier and Mallory Square fairly often when we are in Key West to enjoy the sunset.
If we arrive early we can get a seat at Sunset Pier and also get something to eat and drink while waiting for sunset.
When we arrive "late" we generally head to Mallory Square and mingle with the crowd gathered there.
One of the Fury Fleet's Sunset Cruise Boats
The Fury sail boat is ending a day trip and about to take these passengers to the dock next to Sunset Pier.
When these "day-sailors" disembark, the boat will be cleaned and prepared for the sunset cruise.
Fury's sunset cruise features a live band and the live band has to bring all their equipment on board so it is fun to watch all that is involved in transforming this catamaran from a "day-sailor" into a sunset cruise. They crew also has to load all the food and drink for the sunset cruise.
Fury has put together an extremely popular sunset cruise that celebrates the sunset in Key West aboard their 65' Catamaran.
Fury features entertainers from Key West and singers/songwriters from Nashville. Fury promotes the musical experience as "a Commotion on the Ocean". While we haven't yet experienced the sunset cruise on the Fury boat we can attest to the fact that the passengers on board are rockin' the boat with munchies, margaritas, and live music!
When passengers return to the dock located next to Sunset Pier it is evident that they have been enjoying the free beer, margaritas, and appetizers while listening to the live sounds those musicians!
We hear things like: "it is going to be hard to find anything better than this for the rest of the night" .......as they head up Duval street looking to do just that. VBG
Coast Guard Station Key West
We were on the Yankee Freedom II and about to enter Key West Bight Marina from the Gulf of Mexico.
We were on on the Yankee Freedom II ferry boat returning from a day trip to Ft Jefferson in the Dry Tortugas.
By the way, if you are planning a visit to Key West you want to consider visiting Ft Jefferson in the Dry Tortugas aboard the Yankee Freedom II. It is a day trip you will remember the rest of your life. It is a 70-mile trip to Ft Jefferson past the the Marquesas Keys. A naturalist is continually identifying and directing your attention to wildlife, and other things. We passed thousands of lobster traps and bouys between Key West and the Dry Tortugas. Then when we arrived in the Dry Tortugas the naturalist turned historian and took everyone on a tour of Fort Jefferson. Like I said, it is a trip you will remember for the rest of your life.
The Coast Guard station was on the left as we entered Key West Bight Marina back in Key West.
Waterfront at the foot of Duval Street in Key West
Joyce took this picture from the deck of the Yankee Freedom II the ferry that takes people to Fort Jefferson in Dry Tortugas National Park 70-miles west of Key West.
We are almost back to the dock in Key West Bight Marina when Joyce snapped this picture. Duval Street ends at the water here. The Fury fleet of boats dock in the marina you are looking at. And the dock on the extreme right is Sunset Pier. To say the least the marina you are looking at is a hub of activity during the day and into the night.
Much of this is the Galleon Resort Complex
The Galleon Resort Complex overlooks the Gulf of Mexico in historic Old Town, Key West. The resort's 90-slip marina, part of Key West Bight Marina, accommodates boats up to 150-feet and hosts a variety of water activities.
They also feature a private beach and outdoor pool.
If that isn't enough you can venture out and explore the island, there are local attractions, art galleries, shopping and restaurants within easy walking distance of the Galleon Resort.
Until next time remember how good life is.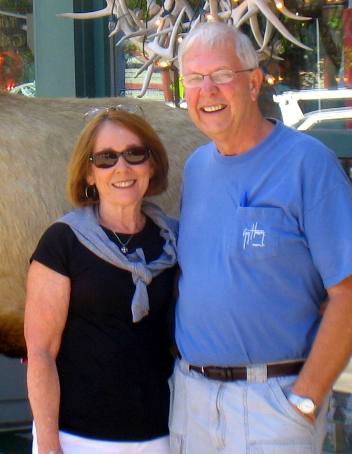 Mike & Joyce Hendrix who we are
We hope you liked this page. If you do you might be interested in some of our other Travel Adventures:
Mike & Joyce Hendrix's home page
Travel Adventures by Year ** Travel Adventures by State ** Plants ** Marine-Boats ** Geology ** Exciting Drives ** Cute Signs ** RV Subjects ** Miscellaneous Subjects
We would love to hear from you......just put "info" in the place of "FAKE" in this address: FAKE@travellogs.us
Until next time remember how good life is.