Matt Mason, Gary Morse, Anthony Orio, Shane Chilton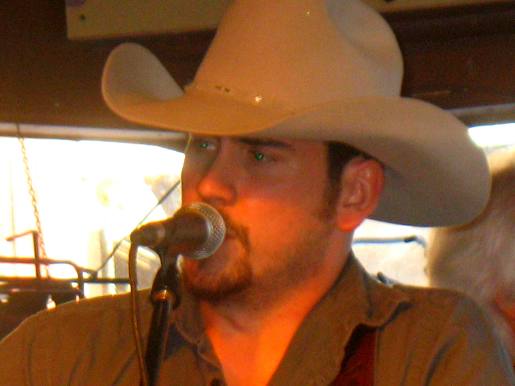 Matt Mason has good vocals and can be found working the honky tonks along Broadway. I hope Matt makes it. We first met Matt when he had a gig at Tootsies on Panama City Beach several years ago.
You can catch Matt Mason and his band in Legends Corner several days each week.
Gary Morse plays with a variety of artist when he is not on the road playing with Brooks & Dunn. On this day he was performing with Matt Mason in Legends Corner. When you are in Nashville cruise the honky tonks on Broadway looking for Gary in his trademark Stetson. Gary is probably the best steel guitarist in the business. If you enjoy good music and good musicians the honky tonks on Broadway Street in Nashville is the place to go.
That look on Gary's face tells me his senses are homing in on the perfect sound. Gary Morris can get almost any sound out of that steel guitar and the associated equipment.
In this picture Gary Morris is playing his steel guitar in Legends Corner with Matt Mason.
The Stage on Broadway with two artist buses parked outside
The Stage on Broadway is one of our favorite Nashville honky tonks. When you see two of those big touring busses parked outside The Stage on Broadway you know there is going to be some good music inside.
From left to right Christopher Griffiths (doing vocals on this song) however, he handles the bass guitar, then Anthony Orio with lead vocals and generally an acoustic guitar, and Wes Butler on the lead guitar. You can not see the Goodfeller's drummer, Louis Winfield, in this picture but he can not be left out. Louis puts the heart & soul in many of their songs. They are performing in Tootsies in Nashville, one of the premier honky tonks on Broadway.Tootsies has an extremely small stage for the band to perform on. The drummer is in a "hole" under that Tootsies sign you see behind Anthony. It was hard to even wave & smile at Louis when we left Tootsies.
Anthony Orio and the Goodfellers are professional musicians that tour the country playing in different venues. If you get a chance to watch their show do it. They are that good.
Anthony Orio and the Goodfellers have a new CD out. These fellows do a good mix of Country & Rock & Roll. I think they are on the road as much as they are in Nashville. We often enjoy them on Panama City Beach when they stop by the Tootsies on Panama City Beach for a week long gig.
You can check out Anthony's my space page to see where they are playing next.
One of the talented steel guitar players on Broadway.
I wish I could remember this musicians name but it slips me. Perhaps someone will help me out. I think he played with Trace Atkins for 9-years but it might have been another one of the big names. Suffice it to say he is one of the best on steel guitar and we enjoy his music when visiting the honky tonks on Broadway. He happens to be at The Stage on Broadway. in this picture but we listened to him the other night at Legends Corner.
Shane Chilton on the base guitar
Shane Chilton is a "big-time" bass guitar player. He is spending most of his time touring with Chris Young. When not on the road he picks up gigs with the bands on Broadway. We always look for Shane when we are in town since he plays with some of our favorite Nashville artist.
We recently saw Shane on stage with Chris Young when they performed at Bama Jam in Alabama.
Until next time remember how good life is.
Mike & Joyce Hendrix who we are
We hope you liked this page. If you do you might be interested in some of our other Travel Adventures:
Mike & Joyce Hendrix's home page
Travel Adventures by Year ** Travel Adventures by State ** Plants ** Marine-Boats ** Geology ** Exciting Drives ** Cute Signs ** RV Subjects ** Miscellaneous Subjects
We would love to hear from you......just put "info" in the place of "FAKE" in this address: FAKE@travellogs.us
Until next time remember how good life is.