Nashville Honky Tonks
We are staying at Poole Knobs COE Campground near Smyrna, TN.: $9 a night with elect & water (we have the National Park systems 1/2 price geezer pass) so if you aren't 62 years old or disabled yet it will cost you $18. Smyrna and Poole Knobs COE Campground, is about 20-miles SE of downtown Nashville. We are on site # 41 and it is a beautiful site but there are many wonderful sites.
When a wonderful COE Campground like Pool Knobs is not available we look for a 1/2 price PPA Campground.
BB Kings Blues Club Nashville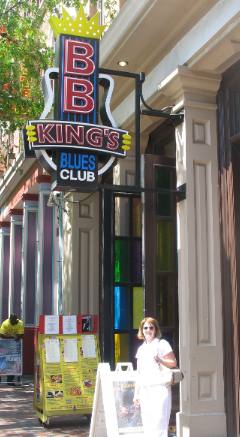 We have settled into using the parking garage on the NW corner of 3rd and Commerce street. From there we walked east on Commerce Street to 2nd street before walking south to Broadway and the real honky tonks of Nashville.
BB Kings specializes in Blues music and is located on 2nd where at Commerce Street.
We never did see a band in BB Kings that suited our liking so this is the best picture of BB King's that we got. Next door to BB Kings was Coyote Ugly, we dropped in there late one night. It was interesting but Joyce decided that one visit was enough. We both got a charge out of being carded before entering. I guess the door man was following instructions to check EVERYONE'S ID.
Buck Wild

During the 30 to 60 minutes it takes for bands to change on honky tonk row we ambled down to 2nd street. The Buck Wild Saloon, located across the street from the Wild Horse Saloon, another semi-honky tonk, had some good karaoke going on. A local told us you could always find good talent performing there.
This band was performing in Tootsies honky tonk but we did not stay long. They were good but we knew better entertainment could be found in one of the other honky tonks.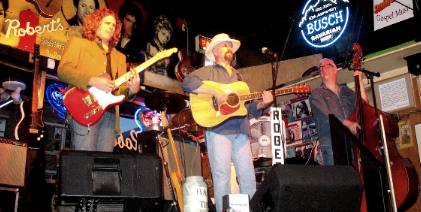 We enjoyed this band earlier in the week when they were performing at Robert's honky tonk. JD Simo, the lead guitar player, is top notch. Dave Roe, the base guitar player, toured with Johnny Cash's road band for 10-years.
TO Townsend O'Donnel performing at Rippy's
This is TO Townsend O'Donnell. We have enjoyed them several times performing at Rippy's on the corner of Broadway & 3rd Street, across the street from Tootsie's and Legends Corner. They are good. Check them out at:
I do not think I would classify Rippy's as a honky tonk but it is a live music venue nestled in that cluster of classic honky tonks on Broadway in Nashville.
www.townsendodonnell.com
That pretty much summs up this honky tonkin experience on Braodway in Nashville.
Click here for more of our Tennessee Travel Adventures
Until next time remember how good life is.
May 19, 20 & 21, 2008.
Mike & Joyce Hendrix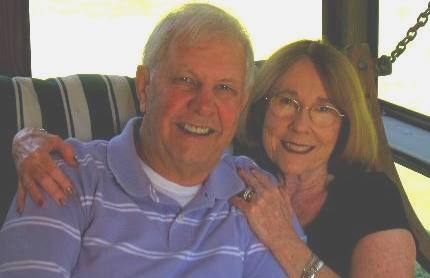 Mike & Joyce Hendrix who we are
We hope you liked this page. If you do you might be interested in some of our other Travel Adventures:
Mike & Joyce Hendrix's home page
Travel Adventures by Year ** Travel Adventures by State ** Plants ** Marine-Boats ** Geology ** Exciting Drives ** Cute Signs ** RV Subjects ** Miscellaneous Subjects
We would love to hear from you......just put "info" in the place of "FAKE" in this address: FAKE@travellogs.us
Until next time remember how good life is.