May 15 through 18, 2008
We are staying at Poole Knobs COE Campground near Smyrna, TN.: $9 a night with elect & water (we have the National Park systems 1/2 price geezer pass) so if you aren't 62 years old or disabled yet it will cost you $18. Smyrna and Poole Knobs COE Campground, is about 20-miles SE of downtown Nashville. We are on site # 41 and it is a beautiful site but there are many wonderful sites.
If you can not find a COE campground like Poole Knobs in Smyrna you need to look for a 1/2 Price PPA Campground.
Legends Corner, another Legendary Nashville Honky Tonk
We enjoyed Melissa Paige at Legends Corner a premier Nashville Honky Tonk. She is good. Really good.
Check out her music here: http://vids.myspace.com/index.cfm?fuseaction=vids.individual&videoid=809101962
Melissa's Band is the Exit 69 Band which are all excellent musicians that also play on the road with various stars:
http://profile.myspace.com/index.cfm?fuseaction=user.viewprofile&friendid=142563312
Tim McDonald Honky Tonk Keyboard Player Extraordinaire performs at Legends and The Stage On Broadway
Melissa's keyboard player with great vocals was Tim McDonald. Tim is another of those honky tonk musicians that plays in a number of bands. We have enjoyed his music and on stage humor in several venues here on honky tonk row.
Tim has some good/fun/funny songs that he does, if your are interested in Tim & his music try this:
http://profile.myspace.com/index.cfm?fuseaction=user.viewprofile&friendid=4643256
Good Honky Tonk sign outside the Second Fiddle

This sign pretty much sums up Broadway Street between 4th and 5th. Honky Tonk Heaven. This is a sign outside the Second Fiddle one of the good honky tonks on Broadway.
Today was as good as it gets. A day touring Nashville Honky Tonks with my best friend. What else could I ask for?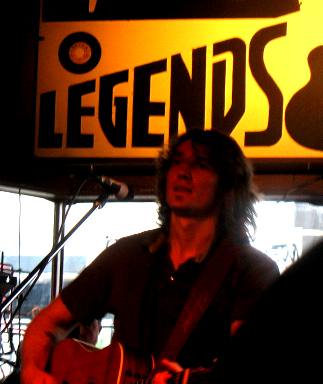 In the next two days we journeyed back to honky tonk row for afternoons and evenings of wonderful entertainment.
Nathan Douglas is another up and coming performer. Expect to see him make it in the industry. We enjoyed Nathan on several stages over several days/nights.
Listen to some of Nathan's music:
http://profile.myspace.com/index.cfm?fuseaction=user.viewprofile&friendID=95416034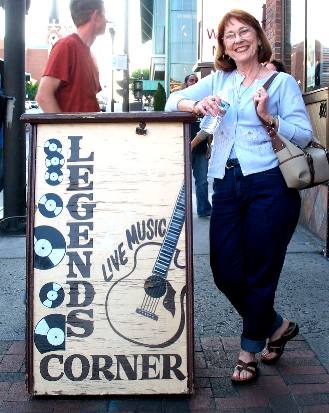 Saturday was a new day. After sleeping late we made our way back to Broadway Street and the task of finding the best band playing in one of those honky tonks. Legends Corner is one of the famous honky tonks. I think Joyce is telling me that we are about to see what they have to offer.
While on the corner of 5th & Broadway Joyce stopped to get her picture taken with this Honky Tonk Heroes Guitar. It is located on the corner outside Legends Corner honky tonk.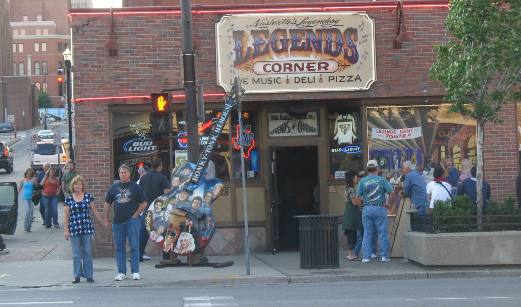 This is what Legends looks like from across the street. Note the guitar that Joyce stood beside for her pictures.
Saturday turned out to be another "home run", what could be better than a day & night "honky tonkin" with your best friend?
Thankfully, for me, my best friend also happens to be da boss. VBG
That pretty much summs up this honky tonkin experience on Broadway in Nashville.
Click here for more of our Tennessee Travel Adventures
Until next time remember how good life is.
Mike & Joyce Hendrix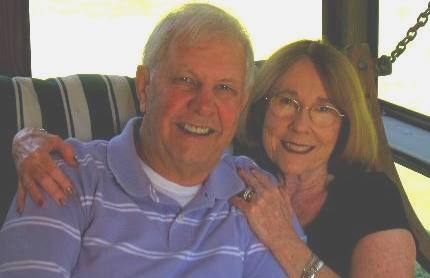 Mike & Joyce Hendrix who we are
We hope you liked this page. If you do you might be interested in some of our other Travel Adventures:
Mike & Joyce Hendrix's home page
Travel Adventures by Year ** Travel Adventures by State ** Plants ** Marine-Boats ** Geology ** Exciting Drives ** Cute Signs ** RV Subjects ** Miscellaneous Subjects
We would love to hear from you......just put "info" in the place of "FAKE" in this address: FAKE@travellogs.us
Until next time remember how good life is.