We are dry camping along with some 700 other RV'ers at the Navy Base here in Key West. Actually, there are two bases within the NAS Key West complex that make up the 700-plus campsites. The two locations are at Sigsby and Trumbo Point. Sigsby is located 3 to 4 miles from "Duval Street" in Key West while Trumbo Point Campground is located 6 to 8 blocks from "Duval Street". We are staying at Trumbo Point, an easy walk to Duval-Street. But remember this is Dry Camping. There is central dump station and fresh water. Generators can run from 6am to 10PM. Life is good.
Commercial Campgrounds in Key West start at $100 a night and are located about 5-miles from Duval Street. Parking in Key West starts at $13 a day and goes up. The $13 parking site is about 6 blocks from Duval Street. The closer you get to Duval Street the more expensive the parking site.
Key West "Secret Spot" Sign
We tend to think that our campground at Trumbo Point is truly a "Secret Spot". This sign was perfect for the way we feel about Key West and the Trumbo Point Campground on the Navy Base.
This is Mike in front of our Winnebago Adventurer. We happen to be on a paved parking lot (our choice) while most of the other campers are in a grass field. We chose this spot since it was the closest to downtown Key West thus shortening our walk to downtown everyday. You can see my little 1KW generator on the ground in front of the motorhome. That little generator is a dream come true. It is keeping my batteries charged for right at 1/2 gallon a day through our first two weeks here. Keep in mind that the campground is "dry camping" thus we are relying on that little generator for all our power. Well not exactly, we do crank the large 5kw generator, on the motorhome, when we use the microwave oven. Other than those few minutes that 1kw generator provides all our power. Life is good here. VBG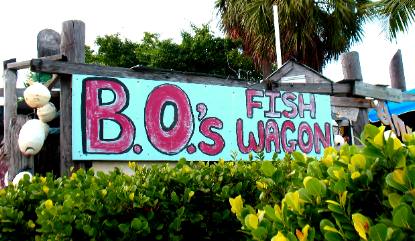 B.O.'s Fish Wagon is one of the most popular eating establishements on Key West. You have to love their "expensive" sign. Look for is on Caroline Street at Key West Bight Marina.
This is a funny sign, especially in Key West since all those things are essentilly the essence of Key West. I cannot tell you how many specialty shops and individuals are making a living rolling Cuban Cigars. Yep, they roll those stinky things especially for you. Then those folks walk around stinking up everything within 50'.
Silicone Free T-Shirt in Key West Shop

I have to laugh when I see someone in one of these T shirts.
Tiger Would.... ya gotta love this Key West T-Shirt
We laughed at this T shirt every time we saw it so I thought it would be appropriate to close this travel log with a bit of TIGER, levity.
Tiger sure provided everyone with a lot of jokes during this time of despair. Thank you Tiger.
Until next time remember how good life is.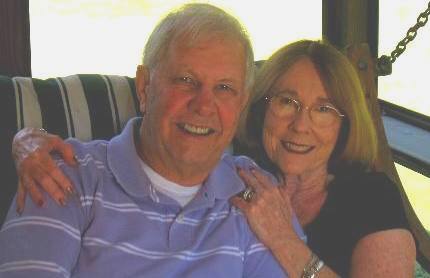 Mike & Joyce Hendrix who we are
We hope you liked this page. If you do you might be interested in some of our other Travel Adventures:
Mike & Joyce Hendrix's home page
Travel Adventures by Year ** Travel Adventures by State ** Plants ** Marine-Boats ** Geology ** Exciting Drives ** Cute Signs ** RV Subjects ** Miscellaneous Subjects
We would love to hear from you......just put "info" in the place of "FAKE" in this address: FAKE@travellogs.us
Until next time remember how good life is.