Key West, Florida Signs
January, 2010
Key West is a town of signs. Many signs are on T shirts. Other signs are on businesses. Some signs send messages. Other signs just call attention to something of some place. Whatever, we like the "Signs of Key West".
We are dry camping along with some 700 other RV'ers at the Navy Base here in Key West. Actually, there are two bases within the NAS Key West complex that make up the 700-plus campsites. The two locations are at Sigsby and Trumbo Point. Sigsby is located 3 to 4 miles from "Duval-Street" in Key West while Trumbo Point Campground is located 6 to 8 blocks from "Duval-Street". We are staying at Trumbo Point, an easy walk to Duval-Street. But remember this is Dry Camping. There is central dump station and fresh water. Generators can run from 6am to 10PM. Life is good.
Commercial Campgrounds in Key West start at $100 a night and are located about 5-miles from Duval Street. Parking in Key West starts at $13 a day and goes up. The $13 parking site is about 6 blocks from Duval Street. The closer you get to Duval Street the more expensive the parking site.
Conch Fritters, a Key West, Florida delicacy, is featured in this Key West Sign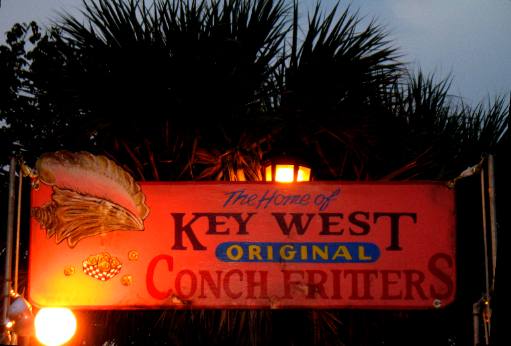 It is evident that we are in the Conch Republic and conch fritters are one of the delicacies as are stone crab claws and shrimp. Isn't this a beautiful Key West Sign?
Key West, Florida signs can be seen on many of the island automobiles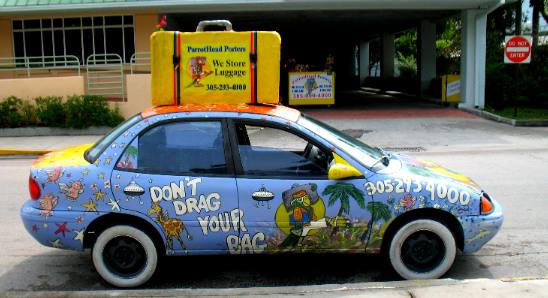 Folks down here march to a different drummer. It is always exciting to see things like this paint job that we do not see in other places. Key West signs can spotted on a variety of mediums.
The "organic-folks" are always around and Key West is no exception. We enjoy the variety of Key West signs....as in others this one sends a message.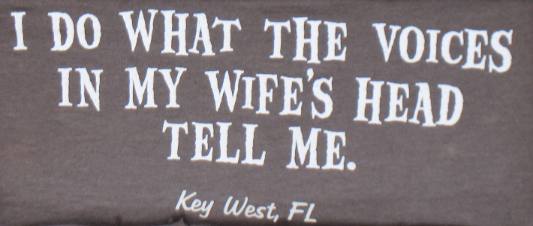 T shirts in Key West usually have a message. I thought this one was cute. We actually made of web page of "Key West Messages", you will like it.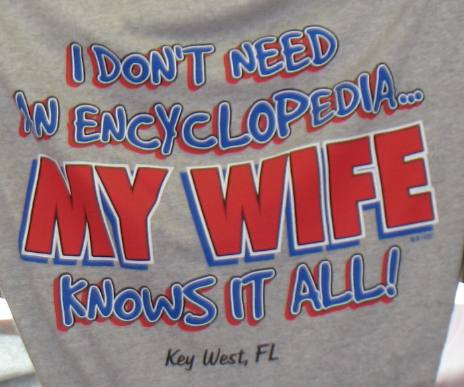 T shirts and signs in Key West tend to send messages like this one does. It is funny, very funny, but I have to wonder about the man brave enough to wear it. VBG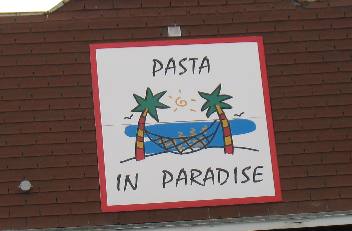 Another way of saying this would be Pasta in Key West. VBG
Until next time remember how good life is.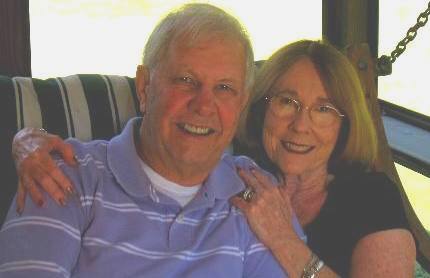 Mike & Joyce Hendrix who we are
We hope you liked this page. If you do you might be interested in some of our other Travel Adventures:
Mike & Joyce Hendrix's home page
Travel Adventures by Year ** Travel Adventures by State ** Plants ** Marine-Boats ** Geology ** Exciting Drives ** Cute Signs ** RV Subjects ** Miscellaneous Subjects
We would love to hear from you......just put "info" in the place of "FAKE" in this address: FAKE@travellogs.us
Until next time remember how good life is.