We normally look for 1/2 price PPA Campgrounds COE Campgrounds or National Park Campgrounds. But in Nashville, over the Memorial Day weekend Two Rivers Campground is our choice.
Our first stop on honky tonk row tonight was the Second Fiddle where we enjoyed Becki McLeod and her band. We have enjoyed Becki and her band on many occasions the past several weeks. Becky is a talent along as are all the members of her band. Every one of Becki's band members do session work (playing in the studio when CD's are cut) and travel on the road with various stars.
Don Mott at Second Fiddle Honky Tonk on Broadway
This is Don Mott Becki's base guitar player he not only plays a mean base but also provides good vocals in the Second Fiddle.
You can enjoy some of Don's music here:
http://profile.myspace.com/index.cfm?fuseaction=user.viewprofile&friendid=184685431
Matt Billingsly at the Second Fiddle Honky Tonk on Broadway
This unpretentious drummer is Matt Billingsly. He not only plays for Becki but does session work (in the recording studio) plus it leaked out on stage tonight why he wasn't going to be performing with Becki Friday night. It seems that he is the new drummer for Lady Antebellum which will be performing at LP Field Friday night. LP field is where the CMA is presenting 4 to 5 BIG TIME performing groups each night from 7:30pm until after 11pm. Performing at LP field for the CMA Country Music Fest is about the pentacle for Country Music musicians. Becki was introducing her band members and bragging on how good Matt was when one of the other band members let the "cat out of the bag" that Matt had landed the coveted job of drummer for Lady Antebellum. It was at that time that Becki realized why Matt would not be with her band on Friday night ------ he was going to be on stage at the big CMA event.
In musician speak "making it across the river" ------------- that is the "Holy Grail" for County Music artists. "Across the river" refers to LP Field (where the Tennessee Titans play) where the BIG name bands perform during Music Fest. Becki was happy for Matt even though that means that she will have to find another drummer when Matt will be on the road with with Lady Antebellum. Of course she and all the other performers on honky tonk row have to routinely do that since virtually all the musicians on honky tonk row play for the stars when they are not playing down here.
Craig Campbell's band followed Darryl Worley, Josh Turner & Mark Chestnut at The Stage on Broadway. Craig Campbell is every bit as talented as any of the super stars, probably more talented.
I have no idea why he doesn't have a recording deal. Anyway, this is Craig Campbell and his fiddle player. In 2011 Craig had a song "Family Man" on the Country Music Charts that got as high as the 20's.
Yesterday afternoon we met Craig's wife, Mindy, who was with him while he was performing at Legends Corner. Later in the evening we were in The Wheel (another honky tonk) where Criag's wife's was hanging with several of off duty bar tenders and musicians. We thought Craig might be performing across the street at the private party going on in The Stage on Broadway but Mindy told us "Craig was home baby sitting --- it was "girls night out" she said with a grin."
During one of his sets Craig Campbell called his friend Trent Tomlinson out of the audience to perform a few songs with the band. This is singer/songwriter Trent Tomlinson.
He performed several of his own songs with Craig's band. Trent's music, as well as his performing style, is as straight-ahead and unpretentious as he is. Trent likes to say his songs, "are real-life situations with kick-ass guitar." "It's 'open a beer, sit in a lawn chair, let's have a party' country". At the same time, he wants his songs to say, 'I have the ability to love you, to understand,' and at the end of the day all that matters is Mama and Daddy and going to heaven.
In addition to his albums Sarah Evans has one of his songs on her new album as does George Strait.
After listening to the songs these performer's do I have a real hard time understanding who it is that chooses what we listen to on the radio since so many of the original songs being performed on the stages of Broadway are sooooo much better than many of the songs that make it to the radio.
The Stage on Broadway was rocking tonight with a house full of performers and artists in the crowd. One of our honky tonk favorites, Melissa Paige, stopped and talked with Joyce and I for a few minutes. When Melissa stopped by to speak with us she was "resting". She had been putting on a dance lesson, just kidding, she had been cutting the rug with what looked to me like a country music dance instructor. They put on a show! Melissa not only can sing with the professionals she can cut a rug with them also. She is what you call "the TOTAL package".
We have lost count on how many times we have enjoyed Melissa performing in a variety of the Broadway honky tonks.
One day we went for an afternoon cruise on the General Jackson Showboat that boards jusd down the road from where we are staying at Two Rivers Campground. Check these links to read about our adventure on the General Jackson Showboat: Peking Acrobats, Delta Queen, General Jackson, Joyce touring the wheelhouse on the General Jackson.
Until next time remember how good life is.
Click here for more Nashville Attractions
Click here for Nashville Honky Tonks
Click here for Nashville Musicians
Click here for more of our Tennessee Travel Adventures
Mike & Joyce Hendrix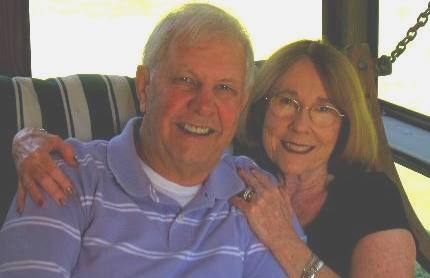 Mike & Joyce Hendrix who we are
We hope you liked this page. If you do you might be interested in some of our other Travel Adventures:
Mike & Joyce Hendrix's home page
Travel Adventures by Year ** Travel Adventures by State ** Plants ** Marine-Boats ** Geology ** Exciting Drives ** Cute Signs ** RV Subjects ** Miscellaneous Subjects
We would love to hear from you......just put "info" in the place of "FAKE" in this address: FAKE@travellogs.us
Until next time remember how good life is.