This is Craig Campbell a singer, songwriter and keyboard player that was performing with the band pictured below. He had great vocals and he has written several songs that are being performed by top artists.
You can enjoy some of Craig Campbell's vocals and song writing talent at:
http://www.myspace.com/craigcampbellmusic
This group of musicians performing at The Stage on Broadway draws a large group of young country music fans. The combination of the fiddle player and Craig Campbell on the keyboard were really rocking this honky tonk.
Craig Campbell, the keyboard player not shown in this photo is destined to be a star. He has his own band that is top notch. Craig also performs at several of the honky tonks on Broadway including Legends Corner.
Craig Campbell is probably the most promising Country artist we have listened to during the 3-weeks we have been visiting honky tonk row. Craig already has several CD's on the market.
When not performing at the honky tonks on Broadway Craig writes music. Craig has such exceptional vocal talent that other song writers hire him to sing their songs when they cut "demo" CD's.
Joyce may really have a prize photograph with this one.
Craig Campbell has what it takes to be a super star.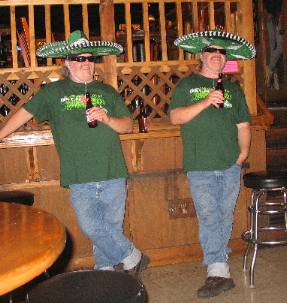 Craig Campbell and the other band members in Legends Corner made a big deal about these two guys. I suppose I should know who they are but I didn't. The band was questioning them and said they had just come from an advertising shoot. You NASCAR fans might recognize these guys. It seemed to us from the jargon being exchanged, between them and the band, that they are well known to the NASCAR crowd. Whatever, they were popular with the crowd. If anyone wants to provide me with any information on these two I will include it with this travelogue.
Thanks in advance for the information, since someone always writes to fill in the blanks on things like this.
John McCain's Flight crew at Legends Corner enjoying Craig Campbell
We spent the afternoon with these folks in Legends Corner. They are the "flight crew" for John McCain who is in Nashville. In fact while we were in Legends John McCain was holding a rally in the ole Rhyman Auditorium located next door. John McCain was next door waxing eloquent and glad-handing while his flight crew was enjoying the mucic of Craig Campbell! Ya gotta love that.
These are some other folks that travel on John McCain's airplane. Do you recognize any of them?
If you are a McCain supporter and do not recognize any of these folks ---- shame on you! You are just a "pretend" supporter or possibly a wanna-be. These are some folks you really should know.
If you are interested this bunch was NOT partying nearly as hearty as the flight crew. In fact I would say they were just enjoying themselves and Craig Campbell's music.
One day we went for an afternoon cruise on the General Jackson Showboat that boards jusd down the road from where we are staying at Two Rivers Campground. Check these links to read about our adventure on the General Jackson Showboat: Peking Acrobats, Delta Queen, General Jackson, Joyce touring the wheelhouse on the General Jackson.
Click here for more Nashville Attractions
Click here for Nashville Honky Tonks
Click here for Nashville Musicians
Click here for more of our Tennessee Travel Adventures
Until next time remember how good life is.
Mike & Joyce Hendrix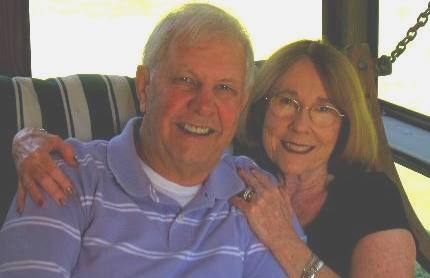 Mike & Joyce Hendrix who we are
We hope you liked this page. If you do you might be interested in some of our other Travel Adventures:
Mike & Joyce Hendrix's home page
Travel Adventures by Year ** Travel Adventures by State ** Plants ** Marine-Boats ** Geology ** Exciting Drives ** Cute Signs ** RV Subjects ** Miscellaneous Subjects
We would love to hear from you......just put "info" in the place of "FAKE" in this address: FAKE@travellogs.us
Until next time remember how good life is.