Craig is a south Georgia boy who has one of the best voices in Nashville! We have enjoyed Craig's performances for a number of years. We are always able to find him, and sometimes his beautiful wife Mindy, in either Legends Corner or The Stage on Broadway. He plays other gigs but that is where we usually find him.
Mindy Ellis Campbell, Craig's better half
Mindy and Craig are expecting their second daughter in August. We love listening to Mindy as much as we do Craig. She is certainly easier on the eyes. VBG
Craig Campbell playing his trademark keyboard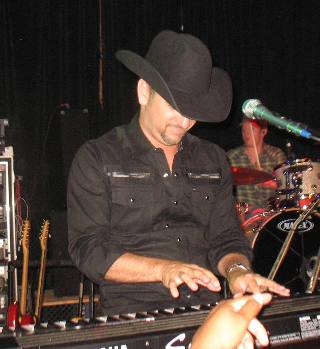 Craig has signed a record deal and is working on his debut album to be released this year.
Craig recently opened a show for Josh Turner, and you will most likely see him opening some shows for country megastar Alan Jackson this year, at least that is what the rumor mill is saying!
Craig belongs on the same stage with Alan. We are happy for him.
***** This is an update as of 11 December 2010. Craig has a hit: Family Man that is currently #27 on the Country Charts. He is touring with Luke Brian. I think Craig is on his way.
Craig had another hit on the Family Man CD: it was "Keep Them Kissess Comin".
Another update on 12 November 2014: Craig has a new hit on Garth Brook's new album "All American Kid". Craig, is the song writer or co-writer of Garth's "All American Kid".
Craig Campbell tickling the keyboard at The Stage on Broadway.
Kevin Key and Craig Campbell at The Stage on Broadway. Kevin tours with Mark Wills and plays with Craig when not on the road.
Craig is COUNTRY........ pure country...as in George Strait country.
Craig rocks the keyboard as a lead singer! Then he switches to a guitar, how cool is that?
Craig will not be a secret for long! Catch him at Legends Corner or The Stage on Broadway while you can.
Mindy Ellis Campbell performing at Legends Corner
Mindy Ellis Campbell is an accomplished song writer and vocalist that just happens to be married to Craig. We love Mindy's music as well as Craig's. Sometimes Mindy lets Craig sit in with her....VBG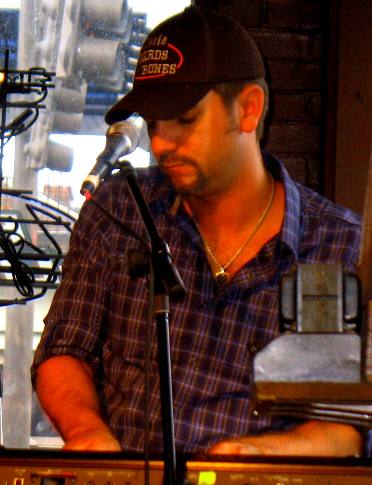 Craig Campbell performing live at Legends Corner on Nashville's honky tonk row. Catch his performance here quick. I am afraid you will be paying "big-bucks" to see him perform in just a few months.
Desi Thompson is our favorite bar tender in Nashville. He has been at Legends Corner for 5-years. We look for Desi when we are in Nashville. For some reason we did not get a picture of Desi that was acceptable for putting on the web site...... Desi, please accept our apologies. We will do better next time.
Update: When we were in Nashville for CMA in early June Desi was managing the Second Fiddle a few doors down from Legends Corner. Desi was engaged and we met his fiancee.