Camp Helen State Park in Florida
December 27th, 2009 through New Years Day
This travellog covers a day trip we took from where we were dry camping on Panama City Beach to Camp Helen State Park.
We stayed in my Sister's yard on Panama City Beach where we dry camped. Commercial campgrounds in the area start at $50 a night and quickly escalate from there. This is winter time and we do not need electricity for air conditioning so dry camping was great, and inexpensive.
Joyce likes to visit Camp Helen State Park located on the extreme western end of Panama City Beach. While the Park has a wonderful exhibit for visitors we like to walk to the pristine beach. I think these pictures will show you why Joyce likes to stroll on the beach at Camp Helen State Park.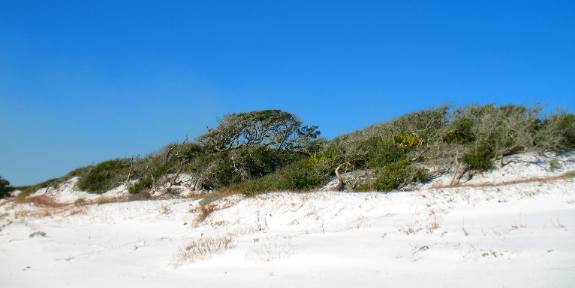 Keep in mind that this is late December and it is getting cold in the Florida Panhandle (as in the 30's on occasion). Folks do not tend to scurry to the beach when it is cold. The wind blows when each front passes through the area. The blowing wind and shifting sand create what appears to be snow drifts. The sand is actually this white. It is quartz for the most part, so the geologists say. This is a major dune system that has been building for possibly a 100-years. Those live oak trees you see on this dune system started years and years ago on pretty much a flat landscape. As they grow toward the sky blowing sand is captured by their roots and branches. During this cycle the tree is almost covered time and time again. Periodically, storms will come along and uncover some of the dune and root system. This dune system is looking pretty healthy.
Drift wood Camp Helen State Park near Panama City Beach, Florida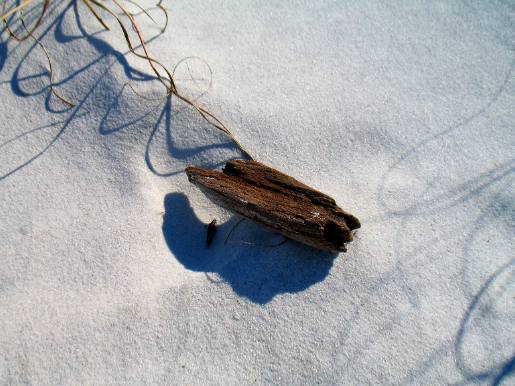 Joyce stopped to take this picture of driftwood and the long shadow it cast. The fresh blown sand looks so much like snow.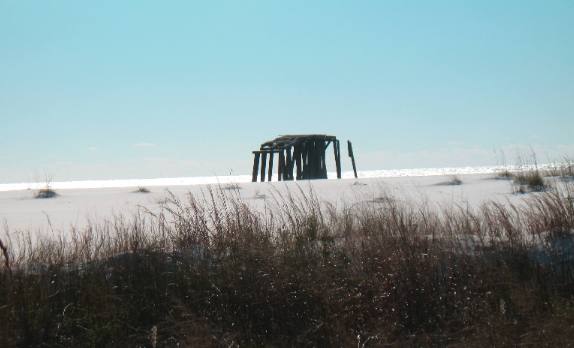 This is remnants of an old pier that once provided fishermen access to the Gulf of Mexico from Camp Helen State Park. It fell victim to some long ago hurricane.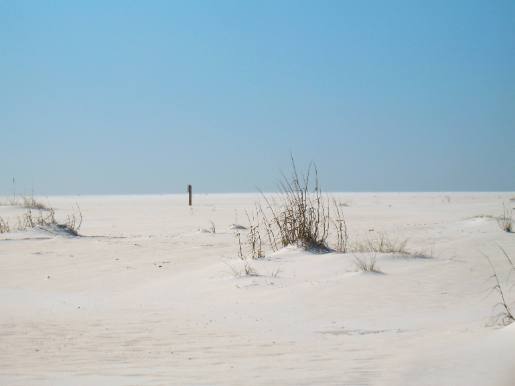 This is a picture Joyce took of the beach looking west. No one is on the beach today but us. There are no foot prints, no nothing but beautiful white sand.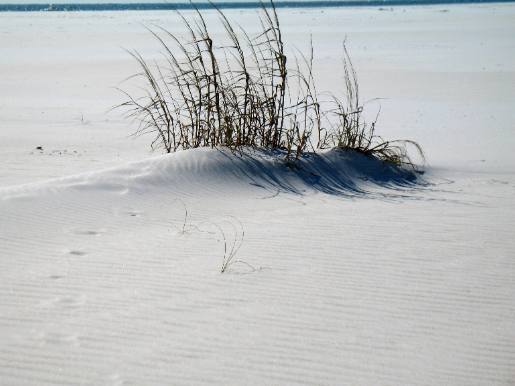 The start of a small dune. Who knows, this may build into a major dune system one day. In this picture you can see a sliver of the Gulf of Mexico at the top of the picture.
Old pier at Camp Helen State Park near Panama City Beach, Florida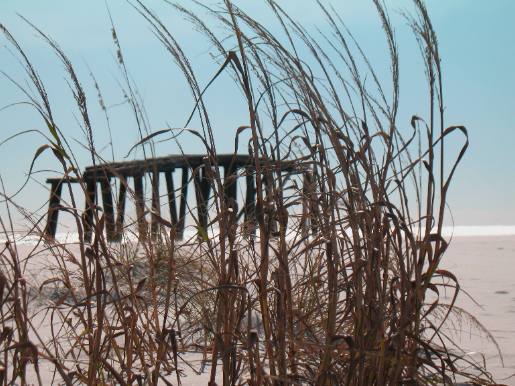 This is another picture of that old pier.
Beach at Camp Helen State Park near Panama City Beach, Florida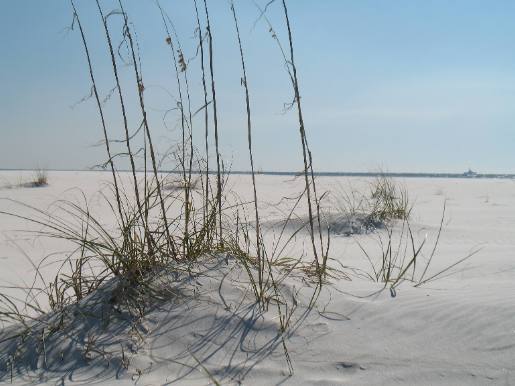 Joyce took this picture looking to the southeast from the beach in Camp Helen State Park. The beach is flat for hundreds of yards. In the distance you can see a Coast Guard boat patrolling the coast.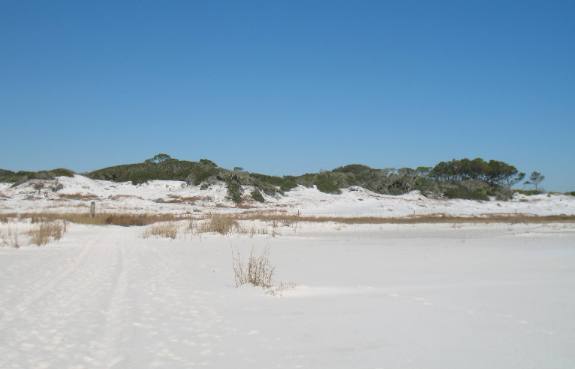 This is what the dune system looks like from the flat area along the beach in Camp Helen State Park.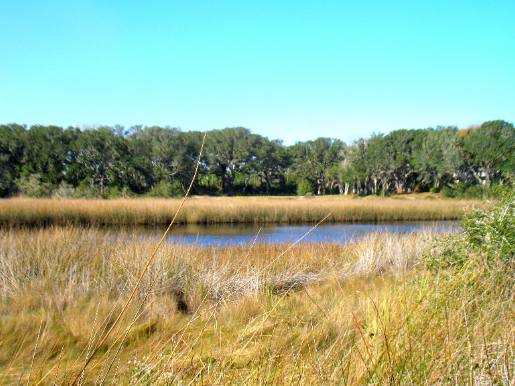 And finally, this is a shot of a tidal lagoon located in Camp Helen State Park complete with a grove of live oak trees anchoring the high ground on the other side.
I hope you enjoyed our visit to Camp Helen State Park.
Click here for more Florida Travel Logs & Travel Journals