St. Andrews State Park: Ghost crab, Gator Pond & Air Force jet
September, 5th thru 13th
This travellog covers the first few days of our 9-day visit to Panama City Beach where we stayed in St. Andrews State Park $26.16 for water & 30-amps with a central dump station. The sites feature paved interior roads with sand campsites. St. Andrews State Park Campground has LOCATION and "price". The campground is situated on Grand Lagoon with many sites on the water and all others with a view of the water. In my opinion it doesn't matter if you have one of the sites on the water or not you are so close to the water that it doesn't matter.
Too bad Panama City Beach doesn't have one of those 1/2 price PPA Campgrounds.
Joyce got lucky with this picture of a ghost crab on the beach. If you have ever tried to get a picture of one you will know what I am talking about because they scurry into their holes long before you get close enough to take a picture and they certainly don't stay still long enough to focus even at a distance.
Ghost crabs, are called sand crabs in some areas. They are common shore crabs in many countries.
These common shore crabs are called ghosts because of their ability to disappear from sight almost instantly. Ghost crabs have two black eyes on stalks, with what appears to be 360° vision. Ghost crabs burrow into the the sandy beach for protection from predators.

Ghost crab tunnels extend several feet into t he ground creating holes, that speckle the beach.

This is one of those ghost crab tunnels on the beach in St Andrews State Park
This is one of the holes those ghost crabs retreat into.
The air force is keeping us safe. This aircraft is flying out of Tyndall AFB located on the eastern side of Panama City.
They are a familiar site when staying in St Andrews state park.
Late one afternoon we stopped by Gator Pond in St. Andrews State Park and couldn't resist the reflections in the mirror smooth pond.
For those of you not familiar with Gator Pond in St Andrews State Park it does contain alligators and they can be viewed on most days.
Ghost crabs, jets from Tyndall Air Force base and Gator pond can all be counted on to provide excitement to visitors of St Andrews State Park.
Click here for more Panama City Beach Adventures
Click here for more Florida Travel Journals
Click here for Florida Panhandle Travellogs
Until next time remember how good life is.
Mike & Joyce Hendrix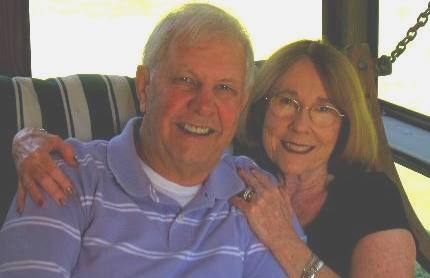 Mike & Joyce Hendrix who we are
We hope you liked this page. If you do you might be interested in some of our other Travel Adventures:
Mike & Joyce Hendrix's home page
Travel Adventures by Year ** Travel Adventures by State ** Plants ** Marine-Boats ** Geology ** Exciting Drives ** Cute Signs ** RV Subjects ** Miscellaneous Subjects
We would love to hear from you......just put "info" in the place of "FAKE" in this address: FAKE@travellogs.us
Until next time remember how good life is.