Frio River
Frio River in Texas
April 20, 2007.
We are staying in Kerrville at Kerrville Schreiner City Park that was formerly Kerrville Schreiner State Park. $15 per-night for FHU plus a $5 per-day entrance fee (but you can purchase an annual pass for $25 which we did). Kerrville Schreiner Park is located within the city limits on the Guadalupe River and has everything one could want in the way of Hill Country Ambiance. With that said there are probably 12-RV-Parks in Kerrville that are very nice plus they have good location as well. Many of these private parks are located on the Guadalupe River as well.
Mike & Joyce beside a giant cypress tree on the Frio River near Concan, Texas
Al took a picture of Joyce and me beside this beautiful cypress tree on the Frio River at a river crossing near Concan. You see the river (Frio) flowing across the road/bridge (if you want to call it that) behind us. The river flows over the bridge which as been constructed of concrete and is pretty level going across the river so that only a few inches of water flows across at any one point in the crossing. You don't cross at this spot if the river is up!
Dah! as the teen agers would say.
A good many river crossings are constructed in this manner out here where traffic is scarse and the traditional type of river crossing (as in bridge) would be washed away in one of the flash floods that ravage this region from time to time. With this construction method the dangerous high water just flows over the bridge then everything returns to normal when the water recedes, usually within a few hours.
Giant cypress tree on the Frio River near Concan, Texas
This is another look at that same river crossing from another angle. During most of the year it looks like this or even has less water flowing across the road. Vehicles slow down and drive across the bridge like it was a mud puddle.
Kayaking on the Frio River near Concan, Texas
This is a group of kayakers enjoying a day on the Frio River near Concan. Joyce took this picture from one of those river crossings.
Large cypress trees lining the bank of the Frio River as it flows through Garner State Park near Concan, Texas
This is another river scene from the Hill Country of Texas as the Frio River passes through Garner State Park near Concan, Texas.
Floating down the Frio River is big time fun out of Concan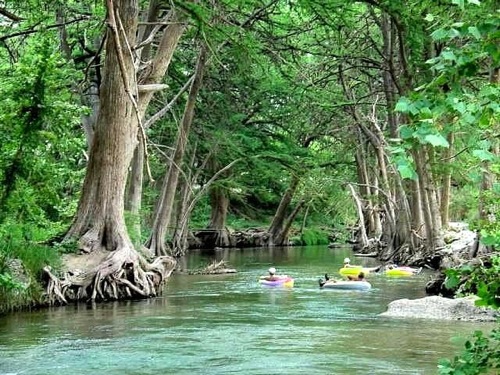 Outfitters in Concan rent tubes and such to float down the Frio River when the water is high enough.
I do not know if these were private floats or rental floats.
One thing is for certain this is a beautiful float.
If you enjoyed this Travel Adventure you might like some of these:
Texas Hill Country Fences & Gates
Willow Loop Scenic Drive north of Fredericksburg
Kerrville, Bandera, Hunt & Ingram; Texas
Wildlife of the Texas Hill Country
Mike & Joyce Hendrix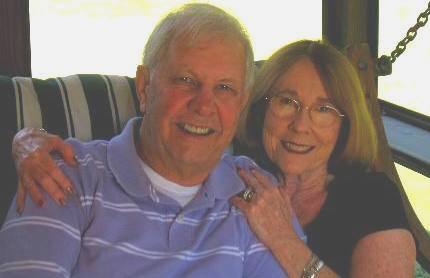 Mike & Joyce Hendrix who we are
We hope you liked this page. If you do you might be interested in some of our other Travel Adventures:
Mike & Joyce Hendrix's home page
Travel Adventures by Year ** Travel Adventures by State ** Plants ** Marine-Boats ** Geology ** Exciting Drives ** Cute Signs ** RV Subjects ** Miscellaneous Subjects
We would love to hear from you......just put "info" in the place of "FAKE" in this address: FAKE@travellogs.us
Until next time remember how good life is.