I-40 from Albuquerque to Gallup
May 16, 2007.
We were staying at Rocky Mountain RV an RV Dealership in eastern Albuquerque on Central Avenue--30-amps & water while we move into a new motorhome. Today was our day to continue our summer trip, with a new (to us) motorhome, after a pleasant stay in Albuquerque.
We spent the night in the free NPS Cottonwood Campground at Canyon de Chelly, Arizona. The campground is located just past the Canyon de Chelly Information Center. All you do is drive in and pick a site. There are no utilities but there is a central dump station and a central water connection near the dump station.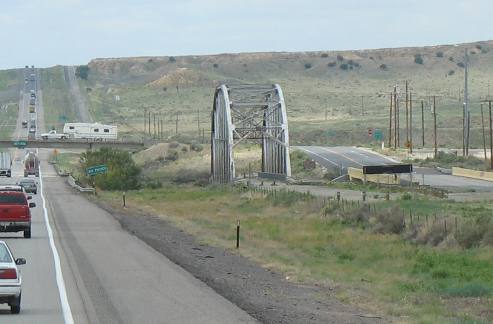 Less than 20-miles west of Albuquerque on I-40 we pass by that historic old Rio Puerco Bridge that is being preserved by the New Mexico Highway Department.
I-40 through western New Mexico is mesas, 18-wheelers & trains
I-40 is 18-wheelers and sandstone mesas.
The Sky City Casino, shown here on the right side of I-40, is a popular place for RV'ers to stop for the night and dry camp in their parking lot. It is located between Grants and Laguna.
Trains along I-40 west of Albuquerque are common
Trains are another common sight when traveling I-40 west of Albuquerque. We read somewhere that over 100 trains pass through Grants every day. Of course 18-wheelers are moving in both directions on I-40.
As we approach Grants we start seeing the 3,000 year old lava field known as "El Malpais" (Spanish for the badlands). Yes that is lava beside the interstate guardrail.
More lava this time on the northern side of US-Route 66 that parallels I-40 around Grants.
More lava flow this time on the west side of Grants and on the south side of I-40.
Sandstone roadcut west of Grants on I-40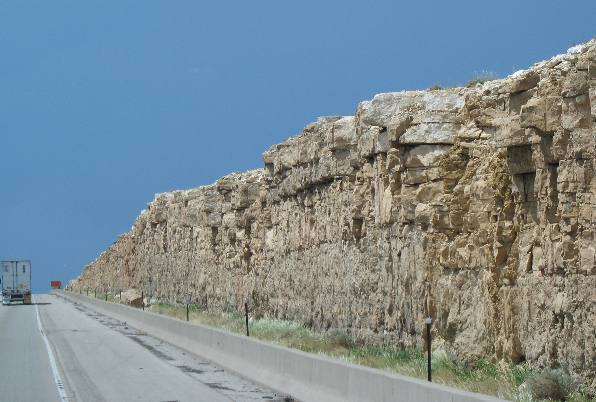 West of Grants we start getting into sandstone roadcuts like his one. This reminds us of western Texas but in Texas the roadcuts are through limestone.
Several mesas
Joyce snapped this picture consisting of several mesas.
Train and a mesa along 1-40 west of Albuquerque
Did I mention that trains are also a common sight along I-40? I guess they would have to be common for over 100 to pass through Grants every day. This train is a cattle hauler returning with empty cars.
Continental Divide on I-40 west of Grants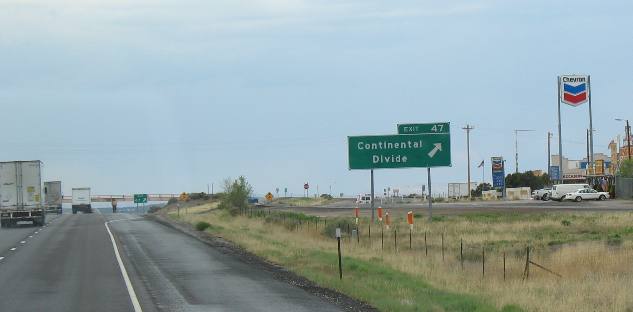 Forty seven miles from the Arizona border we uneventfully cross over the Continental Divide. Actually, that truck in front of me is crossing the exact spot of the Continental Divide along here. If it weren't for the sign commemorating this significant spot no one would know or even suspect that this was the Continental Divide.
Sandstone mesa along 1-40 west of Albuquerque, New Mexico
It is hard to imagine but Joyce snapped this picture of a sandstone cliff and mesa along a section without a train. Totally amazing.
Train & mesa along 1-40 west of Grants, New Mexico
Now this is more like it. Joyce has captured cattle, a mesa, sandstone cliffs, an one of the ubiquitous trains along I-40.
In Gallup we exited I-40 and got on SR-264, a nice 4-lane highway. We are were headed to Canyon de Chelly, Arizona via the small Arizona town of Ganado
Steep grade just before entering Ganado, Arizona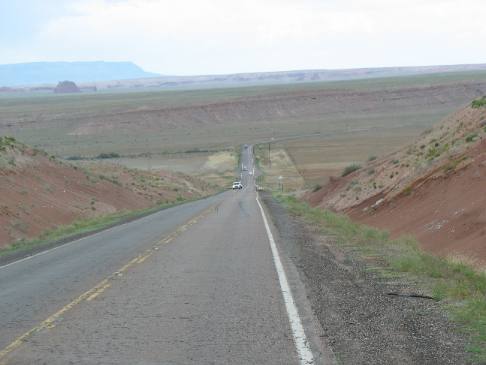 I think this was coming down a steep grade just before entering Ganado, Arizona.
Mike & Joyce Hendrix
Mike & Joyce Hendrix who we are
We hope you liked this page. If you do you might be interested in some of our other Travel Adventures:
Mike & Joyce Hendrix's home page
Travel Adventures by Year ** Travel Adventures by State ** Plants ** Marine-Boats ** Geology ** Exciting Drives ** Cute Signs ** RV Subjects ** Miscellaneous Subjects
We would love to hear from you......just put "info" in the place of "FAKE" in this address: FAKE@travellogs.us
Until next time remember how good life is.