Zuni Canyon Grants New Mexico
May 4, 2007
We are staying in the Blue Spruce RV Park $13.50 for 50-amps, water & Cable TV with central dump. Blue Spruce is located on the south west corner of the I-40 exit 81 intersection. It is an good enough RV-Park to use while exploring the area. The owners and staff were nice and the price was right.
Ancient "tree-cookie" or cross section with preserved history of the region
This is a "tree-cookie" or cross section of an old tree that has preserved the history of this region. Dendrochronologists (tree-ring scientists) can determine a great deal about past climate and fire history by studying the growth rings in tree-cookies such as this one.
Each ring represents a year in the tree's growth. Thick rings indicate wetter periods; thin rings indicate dryer periods. Trees are also scarred by fire, marking the event for dendrochronologists.
As dendrochronologists studied dead wood lying on the lava and cored into live trees they realized that some of these trees date to 200 B.C.
This particular Douglas fir sprouted on the Bandera lava flow about 200 B.C. It lived until A.D. 550. This tree is the oldest dated wood in either New Mexico or Arizona.
This "tree-cookie" was on display at the information center for El Malpais National Monument near Grants New Mexico.
By examining wood from both living and downed trees, scientists have restructured a climate history of the El Malpais area for the last 2,000 years and a fire history for the last 600 years. This has resulted in a better understanding of tree growth and natural fire cycles on the lava flows.
Note that this tree-cookie began life at 180 B.C. and lived until 400 A.D. Let those dates sink in. Pay attention to where on this tree Christ lived.
Mt Taylor north of Grants New Mexico
On our way back to Grants and our motorhome we snapped this picture of Mt. Taylor. Mt. Taylor is north of Grants and reaches over 11,300' in elevation. Some snow is still visible at the higher elevations. Grants is between where we are now and Mt. Taylor. Grants is in the valley.
It snowed for two days following this picture. In a later travelogue we will show you what Mt. Taylor looked like after the snow fell.
Once back in Grants we decided to drive out Zuni Canyon road that goes by the Blue Spruce RV-Park where we are staying at I-40 exit-81.
Zuni Canyon is a canyon created by erosion of sandstone. It appears to me that Zuni Canyon skirted the west side of the volcanic activity of El Malpais
Sandstone cliff in Zuni Canyon Grants New Mexico
Sandstone cliffs as seen from the road through Zuni Canyon.
Sandstone cliff in Zuni Canyon Grants New Mexico
Some sandstone cliffs have turned grey or dark in color. Water is the key to where this color is and isn't. The grey color is lichens that depend on a small amount of moisture.
Zuni Canyon homestead Grants, New Mexico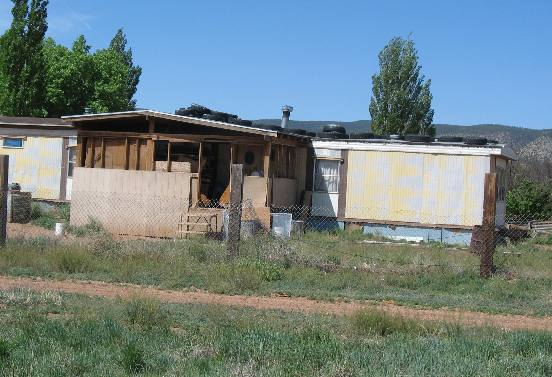 This was one of the living structures along the road into Zuni Canyon. I am always curious about the significance of automobile tires on a roof. Tires on roofs are a phenomena that we see in rural settings across the country. Someone recently told us that people put tires on the roof to keep the roof from rattling in the wind. Ok! That sounds plausible. It seems that aluminum and tin roofs flap in the wind making noise and possibly causing the roof to become detached from the structure. So some people put old tires on the roof to stop the noise and flapping. This fellow must have been experiencing a lot of roof rattle since he had tires piled two high in places.
Crow in El Malpais National Monument
This raven was patrolling the area around one of the sinks in El Malpais National Monument.
Mike & Joyce Hendrix
Mike & Joyce Hendrix who we are
We hope you liked this page. If you do you might be interested in some of our other Travel Adventures:
Mike & Joyce Hendrix's home page
Travel Adventures by Year ** Travel Adventures by State ** Plants ** Marine-Boats ** Geology ** Exciting Drives ** Cute Signs ** RV Subjects ** Miscellaneous Subjects
We would love to hear from you......just put "info" in the place of "FAKE" in this address: FAKE@travellogs.us
Until next time remember how good life is.