May 17, 2007.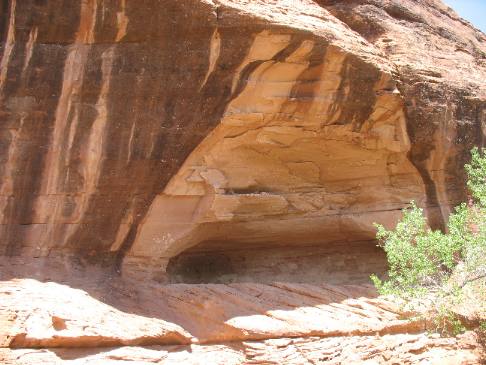 Canyon walls are ancient sandstone formed when this region was a desert much like the Sahara Desert is today.
The dark streaks are desert varnish.
Sandstone walls Canyon de Chelly
The canyon walls are getting taller as we continue our trek into the canyon, using the stream bed as our highway.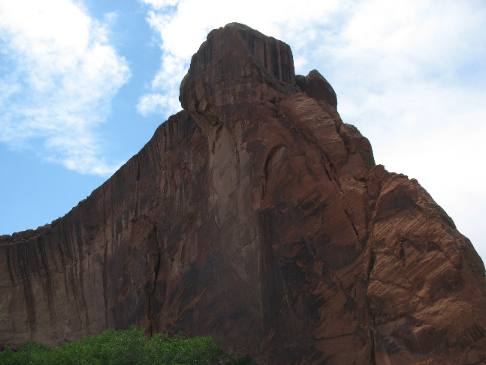 We came to a junction in the canyon with this large sandstone wedge dividing the canyon into halves. The dark surface on the sandstone is desert varnish. It is a mixture of manganese and iron oxide that creates a dark shiny surface on desert rocks.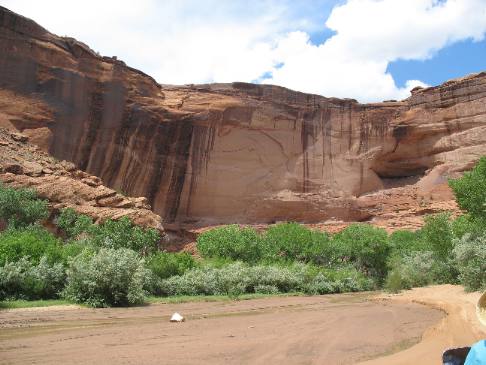 Sandstone cliffs are getting higher and higher. As you can see we are headed deeper into the canyon utilizing the stream bed as our highway.
Note the desert varnish on the sandstone wall.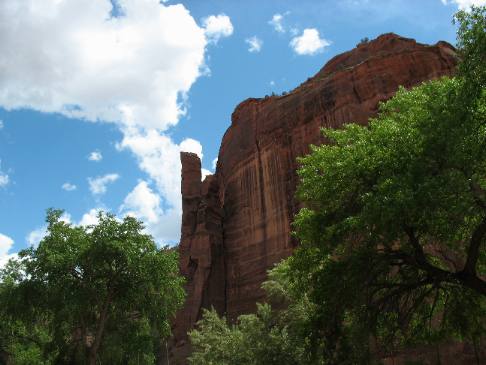 The sandstone walls continue to get taller and taller. This wall is 300-feet or more.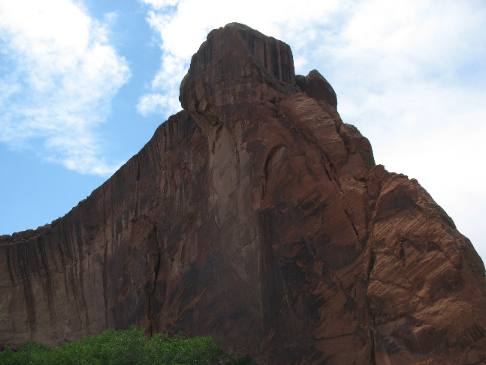 Impressive sandstone walls with desert varnish beginning to appear.
This canyon wall might be 400-feet tall.
The dark streaks are desert varnish on this sandstone cliff.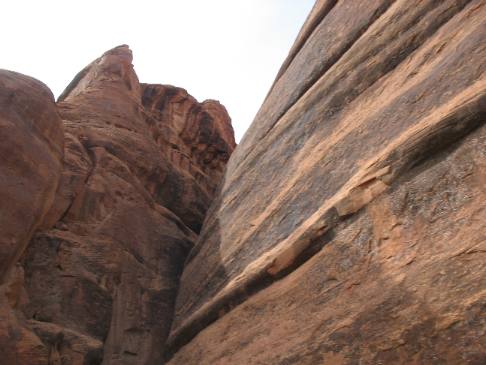 The bulge in this sandstone is a layer of sediment that is harder than the sediments above and below it. The additional hardness of this layer may be attributed to the bonding agent holding the pieces of sand together. In this case it may have been a dusting of volcanic ash. When the volcanic ash was dissolved in water then released when the water evaporated it might have become the bonding agent holding these grains of sand together better than the other layers.
This is a good example of desert varnish (the dark shiny surface on that sandstone is a mixture of manganese and iron oxide).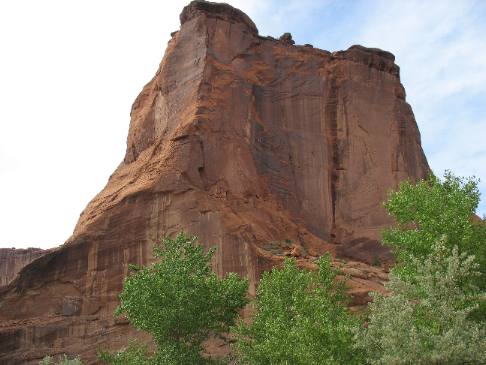 The dark cap rock has a lot of iron in it. One of the ax heads in a previous travelogue was formed from this rock.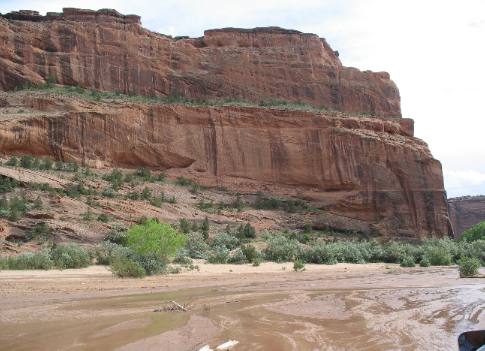 The scenery is constantly changing. Sometimes the sandstone cliff walls are almost straight up while at other times there are multiple layers some like this one with vegetation marking the boundary of a layer.
Note the cap rock protecting this sandstone cliff contains a lot of iron.
The caprock containing iron is visible here as well.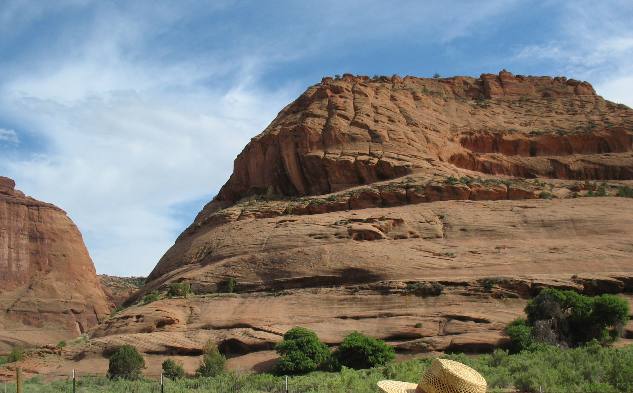 Geologist closely examine these layers of sandstone and are able to determine what kind of conditions existed when they were formed. The sandstone in the bottom half was formed from huge sand dunes during a time when conditions were very dry. The sand in this sandstone is uniform in size. Occasionally you will see layers that are different. They may have been created during a wet period or they may be the result of volcanic ash being introduced. Some of the rock in the upper levels is more of a conglomerate containing small river rock. Of course this indicates a much wetter climate.
I can't think of a better ending to a wonderful day.