Free Cottonwood Campground at Canyon de Chelly NM
May 17, 2007.
We are camped in the free Cottonwood Campground at Canyon de Chelly, in Arizona.
Free Cottonwood Campground at Canyon de Chelly

This is the free Cottonwood Campground at Canyon de Chelly, Arizona. There are no utilities at each site but there is a central dump station and a central place to get water.
The free Cottonwood Campground probably has around 100 sites but not many for large motorhomes. There were probably 20 that we could fit our 35' motorhome in. There might be 5 sites that would hold a 40' motorhome. It is a first come campground. You can't make reservations. The campground was full last night and this picture was taken from the Information Center around noon. It filled up again, or got close to it by 8PM. That is the cycle we noticed at the free Cottonwood Campground at Canyon de Chelly during our stay.
Birds-eye view of Canyon de Chelly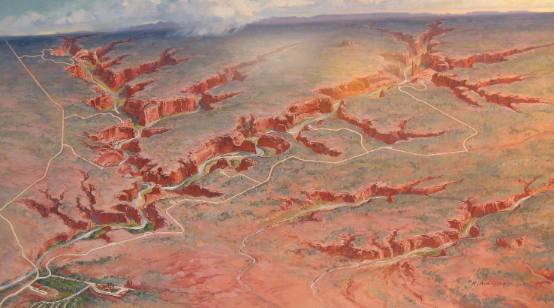 This is a birds-eye view of Canyon de Chelly. Entrance to the canyon is down in the lower left hand corner of the picture. The only way to enter the canyon is with a Navajo guide. You can rent a jeep and guide for around $100 or you can pay $44 each and ride in a truck with seating for 10.
Tamarisk tree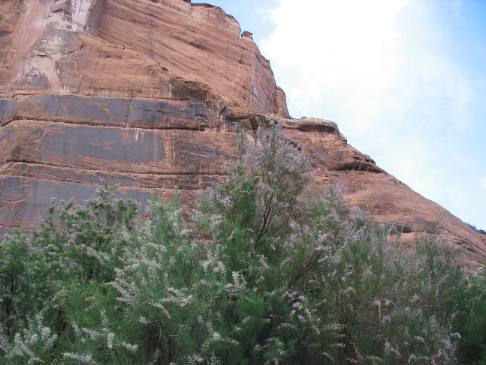 This is a tamarisk tree that was introduced along with Russian olive trees by the SCC in the 1930's during a Navajo Demonstration Project. It was an effort to "reestablish" farming and minimize erosion in the canyon.
The intent was to "stabilize" arable lands and introduce modern farming practices by channeling the stream course and employing exotics to manage bank erosion. Thousands of individual plants were distributed throughout the Canyon de Chelly system.
While these plants were introduced to benefit a new generation of farmers in Canyon de Chelly they have turned out to be a disaster. Efforts are now underway to rid the canyon of both the tamarisk and Russian olive.
Russian olive trees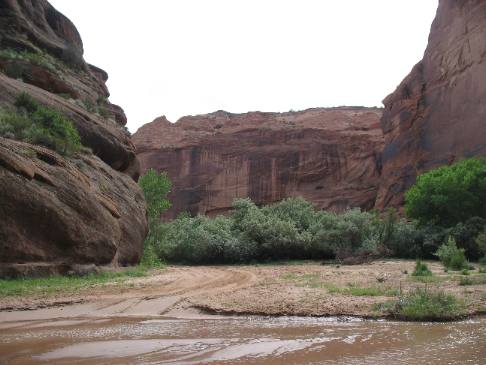 This is a stand of Russian olive trees. You can identify them by the color of their leaves. Compared to other trees their leaves look more silver than green.
Ancient tool found in Canyon de Chelly
Ancient tool found in Canyon de Chelly
These are early houses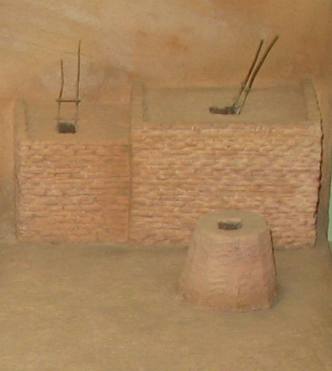 Pueblo people had been building houses for centuries but now they began to group them in villages.
The house of A.D. 500 looked something like the structure on the left.
By A.D 700 houses were constructed like the ones on the right. Note that they are utilizing sundried bricks.
The Navajo got sheep, cattle and horses when the Spanish arrived
Sheep, like horses and cattle, are domesticated animals from Europe. The Navajo got their first flocks from the Spaniards by raiding Rio Grande settlements.
How Navajo rugs came to be
A change in life for the Navajo
By the 1870's several trading posts were doing business on the reservation. Through them, Indians could get tools, coffee, sugar, salt and tobacco. In addition the traders provided a market for wool and hides, rugs, and silver jewelry.
In 1881 the first train arrived at Fort Wingate. The railroad carried Navajo sheep and wool to eastern markets, brought in new goods and gave the Navajo work along the tracks.
Navajo hogan
Navajo and hogan go together like shoes and socks. If you are a Navajo you gotta have a hogan. But what is a hogan? To the Navajos, a hogan is both a home and a ceremonial place. This is a cribbed log hogan. With a domed, earthen roof, this hogan will remain a cool 50° to 70°F even when outside temperatures rise above 90°F. In the cold winter months, a fire in the stove can provide enough heat and ventilation to keep a family warm and comfortable. For reasons central to Navajo traditional belief, the entryway always faces east.
Modern day Navajo hogan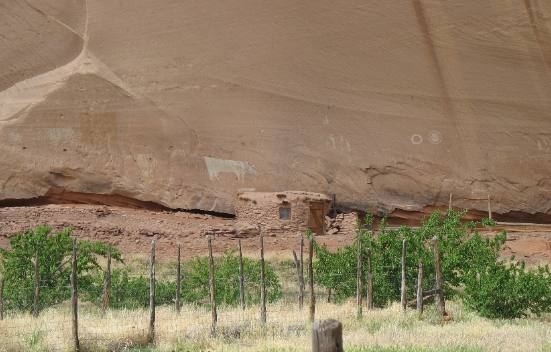 This is a modern day Navajo hogan that is currently being used as a summer house by the Navajo family that is staying in the canyon to either farm or care for livestock. Note the orchard that has a mixture of peach, apple and apricot trees.
Navajo say the Hopi Indians planted the first peach trees in the canyons. This would have been in the late 17th or early 18th century.
Note the drawing of a cow on the canyon wall. Cows were introduce by the Spanish so this would have probably been done in the mid to late 1700's or the 1800's in my opinion.
Until next time remember how good life is.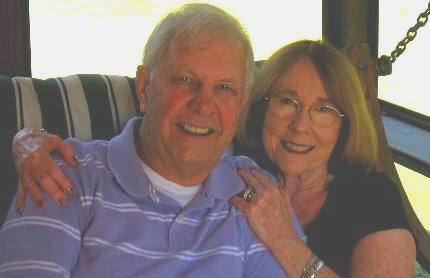 Mike & Joyce Hendrix who we are
We hope you liked this page. If you do you might be interested in some of our other Travel Adventures:
Mike & Joyce Hendrix's home page
Travel Adventures by Year ** Travel Adventures by State ** Plants ** Marine-Boats ** Geology ** Exciting Drives ** Cute Signs ** RV Subjects ** Miscellaneous Subjects
We would love to hear from you......just put "info" in the place of "FAKE" in this address: FAKE@travellogs.us
Until next time remember how good life is.