Socorro to Sky City Acoma Pueblo
May 2, 2007.
We moved the motorhome to exit 108 on I-40 where we stopped in the Dancing Eagle RV-Park next to Dancing Eagle Casino and across from the Dancing Eagle Travel Plaza. We stopped here so we could visit the Sky City Acoma Pueblo 12-miles south of exit 108 on New Mexico 23. Dancing Eagle RV-Park has 50-amps and water for $10. An open wifi signal is available from either the casino or travel plaza. Dry camping spots were available at both Dancing Eagle Casino and across the street at Dancing Eagle Travel Plaza (truck stop).
New Mexico's State Road-6 west of Los Lunas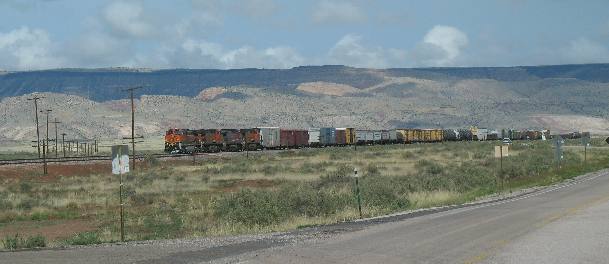 From Socorro, where we stopped for the night, we drove north on I-25 to Los Lunas where we turned west on SR-6. SR-6 was a drive through the New Mexico countryside. We quickly realized that SR-6 was following the same route as east west trains. We saw train after train on the drive.
Rail Road along New Mexico's State Road-6 west of Los Lunas
This train was transporting containers east. We recognize the containers as ones that are unloaded from container ships at the port of Long Beach, California.
Sandstone mesa
Sandstone mesas are the prominent feature in this region.
Sandstone canyon walls
SR-6 is dropping toward that sandstone canyon carved by erosion.
Fry Bread and Sandstone cliffs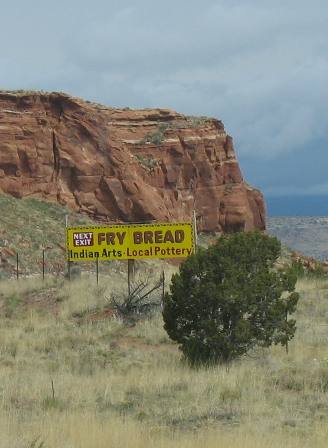 Fry bread is as much a part of the culture in Native American communities of New Mexico as sandstone mesas. The fry bread advertisements remind me of shrimp advertisements in Florida or BBQ advertisements in Texas.
Sandstone mesas on I-40 west of Albuquerque
Sandstone mesas continue to dominate the landscape once we are on I-40 headed west.
Sandstone canyon wall
Gusty winds may exist. It is a hoot driving a motorhome where the wind starts and stops.
Sandstone cliffs & mesas west of Albuquerque on I-40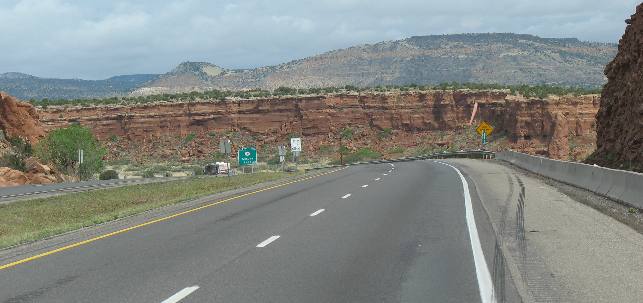 Sandstone cliffs, mesas, canyons and arroyos make up the drive west on I-40.
Native American Road Sign on I-40 west of Albuquerque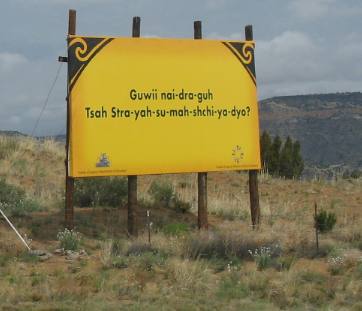 This must be a sign in one of the Native American languages. I assume that because Native Americans make up the majority of the population in this area.
Enchanted Mesa near Sky City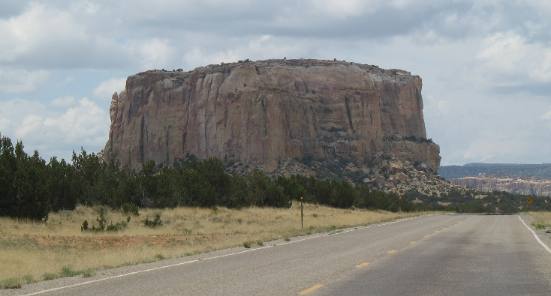 I think this is Enchanted Mesa a few miles north of Sky City.
Ristras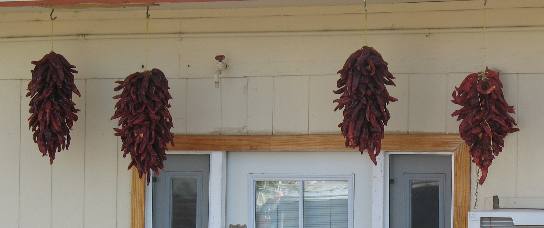 Ristras like these are a common sight in New Mexico. They are made by stringing Chili peppers together.
Ristras are arrangements of drying chile pepper pods.
Although their main purpose is to preserve chiles for later use, they are a commonly used decoration in New Mexico.
Mike & Joyce Hendrix
Mike & Joyce Hendrix who we are
We hope you liked this page. If you do you might be interested in some of our other Travel Adventures:
Mike & Joyce Hendrix's home page
Travel Adventures by Year ** Travel Adventures by State ** Plants ** Marine-Boats ** Geology ** Exciting Drives ** Cute Signs ** RV Subjects ** Miscellaneous Subjects
We would love to hear from you......just put "info" in the place of "FAKE" in this address: FAKE@travellogs.us
Until next time remember how good life is.