Lava Flows of El Malpais National Monument New Mexico
May 5, 2007
We are staying in the Blue Spruce RV Park $13.50 for 50-amps, water & Cable TV with central dump. Blue Spruce is located on the south west corner of the I-40 exit 81 intersection.
In travellog 28aa we drove south on NM-53 to view the Ice Cave, Bandera Crater and the western side of El Malpais National Monument. As you will recall it was all about volcano activity and what they left behind. Today we are traveling south on NM-117 along the eastern edge of El Malpais National Monument. The view from here consists of rugged sandstone cliffs that border the "Badlands" of El Malpais. Along this route we are riding along the edge of a rift zone with the sandstone cliffs on our east side and a huge lava flow on the valley floor.
El Malpais National Monument is that black lava flow in the valley below this sandstone cliff
This is a view west from the top of a sandstone cliff. That is El Malpais National Monument stretching to the west. The extremely dark patches you see in the valley is lava. The lighter color is vegetation on the lava. It is named El Malpais (Spanish for badlands) due to the extremely rough, rugged lava flow that covers much of El Malpais National Monument. That area you are looking at is truly a Bad Land.

While standing on this spot we can view millions of years of geologic history. The volcanic eruptions of El Malpais are only one chapter in the geologic history of this area. On the west side of El Malpais is the Chain of Craters, a string of thirty volcanoes ranging in age from 10,000 to 200,000 years old. To the northeast is Mt. Taylor, a composite volcano active about 3.8 million years ago. The sandstone we are standing on is much older. This sandstone was laid down some 63-million to 350-million years ago. Some of the sandstone was the result of a Sahara Desert like environment. While others were laid down by deposits from shallow seas that periodically covered this area 63 to 138 million years ago.
The El Malpais lava flow fills this large basin rimmed by sandstone cliffs. This sandstone forms large, wind-carved bluffs around much of the El Malpais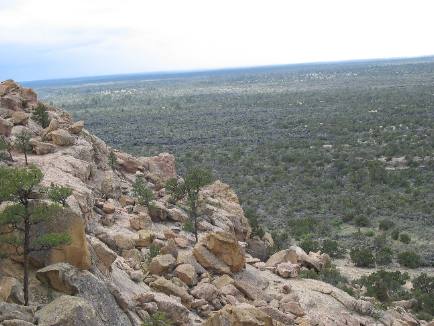 This is another view from the top of a sandstone cliff looking to the south across El Malpais. Again the valley is lava flow with plants growing on it.
The lava flow filled the basin that you see here.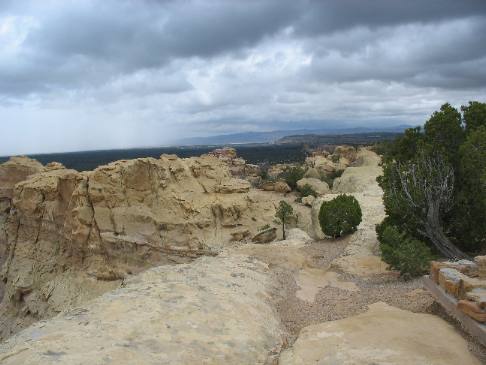 This is another view from the top of the sandstone cliff that encompasses the El Malpais valley. In this picture we are on the east side of El Malpais looking north toward Mt. Taylor. Mt. Taylor is obscured by snow clouds. The sandstone on top of the mesa is fairly clean of loose earth. As you can see this rock is fairly barren.
Sandstone in the above picture is 138 million years old while Mt. Taylor the Volcano in the background is only 3.5 million years old------ the lava in El Malpais was deposited around 10,000 years ago
Mt. Taylor is relatively young in geologic terms compared to the sandstone we are standing on. Mt. Taylor the old volcano in the background of this picture (actually hidden by snow clouds) is around 3.5 million years old while the sandstone we are standing on dates to 138 million years when this region was similar to the present day Sahara Desert consisting of miles upon miles of shifting sand dunes. By contrast the lava covering the valley of El Malpais is only 10,000 years old.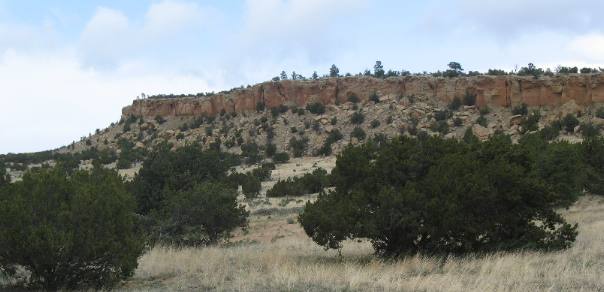 This is an interesting point on a sandstone cliff. It happens to be the cliff we were on when we took we took the above pictures from the top of a sandstone cliff. Notice the talus slopes, made up of fallen boulders and rocks, that form that the sloping edge at the bottom of this cliff.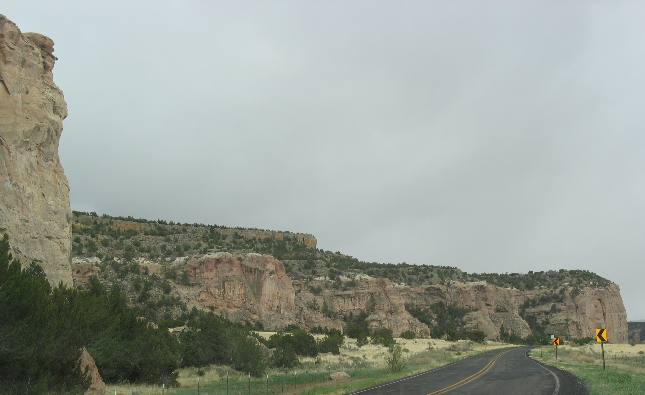 As you can see in this picture NM-117 travels south along the edge of these sandstone cliffs. This is purported to be a beautiful drive in the late afternoon with the dropping sun shining directly on these cliffs turning them into bright reds and yellows. We are traveling in the middle of the day and it is snowing outside. You can not see the snow flakes but they are there. This section of cliff does not show talus slopes of rubble at the bottom of the cliff. I wonder why some have talus slopes and others do not. Feel free to enlighten me if you know the answer.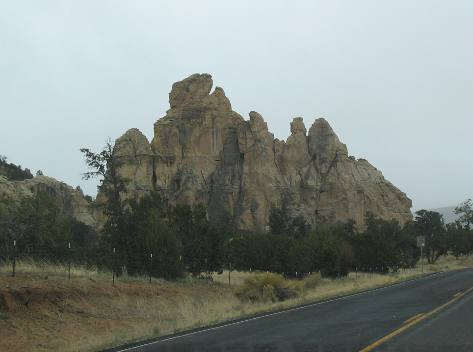 This bed of sandstone is weathering into what is called hoodoos. Hoodoos are eroded pieces of exposed rock that take on shapes.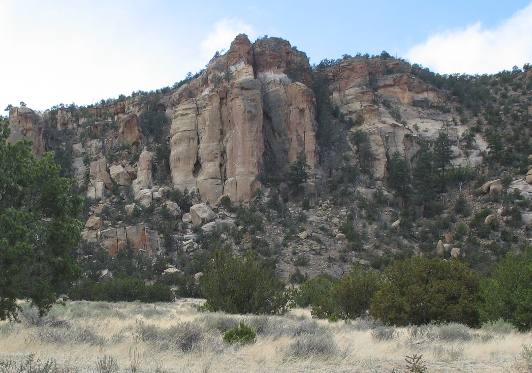 Here you can see the beginnings of hoodoos at the top and a talus slope of rubble at the bottom. Desert varnish is the dark stains on the side of the sandstone cliff wall.
Next to that unusual dome is the "La Ventana Arch" one of the attractions on the east side of El Malpais. Look closely to see the arch. The trail led up to the arch but it was very cold and is was snowing. The picture doesn't show the snow but it was coming down at a pretty good rate. Bottom line it was miserable to be outside and we retreated back to the Saturn for shelter.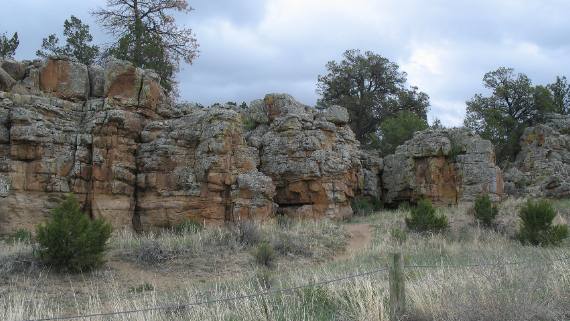 This relatively low sandstone wall is showing multiple levels of sediments plus weathering is taking its toll. This section of sandstone looks like it might have formed when this area was a shallow sea. I say that because of the small size of the sedimentary levels at least as compared to the very large areas of sediment that can be seen in other strata. Hoodoos are beginning to form on this weathered section of sandstone.
The camera isn't showing snow flurries in the air but it did show as it hit the window in this picture. Joyce took this picture from inside our Saturn with the window rolled up. We are not snow experts by any means but this snow was different from snow that we have experienced before. This snow is almost dry. It is evaporating shortly after hitting the automobile. No snow is sticking on the ground.
Not far from the sandstone cliffs is this lava flow that stopped just before reaching those cliffs. This is the leading edge of a lava flow that cooled at this very spot some 10,000 plus years ago.
This is another view of lava taken from NM-117 at the base of those sandstone cliffs.
In geologic terms this lava flow is very young as in about 10,000 years old while the sandstone in the towering cliffs is dated at 138-million years.
El Malpais, (the badlands), was created by multiple volcanic eruptions spanning over 100,000 years. These eruptions formed cinder cones and shield volcanoes that can be seen along the western edge of El Malpais National Monument. Over many years, the molten lava filled the valley and shaped new features. As you can see the lava flows themselves are not immune to change. Wind, rain, and freezing water sculpt the hardened lava while vegetation slowly conceals the flows. Lava flows of El Malpais provide excellent opportunities for exploring both above and below ground. Rugged scenery, ancient travel routes and lava tube caves are but a few of the features available for exploration.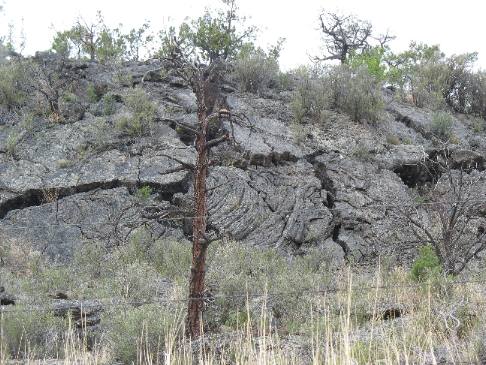 Weathering over the past 10,000 years has created cracks and cervices in this once solid wall of lava.

Most weathering takes place in the winter months when snow and rain falls and freezes in crack. As precipitation freezes it expands and makes the cracks larger. Ten thousand years ago the face of this lava flow was relatively smooth. Now you can see what 10,000 years of weathering has resulted in.

Even in this hostile region with little rain Native Americans eked out an existence. Zuni Indians found ways to conserve rainwater whenever it came, just as their ancestors had. They built mud walls to direct runoff and planted corn in the silt behind check dams that helped conserve soil. Down by the Zuni River, they laid out gardens in small squares and rectangles, surrounding them with low mud walls to capture and hold water. These "waffle gardens" grew specialty crops that required extra moisture.

Volcanic eruptions and flows, which created hot water underground, were extensive in New Mexico. As this hot water rose to the surface, it deposited what later became much of the state's mineral wealth-copper, silver, gold and molybdenum. Hundreds of cubic miles of ash erupted from these volcanoes, and a large part of New Mexico was covered by ash flows and ash falls. One can still see the McCarthy's lava flow today, covering 119 square miles, just east of Grants. To see this lava flow you do not even need to stop if you are traveling on I-40 through Grants, New Mexico. I-40 cuts through and over around 8-miles of this lava flow. The lava field is easily seen from the interstate.

Mt. Taylor, northeast of Grants, is dated at 3.5 million years, and was one of the most active volcanoes in the Grants region. Keep Mt. Taylor in mind because it is one of the major landmarks in this area and I will talk more about it in a later travelogue.