Canyon de Chelly National Monument Rim Pictures
May 18, 2007.
We are camped in the free Cottonwood Campground at Canyon de Chelly National Monument, in northeastern Arizona. There are no utilities other than a central dump station and a central place to get water. Cottownwood Campground probably has around 100 sites but not many for large motorhomes. There were probably 20 that we could fit our 35' motorhome in. There might be 5 sites that would hold a 40' motorhome. It is a first come first serve campground. You can't make reservations. The campground fills up in the late afternoon up until around 8PM then emptys out the next morning. The place has a lot of turnover. My advice would be to arrive in the early afternoon.
Today we are doing the rim overlooks on both the north rim and the south rim.
On the canyon floor you can see where the stream flows as marked by the silvery green ribbon of Russian olive trees. The larger green trees are cottonwoods. The trail used by Navijo guides transporting tourist into the canyon is also visible.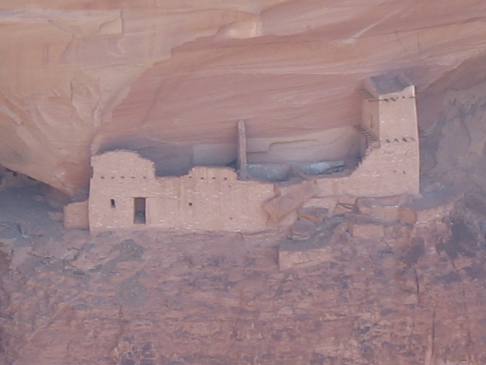 These Anasizi ruins date from around AD-1160 and are constructed with stone blocks and mud mortar.
These ruins were here around 400 years before the Navajo occupied the canyon. We took this picture from one of the overlooks on the canyon rim.
Rim overlooks offer spectacular views like this into the canyon.
See if you can spot the small dwelling in one of the caves near the center of this picture. I have no idea how anyone reached this spot since it is mid-way between the top and bottom of the canyon.
While the Navajo farms on the canyon floor are still occupied these farms only produce crops for individual families, with little left over for sale.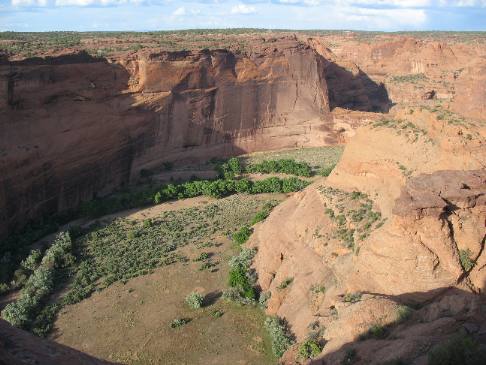 The ribbon of trees follow the small stream of water. Also note the dark brown conglomerate cap rock.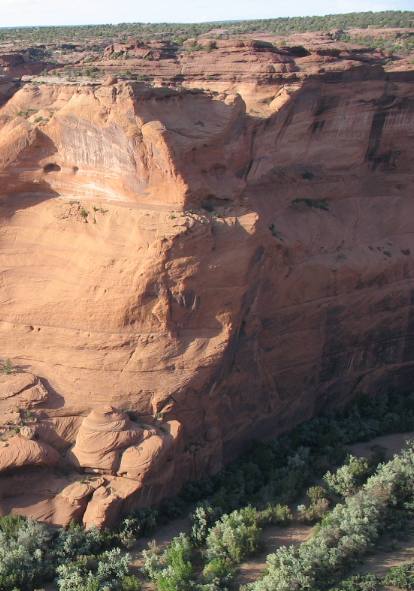 The brown caprock is readily visible in this view. Remember that it is the youngest of the rock seen in this canyon at around 200- million years old.
If you look closely you can see vehicle paths or semi-roads in the valley. We rode along here yesterday with our Navajo guide.
We are seeing this icecream/cow patty form of sandstone structure from time to time in this area. Look for this form of sandstone in future travelogues.
In the distance, on top of the rim, you can see what looks like a building. It is the plug from an ancient volcano. From a distance it looks very much like the similar volcano plug at Devil's Tower, Wyoming.
Picture showing 100-million years of geology visible in walls of Canyon de Chelly
There is over a 100-million years of geology visible between the top and bottom of these cliffs.
On the canyon floor Russian olive trees look like a planted orchard.
Pictur of unique spire formation in Canyon de Chelly
This spire is the result of having a really hard cap rock to protect the lower rock.
That volcanic plug is visible, on the horizon, in this picture of the spires.
Until next time remember how good life is.
Mike & Joyce Hendrix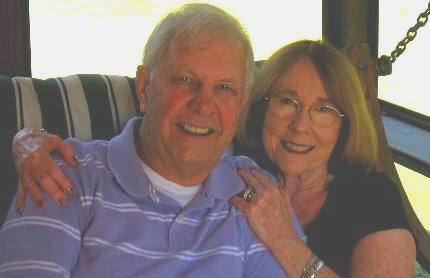 Mike & Joyce Hendrix who we are
We hope you liked this page. If you do you might be interested in some of our other Travel Adventures:
Mike & Joyce Hendrix's home page
Travel Adventures by Year ** Travel Adventures by State ** Plants ** Marine-Boats ** Geology ** Exciting Drives ** Cute Signs ** RV Subjects ** Miscellaneous Subjects
We would love to hear from you......just put "info" in the place of "FAKE" in this address: FAKE@travellogs.us
Until next time remember how good life is.