Conglomerate
This roadcut was through a deep layer of conglomerate with a good percentage of river rock indicating that eons ago this was a riverbed or flood plain.
The rounded river rock or conglomerate in this roadcut are a good indication that this was once a river bed.

Ayres Natural Bridge is in a canyon near Douglas, Wyoming. We saw this conglomerate (rounded water worn fragments of older rock imbedded in sand. Cobblestones such as these are commonly found in old river beds. So in this road cut we are seeing where there once was an ancient river bed.
Look for it on CR-13 (Natural Bridge Road) as the road cut takes you into the canyon....(Ayers Natural Bridge is in a small canyon) it is easy to spot if you are looking for the conglomerate in the road cut.
Conglomerate exposed in roadcut on Utah SR-128 out of Moab
We spotted this conglomerate while taking a scenic drive east on River Road (SR-128) along the Colorado River.
Somewhere along the way sandstone gave way to this conglomerate rock formation. It was so exciting for me to spot this old river bed running through this universe of sandstone. I am getting better at this geology stuff. VBG
In case you do not understand what hydraulic mining is all about think of it as placer mining on steroids. Placer mining is where miners searched for gold in stream beds. Gold collects in stream beds when quartz rocks containing gold fall into creek beds where the water power has tumbled and ground the rocks down releasing small flakes of gold trapped in the quartz. The gold flakes being heavier than the gravel falls to the bottom. The miners search for those flakes of gold in the sediments at the bottom of these ancient creeks.
The conglomerate exposed here is along the Salmon River north of Riggins in western Idaho.
Closeup of conglomerate in an old hydraulic mining scar along the Salmon River north of Riggins, Idaho
Those who have a rudimentary understanding of geology can look at this and tell it is conglomerate in an ancient river bed. They can tell that because all the rocks are rounded (river rocks). Thus knowing that this is an ancient river bed, there would be a good chance gold could be in the sediments of the old river bed especially if they can spot gold bearing quartz rocks in the river rock.
Chances of finding gold were especially good if miners detected quartz rock containing gold in the exposed gravel.
Mike & Joyce Hendrix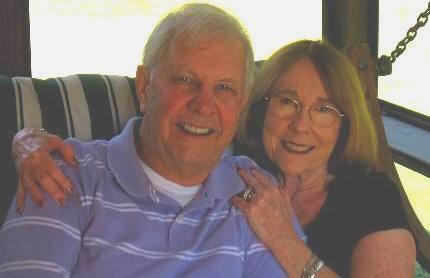 Mike & Joyce Hendrix who we are
We hope you liked this page. If you do you might be interested in some of our other Travel Adventures:
Mike & Joyce Hendrix's home page
Travel Adventures by Year ** Travel Adventures by State ** Plants ** Marine-Boats ** Geology ** Exciting Drives ** Cute Signs ** RV Subjects ** Miscellaneous Subjects
We would love to hear from you......just put "info" in the place of "FAKE" in this address: FAKE@travellogs.us
Until next time remember how good life is.