Volcanic Plug
A volcanic plug or neck is formed when magma from an existing volcano solidifies in the pipe or neck and the surrounding sediment is eroded away.
Morro Rock in California is a volcanic plug
Morro Rock is one of a line of ancient volcanic intrusions or plugs sometimes called the Seven Sisters or The Nine Morros, depending on how many of the peaks are included in the count. They are a unique set of landmarks between the city of Morro Bay and the City of San Luis Obispo in California.
Morro Rock and indeed all of the Seven Sisters or The Nine Morros, are all volcanic necks, the rock that solidified in the "piping" of the volcano after it quieted down. The volcanic cones have long since eroded away.

My Roadside Geology of California Book indicates that Morrow Rock is the rhyolite plug from a volcano active some 24-million years ago.
Rhyolite is the granite like mass of once molten magma that cooled in the "vent pipe" of the volcano before reaching the surface. It is much harder than either volcanic ash or surrounding sedimentary rocks. Thus the other materials have eroded away leaving this 576' high monument as a sentinel marking the entrance to Morro Bay.
Cabezon Peak is a Volcanic Plug in northern New Mexico
Cabezon Peak is a large volcanic plug that can be seen in northern New Mexico.
The top of Cabezon Peak or volcanic plug is at an elevation of 7,785 feet.
If you are looking for Cabezon Peak it is around two miles south of the old ghost town of Cabezon and the Rio Puerco, River. Or around 50-miles northwest of Albuquerque.
This volcanic neck is formed of basalt.
In case you are interested Cabezon means "big head" in Spanish.
While in New Mexico let's visit another prominent volcanic plug Ship Rock.
Ship Rock Volcanic Plug in northwestern New Mexico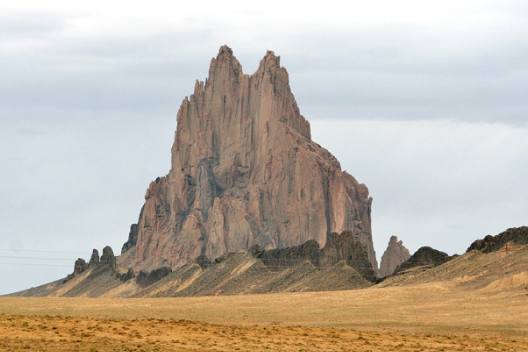 The exposed neck of the Ship Rock plug is thought to have been formed around 3,000 feet below the earth's surface.
It is only exposed now after millions of years of erosion.
What you see here is the fossil remains or innards of a volcano that congealed while underground around 25-million years ago.
What is left is the once molten rock that cooled while in the neck of the active volcano before reaching the surface.
El Captain is a volcanic plug that can be seen in Monument Valley, Arizona.
El Captain is located in Arizona a few miles north of the Navaho town of Kayenta, Arizona. Look for El Captain when you are visiting Monument Valley. It is also off of US-163 the highway between Kayenta, Arizona and Mexican Hat, Utah.
Look for it when you are in the area. It is an impressive piece of geology.
Devils Tower in northeastern Wyoming is the classic volcanic plug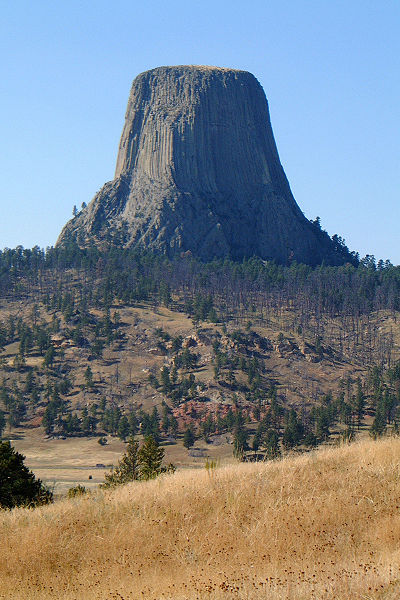 While I say that Devils Tower is a volcanic plug some geologists believe the molten rock comprising the plug might not have reached the surface before it cooled. Thus it would just be a dike.
Other geologist are convinced the tower is all that remains of what once was a large explosive volcano.
While it is true that some knowledgeable experts maintain that Devils Tower is an eroded remnant of a laccolith. A laccolith being a large mass of igneous rock which is intruded through sedimentary rock but does not actually reach the surface. Laccoliths usually produce rounded bulges in the sedimentary layers above. As you can see devils tower is not rounded like traditional laccoliths (two come to mind Enchanted Rock in the Hill Country of Texas and Morro Rock in California).
Personally, but I am not a geologist think Devils Tower is a volcanic plug --specifically it is the congealed neck of an extinct volcano. If Devils Tower was a volcanic plug, any volcanics created by it — volcanic ash, lava flows, volcanic debris are all long gone having been eroded away long ago.
Keep in mind that Devils Tower did not visibly protrude out of the landscape until the overlying sedimentary rocks eroded away over millions of years. As the surrounding sedimentary layers eroded away, the more resistant igneous rock in the neck ( the tower) survived. This is what is visible after millions of years of erosion has washed away the softer surrounding materials.
Piles of broken columns, boulders, small rocks, and stones — or scree — lie at the base of the tower, indicating that it was once wider than it is today. So the elements are working on the exposed hard igneous rock in the neck as well as the surrounding layers of sedimentary material.
Think about what Devils Tower will look like in another million years. It will be smaller in diameter as erosion does its thing. But more of the "plug" may be exposed. Will the "plug" get larger as more sedimentary rock is eroded away?
Here are some other noted "volcanic plugs".
Church volcanic plug in Le Puy, France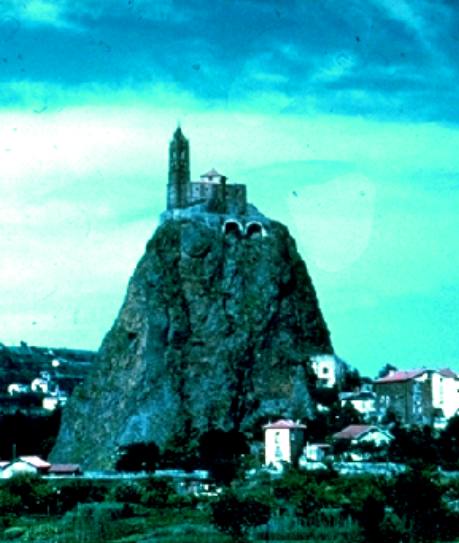 The volcanic landscape in southern France produced a volcanic plug in the city of Le Puy. Because of its distinct shape and prominent location, the rock "needle" (aiguilhe in French) has been a special and sacred place since it was first spotted by humans.
Saint Michel d'Aiguilhe in Le Puy en Velay in southern France seems to grow out of the volcoanic plug it was built on. It is a steep climb up 268 steps to the top, or 280 ft up if you prefer that measure.
Saint-Michel d'Aiguilhe Chapel (Le Puy-en-Velay, France)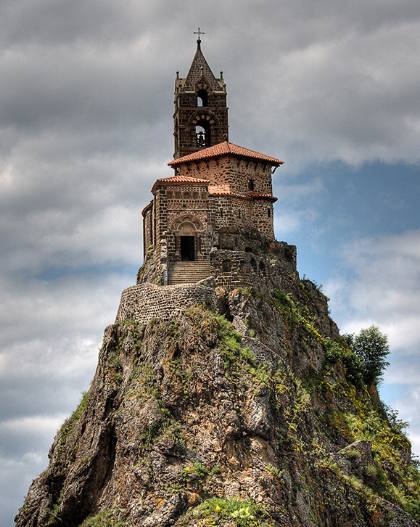 This is a volcanic plug a chapel perched on it.
This is the Rock of Aiguilhe (Aiguilhe is French for needle), in the town of Puy en Velay, in the Auvergne in southern France. The Chapelle Saint-Michel has stood there for 1042 years, since it was built in 962.
Weavers Needle is a towering lava plug in the Superstition Mountains of Arizona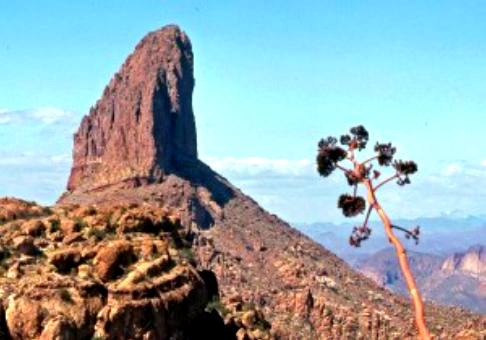 Weavers Needle lava plug in the Superstition Mountains of Arizona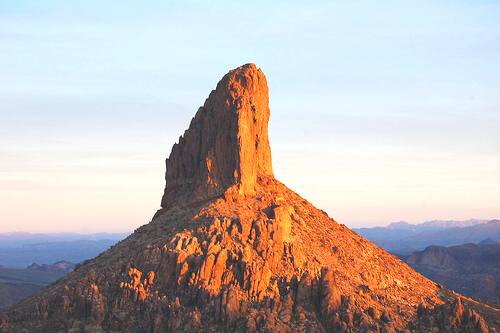 Some knowledgeable people maintain that Weavers Needle is not a volcanic plug. They maintain that it was formed as an erosional remnant.
With an erosional remnant being what is left of the original after erosion.
Others still maintain that Weavers Needle is indeed a lava plug.
It looks like a lava plug or dike to me. But I am certainly not an expert. VBG
Mike & Joyce Hendrix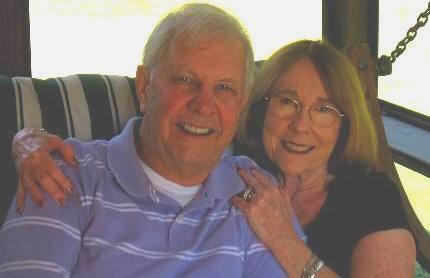 Mike & Joyce Hendrix who we are
We hope you liked this page. If you do you might be interested in some of our other Travel Adventures:
Mike & Joyce Hendrix's home page
Travel Adventures by Year ** Travel Adventures by State ** Plants ** Marine-Boats ** Geology ** Exciting Drives ** Cute Signs ** RV Subjects ** Miscellaneous Subjects
We would love to hear from you......just put "info" in the place of "FAKE" in this address: FAKE@travellogs.us
Until next time remember how good life is.