May 17, 2007.
We are camped in the free Cottonwood Campground at Canyon de Chelly National Monument, in northeastern Arizona.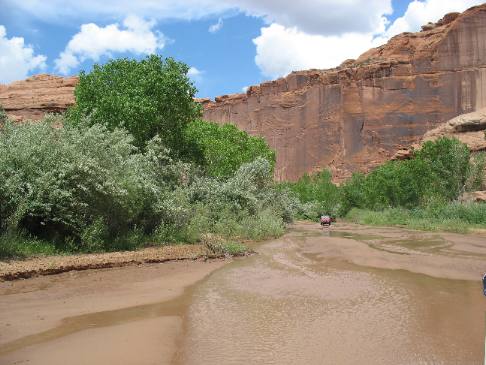 We are approaching another vehicle that is coming out of the canyon. Note that this vehicle is also using the stream bed as the highway out of the canyon.
The silvery colored trees on the left are Russian olive trees the invasive plant introduced into the canyon by the SCC. Efforts are now being made to eradicate both the Russian olive tree and tamarisk tree from the canyon.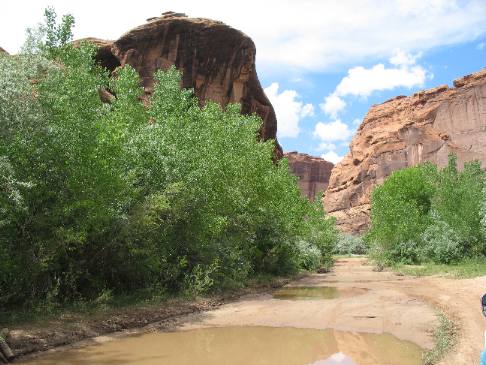 This is another look at our highway through the canyon. The silver plants are Russian Olive trees.
Note the road, such as it is, passing next to the cliff. The silvery looking trees are Russian Olive trees, the invasive plant introduced by the SCC.
Again the tree with silver leaves is Russian olive.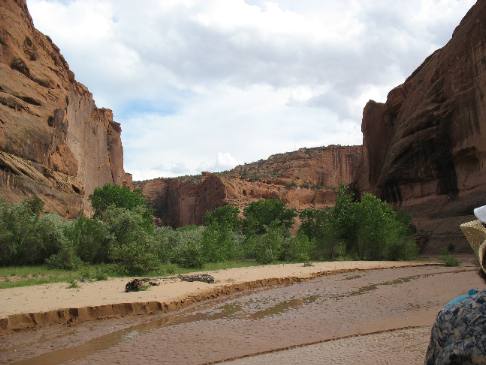 More of those Russian Olives trees with the silver leaves.
The taller dark green trees are small cottonwoods.
These large vehicles belong to a local work crew that were doing work on "roads" deeper in the canyon or so said our guide. It did not appear to me that any work had been done on any "road" road that I saw.
The trees are cottonwood.
More Russian olive trees and the canyon walls are smaller yet.
The federal government introduced Russian Olive trees to Canyon de Chelly, now they are trying to rid the canyon of Russian olive trees.
I can't think of a better ending to a wonderful day.