May 18, 2007.
We are camped in the free Cottonwood Campground at Canyon de Chelly National Monument, in northeastern Arizona. There are no utilities other than a central dump station and a central place to get water. Cottownwood Campground probably has around 100 sites but not many for large motorhomes. There were probably 20 that we could fit our 35' motorhome in. There might be 5 sites that would hold a 40' motorhome. It is a first come first serve campground. You can't make reservations. The campground fills up in the late afternoon up until around 8PM then emptys out the next morning. The place has a lot of turnover. My advice would be to arrive in the early afternoon.
Yesterday we took a tour deep into Canyon de Chelly (pronounced d'SHAY) with a Navajo guide. Today we are doing the rim overlooks on both the north rim and the south rim.
We visited the overlooks on the north rim first.
This is an awesome view from the rim of Canyon de Chelly National Monument.
Scenic view from rim of Canyon de Chelly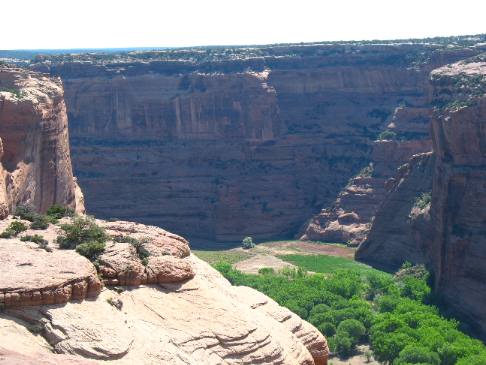 Most of the rock you see in Canyon de Chelly is De Chelly Sandstone. It was formed from desert sand dunes around 250-million years ago.
View from the north rim of Canyon de Chelly.
View from north rim of Canyon de Chelly.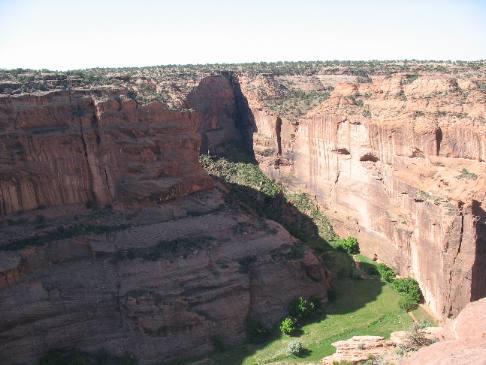 View from north rim of Canyon de Chelly.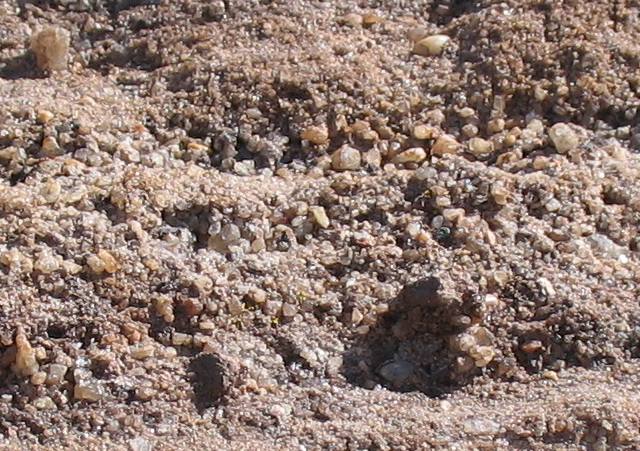 This magnificent canyon was etched by water erosion and other natural forces out of ancient, many-layered rock formations. Several of these rock layers are visible throughout the canyon.
One is Shinarump Conglomerate, deposited when this region was a humid, subtropical jungle. This is an interesting layer of rock, composed of stream deposited sediments. It makes up most of the rim or cap rock of Canyon de Chelly. From a distance it is a Grayish-brown in color. This cap rock was deposited about 200-million years ago. It contains sandstone pebbles made up of, quartz, basalt, chert, quartzite and petrified wood. The pebbles are rounded like river rock, that is how scientist know this was deposited during a wet period.
It is easy to see this Shinarump Conglomerate caprock on the far canyon wall. It is that dark brown layer on top of the De Chelly Sandstone.
View from the north rim of Canyon de Chelly.
Again the dark Shinarump Conglomerate caprock is easy to see in this view.
View from north rim of Canyon de Chelly.
This caprock has large amounts of iron ore in it. Ax heads were fashioned out of this by some of the ancient inhabitants of Canyon de Chelly.
The majority of the canyon walls are formed from windblown sand dunes that date to about 280-million years ago. Notice that the grains of this rock are all the same size.
The pale color sandstone is De Chelly Sandstone formed around 250 million years ago.
The maroon-colored sandstone, silt stone, and mud stone is the Supai Formation was formed around 280 million years ago. This layer of rock was deposited on low, flat flood plains. It is only visible in a few areas in the canyon. Remember this is the oldest rock in the canyon and will always be the layer under the De Chelly Sandstone.
When bands of Navajo first arrived the Anasazi pueblos in Canyon de Chelly were deserted ruins. By 1600, the Navajo had become seminomadic farmers. A century later they were known for their sheep, blankets of finely woven wool, and fields of corn. The Navajo got those sheep by raiding Spanish settlements along the Rio Grande River in New Mexico.
By 1750, the Navajo was both a farmer and herdsman. Yet he remained a warrior, fighting his Indian enemies as well as the encroaching Spanish settlements. Raids and counter-raids dragged on for more than 100-years.
This is another example of De Chelly Sandstone with only a thin layer of cap rock visible on the far canyon wall.
I spotted this unusual mudstone-sandstone combination while walking on the rim. It seemed to be situated between the conglomerate cap rock and the sandstone that makes up the vast majority of Canyon de Chelly. Someone has created steps down to one of the overlook viewing areas by sawing steps into the sandstone. Note how the multiple layers of this sedimentary rock has been forced up at a 30-degree angle. I am wondering if this section of rock was formed when volcanos were spewing a lot of ash. It appears to me that there is a layer of sand sediment then a layer of ash followed by successive layers of sand and ash.
This is what the above rock that has been sawed to expose layers looks like when not sawed. The layers are still visible.
We were able to view these sedimentary layers when we were on the north rim of Canyon de Chelly.
This is what the rim drive looks like when not at one of the overlooks.
Until next time remember how good life is.
We hope you liked this page. If you do you might be interested in some of our other Travel Adventures:
We would love to hear from you......just put "info" in the place of "FAKE" in this address: FAKE@travellogs.us
Until next time remember how good life is.