Cedar Mesa Sandstone formations
Cedar Mesa Sandstone formations on SR-95 west of Blanding, Utah
May 20, 2007.
There are two commercial campgrounds in Blanding. We decided to stay in the one with some shade so we picked it but both RV-Parks were OK: $19.80 for FHU, gravel interior roads and sites. It is located on US 191 on the south side of town behind the shell station (hint, it is easy to find since Blanding is very small).
Sandstone of the Cedar Mesa Formation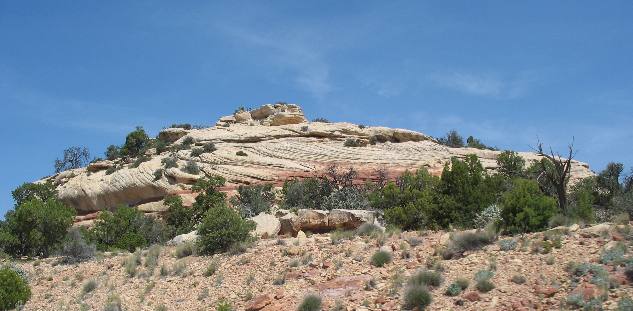 West of the Comb Ridge fault line on SR-95 we start encountering another form of sandstone. This pale sandstone is known as the Cedar Mesa Formation.
Sandstone of the Cedar Mesa Formation
The Cedar Mesa Formation sandstone was formed from huge sand dunes.
Cedar Mesa sandstone weathered into this shape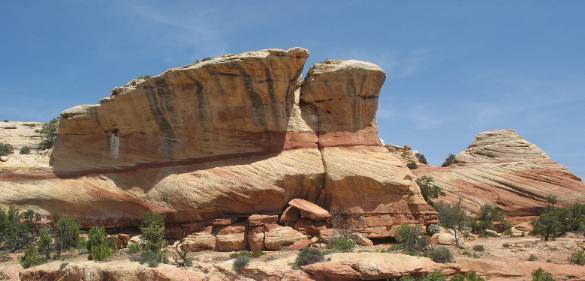 How did all this geology come to be? That is the question posed by everyone who lays eyes on these marvels of nature. Geologist tell us, that 260 million years ago, dazzling white beach sand migrated inland from the shore of a warm sea. Blown by prevailing northwest winds, grain by grain this sand moved up the windward slope of large dunes until the weight at the top sent cascades of sand sailing down the opposite slope. These dunes retreated before ancient winds, forming cross bedded layers.
Over long expanses of time, rainwater percolated down through the dunes, dissolving calcium carbonate. Slowly, this natural cement fused the individual grains of sand to form the Cedar Mesa Sandstone.
Eons later this area was uplifted and meandering streams cut into the rising earth. Over millions of years the uplifting of the plateau combined with the cutting power of these meandering streams created these canyons we see today.
Is this a better view of that natural bridge of stone? It was still taken from the rim.
Cedar Mesa Sandstone at Natural Bridges
This is a closer look at the Cedar Mesa Sandstone that the Natural Bridges are composed of. Remember this is mostly quartz beach sand that has been cemented (bonded) with leached - dissolved calcium carbonate.
Cedar Mesa Sandstone weathered into Rock mound or Owachome in Hopi Indian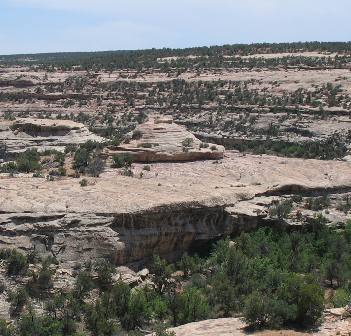 And this is the rock outcrop for which the Owachome Bridge was named. I would have called it "cow patty" bridge.
Cedar Mesa sandstone erodes into these cow patty shapes in many locations.
Cedar Mesa Sandstone.
If you liked this Travel Adventure you might like one of these:
Goosenecks on the San Juan River southern Utah
Moki Dugway Moki Dugway is a series of sharp switchbacks down a steep gravel road over less than three miles: One of the best drives you will ever do.
Mike & Joyce Hendrix
Mike & Joyce Hendrix who we are
We hope you liked this page. If you do you might be interested in some of our other Travel Adventures:
Mike & Joyce Hendrix's home page
Travel Adventures by Year ** Travel Adventures by State ** Plants ** Marine-Boats ** Geology ** Exciting Drives ** Cute Signs ** RV Subjects ** Miscellaneous Subjects
We would love to hear from you......just put "info" in the place of "FAKE" in this address: FAKE@travellogs.us
Until next time remember how good life is.