Bisbee, Arizona
Places Visited:
Bisbee, Arizona

Wednesday, April 13 Gas City Travel Center (dry-camping/boondocking) Benson, Arizona--- $Free Paved truck stop parking lot N31° 57.622' W110° 20.609'.
We are stuck in this truck stop until our motorhome can be repaired. A nearby shop has removed our water pump and radiator. We overheated climbing that hill into Benson on I-10 and it blew out the water pump seal. The radiator was extremely dirty (causing the overheating) so it had to be cleaned before being reinstalled. The radiator had to be transported to Tucson for cleaning. The radiator shop is over 50-miles from Benson. We are going to be stuck in this truckstop parking lot for a few days. We might as well make the best of it. So with that information we start this travel log.
We were in no hurry this morning since the water pump and radiator was out of the MH. We certainly weren't going anywhere until they were reinstalled. They were not able to deliver the radiator to the radiator shop until this morning and they were busy. It will not be ready today-----possibly tomorrow. With that information we decided to take the opportunity to visit Tombstone, Bisbee, Ramsey Canyon Preserve, and Sierra Vista today. The road from Tombstone through Bisbee to Sierra Vista (SR-80 & SR-92) is considered by many "scenic drive" publications to be one of the better scenic drives in the country. Now that we have driven it we would say that it is very interesting. There is a lot for the eye to see and concentrate on.
Heading south out of Benson we see Minutemen with binoculars looking for illegals
There is a LOT of activity along the route mostly from the Border Patrol, Arizona Highway Patrol, Local Sheriffs and the "Minutemen". If you have been watching national news the past few weeks you know that concerned citizens from around the country fed up with the Bush Administration not sealing our borders have gathered in Tombstone and other cities in this area to bring national media attention to the illegal immigrant problem. Their efforts are working and they are proud. We stopped and talked to some of them and they smiled when I asked if they had forced the administration to apply more resources to border patrol. SR-92 parallels the Mexican border with Arizona between Bisbee and a point south of Sierra Vista. These minutemen have set up camps along the highway, especially in high places. They sit under umbrellas to protect themselves from the hot sun; it was in the 80's today. They have good binoculars and scopes and are searching the terrain between SR-92 and the Mexican border for illegal aliens. None of them had guns but they all had cell-phones and said when they spotted an illegal a cell phone call brought the border patrol immediately.
View looking east near the Mexican border on SR-92 between Sierra Vista and Bisbee, Arizona
SR-92 between Sierra Vista and Bisbee skirts the mountains on the western side then heads east across the valley dropping down to the San Pedro River then back up to Bisbee. The San Pedro River Valley is flanked by two north-south trending mountain ranges about 20-miles apart with the San Pedro River running down the middle. From either mountain range the geography is a continuous downward trend for 10-miles across this Arizona desert of low brush.
This pic is looking east from the western side, Mexico is the the right. Note how the geography is sloping down toward the San Pedro River located between us and the mountain range you see in the distance. The San Pedro River is that tiny ribbon of green at the very bottom. As the San Pedro River flows north out of Mexico it sinks into the sands of this valley.
I don't think I have ever heard of the San Pedro River. It flows north out of Mexico into Arizona where it disappears into the sand. In the process it creates a riparian ribbon as it wends its way north. This riparian area is rife with birds of all descriptions, especially during the spring and fall when migrants mix with the local birds the trees.
In 1540, the Spanish Explorer Coronado followed the San Pedro River into Arizona, seeking the legendary Seven Cities of Gold. Don't just breeze over that date! Think about when 1540 was. The first Thanksgiving at Plymouth wasn't until 1621. Does that put Coronado's exploration into perspective? Anyway, there is a Coronado National Monument or something near the border. I think Coronado holds the distinction of being the first European to explore what is now America when he pushed up the San Pedro River valley looking for the lost Seven Cities of Gold. This place was crawling with Border Patrol and we didn't want any hassles with Federal rent a cops so we opted out of visiting that.
Tailings from the huge open pit copper mine in Bisbee, Arizona
As we enter Bisbee from the west we can see an enormous area of "tailings" the discarded rocks and debris from mining operations. The tailings from this copper mine is that large brown area you see.
The huge open pit copper mine in Bisbee, Arizona
Bisbee is a small yet historic mining town. One of the biggest open pit copper mines in the world is located in Bisbee. It is a tremendous thing to see. This open pit mine is called the Lavender Pit Mine.
Town of Bisbee, Arizona
We got there too late to take the mine tour offered by the Queen mine but it would be an interesting tour to take. Just looking down into the open pit in the middle of town is impressive. Bisbee is much like the old mining town of Deadwood, South Dakota and Jerome, Arizona. There was a lot of money in these towns at one time and the buildings show it. Bisbee hasn't become commercial and tacky like other old mining towns, it still has historic charm.
From Bisbee we followed SR-80 to Tombstone. Tombstone was not what we expected. Most old silver mining towns were located in rugged volcanic mountains…… like Silverton, Colorado or Deadwood, South Dakota or Silver City, New Mexico. Tombstone is conspicuously not in the lofty peaks of some mountain range. But here is where we stop this travel log and save Tombstone and Benson, Arizona for another story.
Until next time remember how good life is.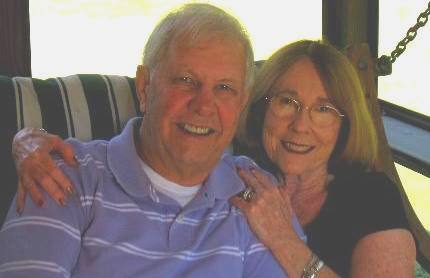 Mike & Joyce Hendrix who we are
We hope you liked this page. If you do you might be interested in some of our other Travel Adventures:
Mike & Joyce Hendrix's home page
Travel Adventures by Year ** Travel Adventures by State ** Plants ** Marine-Boats ** Geology ** Exciting Drives ** Cute Signs ** RV Subjects ** Miscellaneous Subjects
We would love to hear from you......just put "info" in the place of "FAKE" in this address: FAKE@travellogs.us
Until next time remember how good life is.