Cortez, Durango, Silverton, Ouray, Telluride, Mesa Verde Colorado
Places Visited: Cortez, Durango, Silverton, Ouray, Telluride, Mesa Verde, Colorado.
Saturday, July 7, 2001 Sundance RV-Park, Downtown Cortez, Colorado, 970-565-0997 Elevation 6,200'
We have met the nicest couple in the RV parked next to us. They are from Oregon but now full-time spending winters in Lake Havasu, Arizona and summers in cooler spots. Vern and Elaine join us at 8:00am this morning. The four of us are going to drive the great circle scenic loop. For those of you not familiar with the "great circle" scenic drive in southwestern Colorado it is a drive from Cortez through Durango, Silverton, Ouray, Ridgway, Placerville, Telluride, Rico and Delores ending up back in Cortez. This drive is highly touted as one of the top scenic drives in the country. Describing the drive and accompanying scenery vastly exceeds my ability. The best I can do is say that the route takes you over six awesome mountain passes. Numerous 13,000' to 14,000' peaks rise directly from both sides of the road. The San Juan Mountains and area is the highest contiguous landmass in North America, including Alaska. The San Juan's contain the greatest geologic variety of any North American Mountain range, with the largest expanse of alpine peaks & tundra in the Lower 48 States. If that is not enough the San Juan's contain the Rio Animas de las Perdidas: River of Lost Souls, North America's highest river.
Just north of Durango we stop to watch a glider operation. There is a grass landing strip next to the road. A prop plane is dragging gliders into the sky one after the other. Each glider has a pilot and a paying passenger. The thermals start around 10:00 and last all day. Vern and I decide we are going to come back on another day and do this.
Between Durango and Silverton we negotiate 10,910' Molas Divide and Coal Bank Hill another 10,000 plus pass. Between Silverton and Ouray is the 23-mile Million Dollar highway, billed as America's most scenic highway. This highway winds its way through a series of 14,000' peaks then over 11,018' Red Mountain Pass. There are numerous sharp curves, steep grades and in many places NO SHOULDER at all. There are two tunnels, several hairpin turns are very tight with no room to swing wide because of vertical rock walls and vertical dropoffs. We experienced two totally awesome "double 180" and one "triple 180" degree switchbacks. Combining two or three hairpins in succession increases the excitement exponentially! The entire 23 miles of the "Million Dollar Highway" is a serious grade either up or down. In most places there is no railing. Snow removal in winter requires that the snowplow be able to push snow over the side, a rail would prevent that. Without a rail and NO shoulder the vertical drop is spectacular. It was funny how cars on the cliff side drove with inside tires ON the yellow center stripe. We all laughed at the ones headed toward us that had inside tires on "our" side of the road. We had enough room to avoid them so it was not that big of a problem but the look on driver and passenger's faces was priceless.
The geologic diversity we encounter is staggering. This entire area has been uplifted. In one area we can see limestone and shale layers that were deposited on some ancient seabed and now uplifted, then just as suddenly every rock formation in sight is volcanic in origin. Remember that the valleys in this area are in the 8,000' to 9,000' level. At times we can see where sedimentary rock has been pushed up so that the sediments now angle at 80-degreees or more. Sometimes we can see the magma that pushed it up, other times the magma never broke the surface. In some places the sedimentary rock is covered with ash from an ancient volcano. Then around the corner the sedimentary rock is capped with igneous rock from a volcanic flow. Several sandstone mountains are interspersed in with the sedimentary and volcanic materials. Many of the 14,000' peaks surround the caldera of ancient volcanoes.
Mine shafts are evident all along the way especially in the higher elevations. Most are easily spotted by the tailings that have been thrown out the opening. Others have a wooden structure around the mouth.
Along virtually the entire route we are skirting around mountains that protrude above the tree line where only tundra survives. Snow is still visible on all of these peaks. The snowmelt is feeding multitudes of waterfalls that merge in the valleys to create rivers. Virtually every river of any size has rafting operations on them. Rafters all wear wet suites because the water from fresh snowmelt in these high rivers is only 36-degrees. Water that cold puts new meaning into "NO SPLASHING".
We spend an hour or so exploring Silverton. Silverton appears to be supported by the Durango Silverton Narrow Gauge Train that brings loads of passengers up every day. The passengers spend several hours in the town before boarding the train for a return trip or getting on a bus for the ride back to Durango. Several businesses in town offer jeeps for rent or guided jeep trips through the mountains on old mining roads. Hiking, mountain biking and an assortment of related outdoor activities are also available. The 350 full time residents represent an eclectic group. Silverton has not yet attracted wealthy individuals to construct magnificent residents, hotels, lodges, and resorts in the town. What we see in the 6 or 8 square blocks of town has been there since the 1870's. Very few modern structures are evident. Only the Main Street of Silverton is paved. All others are gravel just like the 1870's.
Twenty-three miles north of Silverton, up the "million-dollar-highway" is Ouray. Ouray, unlike Silverton has modernized. It is home to a population of fashionably elite. Ouray sits at the head of a beautiful canyon with magnificent vistas in every direction. New money has constructed modern motels and residences. All the accoutrements that well-healed tourist clamor for are available in Ouray. From Ouray north the highway threads its way through a lovely, well watered, valley. Along this highway several resorts have sprung up.
The drive from Ouray to Telluride takes us through a variety of quaint villages right out of the 1880's, private ranches are scattered through the valleys as we negotiate our way around a number of 14,000' peaks. Several places along the way offer magnificent vistas.
In Telluride we drive around gawking at the 1890's vintage Victorian homes that have been refurbished. We also admire the 1890's architecture scattered around downtown. Vern and I take the gondola over to Mountain Village Resort on the other side of Gold Mountain. Vern was as impressed as we were. When we meet back up with the women Vern wanted Elaine to see Mountain Village Resort so we drove through the entire place inspecting where the "other half lives".
Just north of Lizard Head Pass we tour the trout lake area so Vern and Elaine can see the assortment of cottages spread around the lake. Trout Lake is surrounded by 14,000' peaks and is situated in the caldera of what appears to be a gigantic ancient volcano. The lake is fed by snowmelt from the surrounding mountains. Many people are along the bank fly-fishing.
Across from Lizard Head Pass is a broad meadow where we stop and watch a heard of 20-plus elk feeding in plain view. Several elk were feeding in other places in the meadow. Along the way we have been spotting mule deer.
South of Telluride and Lizard Head Pass we see the Basque shepherd and his flock of sheep. This time it is near dark and he and his dog are gathering the sheep off this huge mountainside into a small area around his travel trailer. He is giving communication to the sheep that we are not able to understand. He waves his arms in a manner that tells the sheep if they don't scurry on down into the flock he is going to put the dog on them. It is remarkable, small groups of sheep are hurriedly moving to join the large flock while the dog remains within a few feet of the shepherd. If one of the small groups of sheep are not moving at a trot down the slope the shepherd waves his arms and starts moving toward the slow group. If that does not work the dog starts toward the laggards. That works, the laggards break into a full run. Sheep obviously do not want the sheep dog any closer. In short order the shepherd had somewhere around a thousand sheep in a tight flock next to his small travel trailer.
It is turning dark fast and normally this would signal the end of another exciting day, however Joyce has found an advertisement for a band scheduled to be performing in the small town of Rico. We were planning to stop there and eat and dance the night away. It was 9:00pm when we arrived in Rico, there was not much activity when we pulled up in front of the place, a quick, unanimous vote and we kept on driving. After all, we had started on this journey 13-hours ago and we still had an hour to drive.
We arrived back home after 10:00pm dead tired after a super day. Thank goodness we did not stay for the dance.
Sunday, July 8, 2001 Sundance RV-Park, Downtown Cortez, Colorado, 970-565-0997 Elevation 6,200'
Today was a day of recovery. We needed it after 14-hours of jam packed spectacular fun yesterday. By 6:00pm we were rested up enough to join our friends for a "concert in the park" located across from where we are staying.
Monday, July 9, 2001 Sundance RV-Park, Downtown Cortez, Colorado, 970-565-0997 Elevation 6,200'
We spent the day in Cortez touring local places. At the cultural center I spent about 10-minutes trying to grind corn using a metates and manos. A metates and manos performs the same function as a mortar and pestle. I have no idea why they are called different things, possibly the etymology of metates and manos is Spanish while mortar and pestle is derived from some other base language. The metates is a stone with a concave upper surface used as the lower millstone for grinding grains while a manos is a stone used as the upper millstone for grinding foods (as Indian corn) by hand in a metate. It was difficult to say the least. I worked HARD. To grind enough corn for a meal an Indian woman would have to move the manos back and forth over the corn kernels for a long time. We read somewhere that grinding corn was the job that Indian women dreaded most, I can see why.
We have been watching a colony of prairie dogs in the vacant lot next to our RV-Park. Prairie dogs are fun to watch if you are from back east. People in this area shoot them and do all manner of things to get rid of them. Prairie dogs look a lot like an eastern gray squirrel. These chubby, foot-long relatives of ground squirrels use muscular forelegs and claws to excavate networks of tunnels up to 15 feet long and 6 feet deep. They build a mound around the entrance hole that they use as a lookout post. This mound of earth around the entrance also keeps water out. These architects and engineers ventilate their underground houses by building one entrance higher than the others to pull fresh air through the burrow like a chimney. Prairie dogs spend their day eating grass and watching for predators. When one prairie dog barks a "danger" alert, all dive for their holes. The only predator we notice is a scrawny black cat that stalks them all day. One summer resident of the RV-Park said that their cat would occasionally kill one and drag it home. These people were not enthused about their cat killing the prairie dogs since fleas on prairie dogs are known to carry the plague.
Thought for today: No matter what happens, somebody will find a way to take it too seriously.
Tuesday, July 10, 2001 Sundance RV-Park, Downtown Cortez, Colorado, 970-565-0997 Elevation 6,200'
Today was our day to tour Mesa Verde (Spanish for green mesa). The entrance to Mesa Verde National Park is located just 10-miles east of Cortez. Immediately upon entering the park you began a steep climb from 6,000' to over 8,000'. There are wonderful views of Cortez and the flat land located north of the mesa. The museum inside Mesa Verde was exceptional. A series of dioramas depict the different eras of inhabitants of Mesa Verde all the way from 500 BC to 1200 AD. It is easy to spend several hours absorbing the information presented in numerous exhibits. Mesa Verde stands out from other cliff dwellings in this area of the country because of the sheer size and numbers of cliff dwellings that have been preserved. Tours are available to take you down to these ruins located in semi-caves mid-way up spectacular cliff walls. It was HOT today so we decided to skip the tours and just view the pueblos structures from afar.
Although I am not writing much about Mesa Verde National Park it is a definite "must see". The only reason we are not spending any more time there this time is the heat. It is just too hot to go hiking.
Now for a little humor, never, under any circumstances, take a sleeping pill and a laxative on the same night.
Wednesday, July 11, 2001 Sundance RV-Park, Downtown Cortez, Colorado, 970-565-0997 Elevation 6,200'
We wake at 4:30 this morning in order to get an early start on today's adventure. We are going to hike to the summit of a 13,000' mountain deep in the San Juans. But first we have to get to our "base camp" to borrow the terminology of Mount Everest explorers. Our transportation to "base camp" is San Juan Back Country Jeep tours in Silverton, Colorado. We are scheduled to board the jeep at 8:00 with our RV neighbors Vern and Elaine and another couple that we meet boarding the jeep. Our "jeep" today is a 4-wheel drive Suburban with a big hole cut in the roof and padded roll bars installed across the top. We are seated in bench seats for the short ride out of town. Five minutes out of town our driver, a pretty, young, gregarious, blonde, 25'ish, female Silverton native, pulled off onto an unpaved mining road and stopped. This is where she "stowed" the bench seats allowing us to stand up and hold on to the roll bars. As this "woman" driver zooms down the gravel, mountain trail she begins telling stories about her "lead-foot". We are at 9,500' and heading to 13,000' plus while hanging precariously to the side of sheer cliffs. There are no jokes about women drivers on this day.
At this time we all have to say thanks to Dave Damouth who told us that a jeep ride out of Silverton was a "must-do". Thanks Dave! You are absolutely correct. None of us will forget it.
Our jeep clings perilously to the side of steep mountain cliffs as we slowly work our way up. Magnificent vistas unfold around us. Visual overload. Shortly we are at tree line. This is the altitude where trees are no longer able to survive and varies from area to area but here occurs around 11,500'. A profusion of small yellow and purple flowers cover the tundra above 11,000'. Later we learn that the flowering plants we see at this altitude will be consumed by truckloads of sheep being hauled into the area. We began passing snow banks on a regular basis. At 12,000' we encounter alpine lakes. They look pristine but are all contaminated with mercury and other heavy metals left over from indiscriminate mining practices. We did not see any big horn sheep but did see numerous marmots, weasels, and other small mammals.
At 12,930' we reach our "base camp". This is where we disembark the jeep and start our climb to the 13,000' peak, on foot. Wow! Where is the OXYGEN? We all trek to the top with cameras to record the event. It was hilarious to listen to all of us panting for OXYGEN. There is not much of it at 13,000'. This was THE way to make an ascent to the top of a challenging mountain peak. From the top we are able to see more than 70-miles. Abandoned mines are scattered around us like litter on a Florida highway. Spectacular waterfalls cascade down the cliffs high in the alpine basins surrounding us. Snow is ever present at this altitude, some if it in banks over 10-feet tall. We are able to grab handfuls of this snow as we drive by the huge banks. Imagine leaning out the top of a suburban and grabbing a handful of snow on the 11th day of July. Even though we are seeing and doing this it is hard to sink in.
Back in Silverton we dine before heading out to the "Old Hundred Mine" tour. While in Silverton we see 18-wheelers returning from delivering loads of sheep as far up into the mountains as possible. The 18-wheel rigs are only able to transport the sheep a few miles outside Silverton up a fairly well maintained gravel road. From there the shepherd will have to herd the sheep to their new grazing land above the tree line. Did I mention that those trucks smell BAD! Real bad!
The "Old Hundred Gold Mine" tour was another "must do". We rode an electric mine train 1,600' into the mountain before unloading to watch live drilling demonstrations with a variety of pneumatic drills. We peered up vertical shafts that ascend over 1,200' to access other levels. The level we are on is used to carry ore to the surface where it will be trucked to mills for processing. In this area a variety of precious metals are locked in veins of quartz. Gold, silver, zinc, tin, lead, copper and other metals are suspended in the quartz. Miners follow the vein of quartz as it runs through host rock. Quartz must be processed in a mill to make it release the valuable metals. I will explain that process later. Any rock other than quartz that was encountered was unproductive. Miners dig tunnels back into a mountain by drilling a series of 20 seven foot deep holes into the rock then pack the holes with explosives and blow it to small pieces. After the dust settles miners' return and muck the rubble up. Muck is the term miners use to describe the rubble resulting from the blast. Mucking is the job of loading the muck into oar cars. This muck, loaded into oar cars, is then railed to the mine door. Muck at this time must be separated into oar bearing rock and non-oar bearing rock. Non-oar bearing rock becomes tailings that are just dumped out the mouth of the mine. Oar bearing quartz must me hauled by some means to a mill where the valuable metals can be extracted.
Back in the mine we examine chutes and shafts where miners used gravity to help transport muck to the mine entrance. Miners used these chutes and shafts to connect various levels. Upper levels would just dump muck into chutes and shafts where gravity would transport the muck to the bottom of the shaft where the muck would be loaded and transported to the mine entrance. Hopefully, the mine entrance was far enough down the face of the mountain that the oar could be easily transported to a mill.
Immediately upon entering the mine the temperature dropped to 48 degrees and stayed there for the entire time. The mine entrance is located at 10,000' in altitude that may account for the ambient temperature of 48 degrees. In addition we had to wear raincoats and hard hats in the mine. Water dripped from the walls and ceilings throughout the mine.
From the mine tour we traveled several miles down the road to the Mayflower Mill where we toured the completely operable mill. Mining and Milling operations have been shut down because of low prices and environmental concerns. The Mayflower Mill processed oar from its mine as well as other smaller mines.
Oar from the Mayflower mine was transported to the mill over a 9,526-foot tram. The aerial tramway is 8,526 feet long between the loading terminal and the discharge terminal with a drop in elevation of 1,300 feet. In 1930, this was the longest continuous aerial tramway in operation. Despite the ever-present danger of avalanches or a fall from the buckets, transportation was by this aerial tram. The tramway transported married men living in Silverton to and from work. Wives, in full dresses, would frequently ride the tram buckets to the boardinghouse to shop at the company-owned commissary where prices were usually better than in town. One manager of the boardinghouse even transported a grand piano, a gift for his wife, using the tramway. From the top of the tramway, a second, 300-foot auxiliary tramway transported supplies on up to the boardinghouse and workshops. Unmarried miners lived in the boarding house located just above the mouth of the mine.
Get this picture. High on the steep side of a mountain face is this mine entrance. There is NO road leading to it. The only way to get oar down to a processing plant is via this tram. The only way for miners to get to work is via this tram. By some sheer miracle the company was able to construct a boarding house for unmarried miners to live in just above the mine entrance. Remember all of this is hanging precariously on the side of a mountain so steep that they do not construct a road up to it.
Tram buckets carried from 1,600 to 2,000 pounds of ore. There were 52 buckets on the tram at any one time. The weight of the ore coming down the tramline provided the power to haul empty buckets back to the mine. Each bucket made one round trip every 45 minutes. Several times a year a specially designed oilier bucket was sent on a round trip to oil the cable, protecting it from the weather. Compressed air was used to dispense the oil.
In the fall of 1957, Universal Studios filmed the movie "Night Passage" with James Stewart and Audie Murphy at the mill and used the tramline in one sequence.
Inside the mill oar was deposited into mills that tumbled the oar around in large cylinders with steel balls until it was pea size. A series of conveyer belts transported the pea size gravel to another tumbler consisting of 11 foot long steel rods with a diameter of about 6 inches each weighing in excess of 500 pounds. This tumbler was slightly longer than 11 feet. As it slowly turned the top steel bar would roll down crushing the pea size gravel into dust. Actually, it turned the gravel into a very fine substance. There was little dust since water was mixed with the oar at the beginning of the milling process to cut down on dust. At this point we have slurry of approximately 40 percent-crushed rocks and 60 percent water. From this point chemicals are added to the slurry. Certain chemicals attach to attach themselves to different metals and suspend them in a solution where they are separated from the quartz rock and other metals. The rest of the process has to do with the various settling ponds and other processes that were used to separate out the valuable metals.
Over its lifetime, more than 900,000 ounces of gold were produced at the Mayflower Mill in addition to tons of silver, lead, zinc, copper and other metals.
Wow! What a day. Now it is time for us to take the scenic trip back to Cortez through Durango. It's tough but we have to make that scenic drive once more.
We ate dinner in Durango around 8:00 and did not make it back home until after 9:00. What a day! We have been having fun for over 16 hours. It is time for some rest. There is such a thing as "too much fun".
Thursday, July 12, 2001 Sundance RV-Park, Downtown Cortez, Colorado, 970-565-0997 Elevation 6,200'
We used today to recover from yesterday.
Since we were taking the day off I will use this space to provide some useful information to RV'ers. Just outside of Silverton is the abandoned town of Eureka. Just follow Main Street through town then continue 5 or 6 miles along the well-maintained gravel road. Loads of RV's are boondocking in the flat area along the Animas River. There is at least one RV Park in downtown Silverton. Five miles south of Silverton is a small RV-Park operated by the city of Silverton. This park is purported to be the highest in altitude of any RV-Park in North America. It is probably located at around 10,500 feet.
Between Cortez and Telluride on highway 145 there are several areas in the National Forrest to boondock along the Delores River. Between mile marker 43 and Rico there are several excellent boondocking sites. One of the places is National Forrest property the other belongs to the City of Rico. Both are incredible.
The City of Cortez operates a free dump station along with potable water on the west side of the city park located adjacent to main street.
Mike & Joyce Hendrix
Until next time remember how good life is.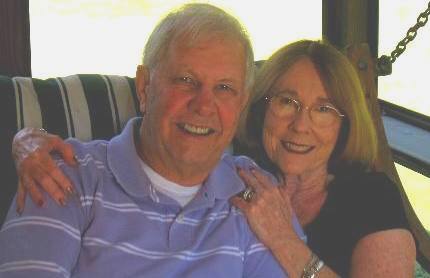 Mike & Joyce Hendrix who we are
We hope you liked this page. If you do you might be interested in some of our other Travel Adventures:
Mike & Joyce Hendrix's home page
Travel Adventures by Year ** Travel Adventures by State ** Plants ** Marine-Boats ** Geology ** Exciting Drives ** Cute Signs ** RV Subjects ** Miscellaneous Subjects
We would love to hear from you......just put "info" in the place of "FAKE" in this address: FAKE@travellogs.us
Until next time remember how good life is.