Sedona, Oak Creek Canyon, Jerome, Clarkdale, Meteor Crater, Winslow & Petrified Forrest
Places visited:
Arizona: Flagstaff, Sedona, Oak Creek Canyon, Jerome, Clarkdale, Meteor Crater, Winslow & Petrified Forrest Nevada: Las Vegas
Saturday, June 2, 2001 Woody Mountain Campground, Flagstaff, AZ (7,300')
Jeff and Kathryn drove us through beautiful Oak Creek Canyon on the way to Sedona. Oak Creek Canyon is 12-miles of winding road following none other than sparkling Oak Creek. This drive took us through one of the richest riparian areas in the country. Every turn, every peak we get of the canyon walls, every tree formed tunnel, every rock walled curve, and every glimpse of Oak Creek proves more beautiful than the last. The beauty fairly hangs from the giant, creek-side cottonwoods and sycamores. Occasionally, we would spot a posh villa tucked into one of the special alcoves along the way and wondered what property along the creek would cost. At the end of Oak Creek canyon sits the picturesque town of Sedona.
Sedona is situated in the heart of a unique, geological area that completely mesmerized us. The resplendent scenery from downtown is a paradox. Look one way and you view the lush riparian valley surrounding Oak Creek. Look another and you see the fire red glow of Sedona's spectacular buttes, mesas, spires and pinnacles. This is truly a city with unbelievable topography, marked by these extreme contrasts in form and color.
In Sedona we took one of the Pink Jeep tours to an ancient ruin. On the way the Pink Jeep traveled through spectacular canyon lands with towering red rock monoliths. We ended up at a 700-year old cliff dwelling where Jeff and Kathryn really got into exploring the vestiges of these old ruins. We got to see where dozens of Western Movies were filmed. The massive red rock formations made spectacular western backdrops for these movies. After two hours riding in the back of this jeep down dirt roads we are covered with red dust. We were all laughing about the good time we were having and how our mouths were full of grit.
Once back in Sedona we head to the Cowboy Club Restaurant for some "High Desert Cuisine". Jeff and Kathryn joined us in our quest to "taste test" specialties endemic to the communities we visit. Several locals told us that the Cowboy Club was the place to go to experience local dishes. We ordered Buffalo Brochette with cilantro flat bread & southwestern peanut sauce. The buffalo brochette was ok but nothing special. The cilantro bread was as different and unique as it was good. Joyce is a peanut butter freak. However, her experience is with peanut butter and jelly. She did not particularly like the strong flavor of the peanut sauce. No one else though it was special and most of it went uneaten. Our next experience was a dish they called "Sonora Fries". Sonora fries are cactus strips lightly battered and flash fried. All of us agreed that the fried cactus strips were great. This makes the second time Joyce and I have eaten cactus strips. The last time was in a Mexican restaurant in Beaumont, Texas where they cooked the cactus strips like green beans. They were good like that as well. Our next culinary experience was BBQ Snake Brochette with "caramelized black bean dip/gravy". We ate the BBQ snake but it is not anything any of us would order again. We have all eaten fried rattle snake and found it to be good. I tried the black bean dip and told the girls it was chocolate. They both tried it thinking that it was chocolate. Both Joyce and Kathryn let me know in no uncertain terms that it was not chocolate. Every once in a while I am able to pull off a good one and that was a winner. The Cowboy Club Restaurant was the hangout for the movie stars that made over 70 western movies in the area. On the wall was a humongous set of bullhorns. I asked if they were real and was assured they were. In fact they are 6 inches short of a world record for length. The girth of these horns equaled the world record. Jeff and Kathryn treated us to this smorgasbord. Thanks kids!
After eating we headed toward Jerome. Although we had all intentions of getting to Jerome time caught up with us since we wanted to ride the Verde Canyon Railroad leaving from Clarkdale at 5:30pm. The Verde Canyon Railroad was constructed in 1912 to carry the copper oar from Jerome to the United Verde Copper Company smelter in the town of Clarkdale. The smelter remained in operation until 1953 when it was closed by it's present owner, Phelps Dodge. Our 4-hour train ride covers 20 miles up the track to Perkinsville where the engine unhooks and reconnects to take us back to the start. Our 5:30pm trip is only offered during the full moon nights in May and June.
It is starting to get cool. As we leave the station we can see Jerome, about half way up the side of the mountain. Shortly the train passes through the old slag dump. Slag is part of the waste material from the smelter and was actually poured here in a molten state. We can see where rusted iron pipes and sheet iron originally formed a barrier to keep the molten slag from covering the tracks. Passing through this slag reminds me of a road cut on the interstate since the slag is much higher than the top of the railroad cars. The molten slag cooled into the very hard material it is now. This mountain of slag covers about 40 acres, and averages 40 feet in depth. It is the result of almost 40 years of mining and smelting.
Later the train passes a series of cliff dwellings clinging to the walls of the canyon, almost halfway up the face. It is thought that these dwellings were occupied between A.D. 1100 and 1125. A black area of one ruin remains visible as testimony to where these people cooked. In the riparian area along the Verde River are many large cottonwood, sycamore, willow, walnut and sycamore trees. Bald eagles circle high overhead, then we pass an eagle nest high on the canyon wall across from the train. Ocotillo and prickly pear cactus along with juniper, mesquite and creosote bush are visible in the dryer areas. Along the way we are able to see many geological phenomenon. A formation geologist refer to as a "monocline" where sandstone, which was laid down in horizontal layers, is tilted at a sharp angle with the layers standing almost on end is easily visible. When viewing the layers of sandstone it is easy to see where the layers break creating what geologists call a "fault". Then there are bends where the layers are "bent" but not broken.
On the way we pass Sycamore Canyon often called "little Grand Canyon", it is beautiful with evening light bouncing off the towering sheer red cliffs. Several homes are visible on the river opposite the track. These predate the establishment of the National Forest that encompasses the area now. The narrator tells an intriguing story about each family. These families have all been here a LONG time and have been in a constant struggle for survival in a land of unremitting harshness. Their tenaciousness has got to be admired and respected. None of them have electricity or any of the other conveniences city dwellers are accustomed to. They must be inexorably drawn to a powerful lure of primitivism.
As the train passes the confluence of Sycamore creek and the Verde River, the train enters the awesome Verde River Canyon. The tallest cliffs in the canyon are around 4,800'. Around one corner the train suddenly passes through a 680' tunnel blasted through solid limestone. The sun is falling fast creating a symphony of blazing color and shadows on the canyon walls. The slow moving train is winding its way along the Verde River where lush green is visible beneath us and spectacular pinnacles and sheer cliff walls above us.
As the train leaves the canyon, the walls drop away on both sides, and the train emerges into the Perkinsville valley. Perkinsville valley is beautiful with many huge cottonwood trees and old buildings. It is here that we have a 15-minute layover as the engine disconnects and moves to the other end of the train to haul us back to the station. By now the sun is starting to set and we are being treated to a beautiful sunset. As the train makes it's way back through Verde River Canyon the red walls are ablaze with color. Then it gets dark and we are treated to a full moon. Shortly most of us are back inside and sleeping. It has been a long day.
It is 9:30 by the time we get back to the station and start the 70-mile trip back to Flagstaff. There is no panache left in any of us. We are still covered with that layer of red dust from the Jeep ride earlier in the day. Jeff put the petal to the metal all the way back to Flagstaff and showers for all. It was dark 30 by the time we finally got to bed. Thankfully, the temperature was heading to the 40s. We have just experienced one of the most unbelievably beautiful places on earth. Even the most jaded traveler would have to agree Sedona and the surrounding area is a land of exceptionally spectacular natural beauty.
Sunday, June3, 2001 Woody Mountain Campground, Flagstaff, AZ (7,300')
This is normally a church day but Jeff and Kathryn's days with us are limited so we again get up early and head for the hinterland east of Flagstaff with a full days worth of sight seeing to accomplish. Shortly after leaving Flagstaff on I-40 we see a coyote standing in the desert to the south of us. Jeff comments on how scrawny it looked.
Approximately 25 miles east on I-40 is Meteor Crater the best-preserved meteorite impact site on Planet Earth. This attraction was created by a giant iron-nickel meteoric mass, about 150' across and weighing millions of tons, that impacted here at a speed of 45,000 mph. The impact of this meteor striking this relatively flat rocky plain created an explosive force greater than 20 million tons of TNT. Today, 49,000 years after the devastating impact, Meteor Crater remains a gaping chasm 570 feet deep, nearly a mile across, and over 3 miles in circumference. It is deep enough to engulf a 60-story building, and large enough at the floor of the crater to accommodate 20 football fields. The impact resulted in over 175 million tons of limestone and sandstone being "blasted" out of the crater and deposited in a continuous blanket of debris surrounding the crater for a distance of over one mile. Fragments of rock and iron-nickel, some as large as a few feet across, were thrown as far as several miles away. Some of the fragments of the meteorite are on display in their museum. According to our guide the area only gets 3 inches of rain per year so water erosion has been negligible. The wind was blowing in excess of 50mph and made outside strolling at the observation platforms dicey and exciting to say the least. When viewing the large crater you know that you are viewing something special.
Who ever complained about humidity making a "bad hair day" needs to stand outside in 50mph winds loaded with dust and grime. I have no idea what the temperature was. Who cares when the wind is blowing 50mph?
Our next stop is Winslow, Arizona. Winslow, Arizona's sole claim to fame comes from the tremendously popular Eagles song where one of the lines has the artist "standing on the corner in Winslow, Arizona when a girl in a flat bed ford stops to take a look at me". We found the corner and made pictures. A small park or shrine has been made on the corner. There is a statue of a man with a guitar standing on the corner. A building next to the corner has a bald eagle in an upper window with a mural of a girl in a flat bed ford in a mural in the bottom window. It was 15-minutes of laughing, posing and standing in the middle of main street to take pictures.
Our next destination is the Petrified Forrest National Park 60-miles to the east. Once we are close to the Petrified Forrest souvenir shops start popping-up at every exit. We stop at one advertising the "world's largest Petrified Tree" to get cold drinks. It is amazing how beautiful petrified trees can be when they are buffed. Every color in the rainbow seems to glow throughout these rocks. Once entering the National Park we stroll through the information center and learn much of the history behind the Petrified Forrest. It is hard for us to visualize this high, dry tableland as a vast floodplain crossed by many streams with large trees growing along the banks. Fallen trees were washed by swollen streams into the floodplain, where silt, mud and volcanic ash covered the logs. This blanket of deposits cut off oxygen and slowed the logs' decay. Gradually, silica-bearing ground water seeped through the logs and, bit by bit, replaced the original wood tissues with silica deposits. As the process continued, the silica crystallized into quartz, and the logs were preserved as petrified wood. All this occurred about 225 million years ago in the late Triassic Period. Since that time the area sank and became a freshwater lake then later the area was lifted far above sea level. This uplift created the stresses that cracked most of the giant logs. Over time, wind and water have worn away layers of hardened sediments, exposing the fossilized remains of these ancient trees and other plants and animals.
The wind continues to blow over 50 miles per hour making outside viewing of the Petrified Forrest an uncomfortable experience. We do get outside for short times at each exhibit/viewing area but it is uncomfortable. Jeff spots an antelope laying in a clump of grass about 100-yards from the road and we stop to view it through our binoculars. Next Jeff spots two babies about 20-feet from the mother. Shortly I spot another adult antelope in another clump of bushes. Other cars start pulling over to view the antelope when they see us looking at them through the binoculars.
The Petrified Forrest National Park road leads into the Painted Desert where we jump out and enjoy the vistas at each viewing area. We have seen canyons and red-rock formations all week. These are pretty but we are all getting satiated with canyon views. Just before exiting the park and getting on I-40 for the trip back to Flagstaff we stop by the old Petrified Forrest Lodge constructed by the CCC back in the early 1930s. This lodge is architecturally like the other lodges we have visited at Ft. Davis State Park and at the Grand Canyon. In keeping with a southwestern theme the CCC used ponderosa pine and aspen poles cut from Arizona forests for roofing beams and cross beams. Mexican-style light fixtures, hand made from tin, and wooden tables and chairs with Native American design have been preserved. Beautiful skylight panels were hand-painted by CCC workers based on prehistoric designs from pottery unearthed at archeological sites. This lodge is not in use as an Inn any longer. The Inn has seen better days. Cracks have formed in many of the walls. The foundation of the Inn is on a seam of bentonite clay that swells and shrinks in response to available moisture thus causing the cracks in the walls. The famous Inn was closed during WW II but reopened with a concession company that renovated the original CCC structure. They installed plate glass windows placed in strategic walls to take advantage of the magnificent views. A renowned Hopi Indian artist was hired to paint murals on the dining room and lunchroom walls. The scenes are a glimpse into Hopi culture. This same artist also painted murals for the company at Grand Canyon and other locations. Visitors can only walk through and see what "once was". Outside we take some more pictures to document that we have visited the Painted Desert.
The wind is still howling as Jeff points our Saturn toward Flagstaff for the 115-mile ride home.
Tonight is the night we have set aside to eat steak at Black Bart's a renowned steak house located in an RV-Park of all places. Black Bart's is located off I-40 at exit 198. Follow the campground signs. Black Bart has a good thing going. It is a quality steak house with local entertainment provided by music students from Northern Arizona University. The students are the wait staff as well as the entertainment. One after the other they perform for your dining pleasure. The entertainment was good the food was good, all in all a good dining experience. Warning, this is NOT an el-cheapo place. Expect to pay top dollar.
On the way home we go looking for elk and find them less than a mile from our RV-Park grazing in a pasture. We stop and take pictures. Several of the elk had impressive racks. We were all surprised at how close we were to them. What a way to end another wonderful day.
Monday, June 4, 2001 Woody Mountain Campground, Flagstaff, AZ (7,300')
All this fun has got to end. It is time for us to drive back to Las Vegas. Jeff drove us strait to the Tropicana where we checked in and headed out to experience what we had missed the night they arrived. Actually there is not much to say about walking through gambling casinos. We played some nickel slot machines until we got tired. Just before we were about to leave Kathryn hit a $100 jackpot on her machine. Since the rest of us were losing everyone felt that now was the time to cash in and head back to the Tropicana. We were playing the slot machines at Mandela Bay one of the newer and glitzier Casinos. None of us are smokers. We could hardly walk through the casino at the Tropicana without gagging. Second hand smoke was not noticeable at Mandela Bay. We enjoyed the buffet at Excalibur. They featured prime rib and shrimp for $9.99. It was ok but nothing to write home about. Jeff and Kathryn are catching a 7:00am plane back to Pensacola in the morning and are going to catch a cab to the airport. Mike and Joyce plan to sleep in. We said our good buys around midnight and headed to our room.
The good thing about today was the temperature. Kathryn asked someone and was told that it was 20 degrees cooler than last Thursday when we were last here. Those 20 degrees made all the difference in the world.
We have since talked with Jeff and Kathryn. Delta did it to them again. Their flight back to Pensacola via New Orleans was cancelled. Has anyone ever been on a Delta flight that was not cancelled because of a broken aircraft? Anyway, they were finally routed on a flight through Atlanta then New Orleans. They arrived back in Pensacola around 11:00pm. Flying with Delta is like having a streak of bad luck the size of Texas!
Tuesday, June 5, 2001 Woody Mountain Campground, Flagstaff, AZ (7,300')
Mike and Joyce spent the day driving back to Flagstaff via Hoover Dam. Once again we witnessed RV after RV on the side of the highway. Each in his own way making a statement as to why it would be advisable for RV's to avoid this route. If you have power to spare with cooling system to spare and a good exhaust break go for it. Please write and let us know about your adventure. Better yet make that recording. J
The temperature continued to drop as our altitude increased. It was so nice to get back to Flagstaff where I had to put a sweatshirt on before we went downtown for dinner.
Jeff and Kathryn taught us something about our motorhome that we did not know and we want to pass it on to other RV'ers that may not know about it. Jeff and Kathryn have taken several trips to the Bahamas visiting the out islands with Kathryn's parents on their 45' Bertram sports fishing yacht. Visiting out islands is major fun. However, the out islands do not have all of the modern conveniences we are used to. Fresh water was SCARCE on several of the islands they were visiting. Available fresh water was captured in cisterns from rain running off the roof. Yachts visiting these islands bring with them all the water they need for their stay. This lack of fresh water necessitates MAJOR CONSERVATION at shower time. They taught us that our motorhome's showerhead, like the one on the yacht, had a button on it that shuts off the water then with the press of that button the water flow is returned. The button makes it nice since you do not have to adjust the hot and cold water each time you shut it off. Stupid me had just been shutting off the water at the faucet each time during the wet, lather, and rinse cycles when we were boondocking and conserving water. With us Jeff and Kathryn were using it between showers so the other one did not have to adjust the temperature. How many of you RV'ers were like me and did not know about that button?
Wednesday, June 6, 2001 Woody Mountain Campground, Flagstaff, AZ (7,300')
Today was our day to go through the mountain of mail Jeff and Kathryn delivered. Two months of mail takes time to wade through. Joyce washed clothes and I repaired a series of items. It was also a time to work on this travelogue that was not touched while Jeff and Kathryn were with us. Most of the time I spend 15 or 20 minutes at the end of each day whacking out the days travelogue. It is harder this time since I have to remember what we did a week ago. Those of you that are in your 50s know how hard it is to remember what you had for breakfast much less what happened a week ago. AMEN!
Thursday, June 7, 2001 Woody Mountain Campground, Flagstaff, AZ (7,300')
There is a certain serendipity to the way our day turned out. On our way into Flagstaff Saturday a week ago our motorhome started blinking a "service engine soon" light. We had not driven it since so there was no reason to do anything. However, we had an appointment with a mechanic to hook up their diagnostic equipment to it and tell us what the bad news was. Joyce needed a haircut so she took care of that while I attend to the motorhome.
Good news. It cost me $35.00 for them to tell me there were no codes. That is diesel mechanic speak for "you are a lucky man". The mechanics tell me that the computer was probably responding to the rapid change in altitude as we transited from Phoenix at 1,000' to Flagstaff at 7,000'. All that I needed to do was turn the ignition off and restart the engine to reset the computer and sensors. I did notice that the "service engine soon" warning did not come on while driving to the shop. How nice!
Mike's two cents: If your "service engine soon" warning light comes on and you have changed altitude significantly pull over to the side of the road turn off your ignition then restart your diesel. The mechanic said that changes in altitude affect the computers in gasoline engines in the same way. According to the mechanic that I dealt with today when you restart you engine it sets you engine mechanisms to the new altitude. He seems to think that my engine may have been operating based on being at 1,000 feet above sea level thus some controls may have not been set at their optimum setting. If any of you have any other information concerning this please feel free to comment.
Mike & Joyce Hendrix
Until next time remember how good life is.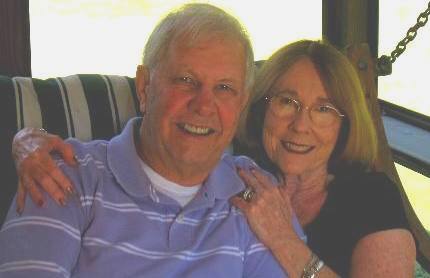 Mike & Joyce Hendrix who we are
We hope you liked this page. If you do you might be interested in some of our other Travel Adventures:
Mike & Joyce Hendrix's home page
Travel Adventures by Year ** Travel Adventures by State ** Plants ** Marine-Boats ** Geology ** Exciting Drives ** Cute Signs ** RV Subjects ** Miscellaneous Subjects
We would love to hear from you......just put "info" in the place of "FAKE" in this address: FAKE@travellogs.us
Until next time remember how good life is.