Arizona: Tucson, Why, Ajo, Dateland & Yuma
Places Visited: Arizona: Tucson, Why, Ajo, Dateland & Yuma
Sunday, April 17 Voyager RV Resort; Tucson, Arizona--- $ this was our free night. Full hookup paved interior streets with gravel sites N32° 5.558' W110° 50.274'. At one time or another Voyager RV Resort was named the #1 RV Park in the country.
Our plan was to get up early so we could get to the Arizona-Sonora Desert museum before it got hot. That didn't happen. Yesterday's activities and the 94-degree heat took the starch out of us. We got away but it was not early.
The Arizona-Sonora Desert Museum is first class. It is a privately owned and operated facility with facilities rivaling any taxpayer operated museum of this type. The "museum" moniker is a bit misleading since much of what is available is outside. Museum in this case covers a good zoo of local animals ranging from a prairie dog colony to mountain lions and black bears all in natural settings.
Cactus wren on left with Gambal's Quail on right.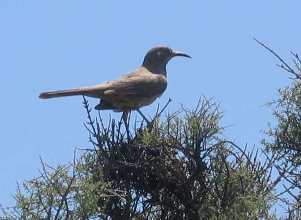 Prairie dog on left and Joyce with Organ Pipe Cactus on right.
They do a good job of covering Arizona geology with plenty of fossil artifacts. Natural History is covered as well. We went from one interpretive display of living animals and plants to another all native to the Sonoran Desert region ----an area encompassing parts of Arizona and California in the United States and the Mexican states of Sonora and Baja California. In total more than 300 animal species and 1,200 kinds of plants are on display----alive and in their natural desert settings. This is all presented on almost two miles of paths on 21 acres of beautiful desert. We are here at a good time. The desert is in bloom. Agaves, creosote bushes, prickly pear, cholla, barrel cactus and palo verde plus a wide variety of lesser known cacti are in full bloom. Desert plants have such beautiful blooms. The huge saguaro cactus will bloom any day now.
Agave in bloom on left with a variety of prickly pear cactus blooms that come in all colors.
In one area they have created a desert oasis complete with animal, bird and fish exhibits all in natural settings. One outdoor exhibit in the oasis setting is a completely enclosed ½ acre aviary. I say enclosed but it is out doors although completely encased in wire mesh. Hundreds of native birds flit around the enclosure seemingly oblivious to the people walking around. Nesting and other activities are right there where everyone can see and the birds do not seem to mind. This is one of the best bird exhibits I have ever seen.
Another exhibit is the hummingbird house where numerous hummingbirds fly around nesting and feeding in a huge plant filled room.
Desert plants are identified throughout the facility. Docents are strategically placed to provide information. The museum is primarily an outdoor experience with a few indoor exhibits.
I can't say enough about the Arizona-Sonora Desert Museum. It should be at the top of your list of things to do and see when visiting Tucson.
From the Arizona-Sonora Desert Museum we went about 5-miles down the road and enjoyed the west section of Saguaro National Park. By this time we had achieved our fill of deserts especially since the temperature was in the 90's. If limited by time I think the best of the two Saguaro National Parks to visit would be the east.
We have been here for two days and have passed Davis Monthan Air Force Base umpteen times. It is only a few miles from our RV-Park and on the same road.
Those "hanger-queen" helicopters should bring back memories for some.
Davis Monthan AFB holds a special place in many Pensacola memory banks. Back in my working days at the Naval Aviation Depot in Pensacola, Davis Monthan AFB was the source of "last resort" for air craft parts. Navy and Air Force air craft are flown to Davis Monthan on their "last flight" where they are mothballed in the dry climate. Some of these planes actually come out of their "preserved" status and fly again. Many end up being robbed piece by piece to keep aircraft in the fleet flying. Some of the aircraft we saw are hardly recognizable as aircraft so many parts have been removed. For those of you who have not seen Davis Monthan AFB I can tell you there are a LOT of old aircraft all lined up in neat rows stretching further than you would believe. Davis Monthan AFB conducts a tour of the base. It is something on our list of things to do but it will not be on this trip.
Monday, April 18 Coyote Howl RV Park; Why, Arizona--- $18.44 located on SR-85 at the intersection of SR-86. Full hookup dirt interior streets and sites N32° 16.177' W112° 44.487'.
It was time to move west once again. We are headed to Organ Pipe Cactus National Park 130-miles west of Tucson. Most people would travel I-10 out of Tucson to I-8 then west on I-8 to Gila Bend then south to Ajo, Why, and Organ Pipe Cactus National Park. That is most people, not us. We chose to take SR-86 west out of Tucson. The entire drive is across Sonora Desert terrain with the vast majority consisting of the Tohono O'odham and Papago Indian Reservations. We passed through two named towns; Sells and Ouijotoa. Both were "Reservation" towns consisting of the Reservation Indians. The topography consisted of salt flats surrounded by small volcanic mountains. These salt flats consisted of creosote bushes, palo verde, teddy bear cholla, and a sprinkling of saguaro cactus. We did not see any of the distinctive organ pipe cactus until we got to Why, Arizona and turned south into Organ Pipe Cactus National Park. Later we took a ride up SR-85 to Ajo where we saw scattered organ pipe cactus.

We might not have seen any Organ Pipe Cactus on SR-86 but we did see the Border Patrol with a group of 20 to 30 "detainees" on the side of the road. The Border Patrol was issuing them gallons of water to drink. Most of them were sitting in the shade of a big tree. None were being hassled (no hand cuffs or spread eagle tactics) by the Border Patrol it was like the whole bunch was just hanging out.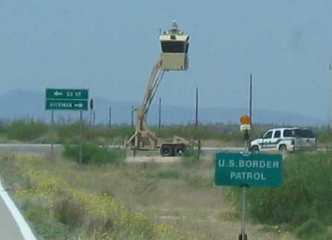 While traversing the lonely desert in one of the huge Indian Reservations we drove past a mobile Border Patrol observation tower with two Border Patrol vehicles nearby.
The eponymous Organ Pipe Cactus that inhabits Organ Pipe Cactus National Park.
We dropped the motorhome at Coyote Howl RV-Park in Why then headed south on SR-85 to Organ Pipe National Park. Surprisingly SR-85 goes right through Organ Pipe Cactus National Park then across the Mexican border to Puerto Pensaco / Rocky Point Mexico. Puerto Pensaco/Rocky Point is a Mexican community on the eastern shore of the Sea of Cortez. We thought SR-85 into Organ Pipe Cactus National Park would be lightly traveled. We were wrong! There is a lot of traffic but it is not going to Organ Pipe Cactus National Park, it is going to Rocky Point. RV's, Trucks, boats and all terrain vehicles were headed to and from Rocky Point. It has to be a popular place. Several stores in Why are selling Mexican Insurance as well as gasoline and propane.
The temperature was in the high 80's today and hot. That made desert hiking out of the question for us. Organ Pipe Cactus NP is Sonoran Desert topography with the addition of Organ Pipe Cactus. We have seen enough cacti in the past few days to satisfy our "cacti-cravings". After checking out the visitor's center and campground we headed back to Why & Ajo without doing any of the scenic drives in the park. It was so hot we decided those scenic drives would be much more "scenic/enjoyable" if we did them in the winter.
The drive was punctuated by two A-10 air force tank killer aircraft flying a low level mission over the desert across us. We watched as they dodged the mountains surrounding the flat area we were crossing. We are about 30-miles south of the Barry Goldwater Range where I think the Air Force does a lot of low level training.
As we navigated toward Ajo (Spanish for garlic) we could see mine tailings from miles away. That piqued my interest. To have mine tailings that extensive there had to be a big mine. What were they mining? Who was doing the mining? Could I watch?
This is the brown tailings. They stretch for miles. Remember the open pit mine is over 1,000 feet deep and over 12/2 miles across. That is a lot of digging and a lot of tailings.
This is the "white" tailings consisting of processed oar that contained copper and other metals. Processing requires that the rock/oar be crushed into a fine powder. This is the residue of that process minus the copper and other metals.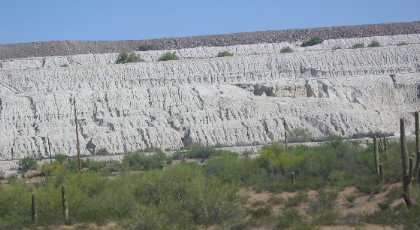 This is a close up of the white, crushed into powder, residue of processed ore bearing rock.
There were two types of tailings brown rocks and white stuff that looked like volcanic ash we have previously seen in Big Bend National Park. As it turns out the white tailing we saw was the crushed rock that had been through the processes to extract the metals. It had been crushed to a fine dust then mixed with chemicals. This white material is what remained. It was transported from the refinery to the tailing pile suspended in water. The water used for this purpose was recaptured and used over and over again to transport the processed rock dust to the tailings pile.
The Phelps Dodge mine is no longer an active mine. It was closed in the early 1980 when miners went on strike. When the miners and Phelps Dodge could not reach an agreement Phelps Dodge closed the mine. It just so happened that Phelps Dodge owned several hundred or so homes in Ajo that the miners were living in. Of course Phelps Dodge informed the striking miners that it was time to evacuate the company homes.
Today Ajo is a snow bird haven. Snow birds have purchased most of the old company homes and fixed them up. During the winter months the place must be lively. Now that the temperature has reached the high 80's and even into the 90's snow birds have either headed north or are hastily making arrangements to do so shortly.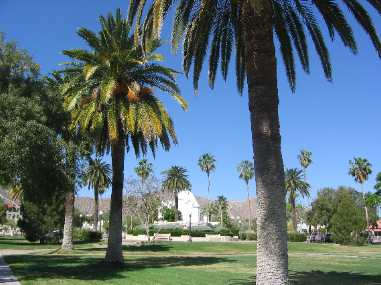 Ajo has a beautiful town plaza with stately Canary Island date palm trees that must be over 100-years old. The stately palms really make the square stand out. Spanish architecture of the plaza and surrounding churches make this a special place.
Many of the old miner's homes have huge bougainvillea bushes in full bloom. There is nothing more spectacular than a bougainvillea in full bloom. West of the plaza is a big school of some kind. Whatever it is someone applied major money to it. It looked similar to some grand courthouse with a large bell tower.
The Spanish architecture, Canary Island date palms and bougainvillea bushes make us feel like we are in South Florida.
This is a blooming Palo Verde tree on the edge of that huge open pit copper mine with the far wall of the open pit visible in the distance (over 11/2 miles away).

We turned off SR-65 west on La Mina (Spanish for the mine) and followed the road to a view point where we can get a panoramic view of the 1 ½ mile wide open pit where copper was once mined. This is the mine that Phelps Dodge closed back in the 80's. Ajo's elevation is around 1,740 feet and this mine was excavated to below the 700' level. Just doing elementary math the hole is over 1000' deep. Oar was hauled out of the pit by a train over 7-miles of track that wound around the circumference of that huge pit. These man made holes in the ground that are over a mile & one half across are awesome sights. I would like to see machinery working in one of these active pits.
Sunset in Coyote Howl RV Park; Why, Arizona.
Tuesday, April 19 Desert Holliday RV Park; Yuma, Arizona--- $19.00 located on 4th street. Full hookup paved interior streets gravel sites N32° 39.692' W114° 37.352'.
We moved the motorhome to Yuma today.

The one leaning against the vehicle in the center looking at us is the "ladrido" or barking one in Spanish. VBG
While heading north on SR-85 north of Ajo we came upon one of the Border Patrol check points. This one was doing more than just waving people through. We were backed up behind a few vehicles with one of the vehicles having to open the trunk. Joyce stood up in the motorhome and clicked some pictures. One of the statues in a Border Patrol uniform unexpectedly came to life and approached our motorhome. Joyce opened the door thinking they were going to inspect the inside of the motorhome. Instead he went off about her taking pictures. "Don't we know it is against the law to take pictures of Border Patrol officers conducting a check point" he barked in his most official tone. It was all I could do to keep from laughing out loud. He didn't want her taking pictures of him and his buddy chewing the fat.
You can never have this much fun sitting at home watching TV.
On our way to Yuma we stopped in Ajo to mail a package. I took the opportunity to get a few pictures of the Plaza and Spanish Architecture.
On I-8 we stopped in Dateland at exit 67. There is a restaurant with a huge parking lot next to a beautiful date palm grove. Interstate billboards were advertising world famous date milkshakes. A date milkshake is something I have never tried, at least not until now. We not only had a date shake we had a cactus shake. Both were good. The date shake is brown while the cactus shake is pink. It was a fun stop and we would do it again just for the date shake. If you are traveling with children they would like it also and there is plenty of parking for your RV.
We chose an RV-Park in Yuma on 4th street close to town. We didn't spend much time setting up the motorhome before we were off to see Yuma and the surrounding area. Our first stop was the old Yuma Territorial Jail then it was on the "Yuma Crossing" and into California. In California we turned north and went for a ride into the irrigated farming area following the All American Canal. This was so different from what we are used to. Fields of grain, probably Durum wheat, are planted next to citrus (mostly lemon) groves, and a smattering of date palm groves. The date groves intrigue us most. The date groves are so beautiful with their dark green foliage and golden orange flower pods juxtaposed against the barren desert mountains. Irrigation is done by flooding fields like we have seen in other desert farming areas. Citrus groves were being watered with huge sprinklers rather than being flooded.
In Yuma we hear the familiar sound of military helicopters especially the big H-53 helicopters. Those helicopters are a familiar sight in Pensacola. I suppose they are attached to the Marine Base here in Yuma.
After our agricultural drive we headed west on I-8 to the Algodones Exit where we turned and headed toward Algodones, Mexico. We stopped and turned around a few hundred feet before the border. We were just checking it out and plan to return tomorrow for an excursion into Mexico.

Until next time remember how good life is.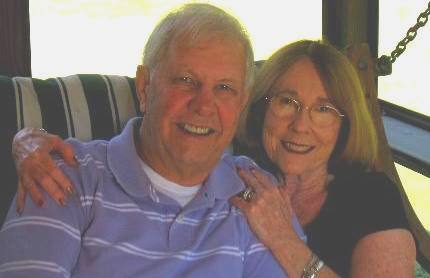 Mike & Joyce Hendrix who we are
We hope you liked this page. If you do you might be interested in some of our other Travel Adventures:
Mike & Joyce Hendrix's home page
Travel Adventures by Year ** Travel Adventures by State ** Plants ** Marine-Boats ** Geology ** Exciting Drives ** Cute Signs ** RV Subjects ** Miscellaneous Subjects
We would love to hear from you......just put "info" in the place of "FAKE" in this address: FAKE@travellogs.us
Until next time remember how good life is.