Arizona: Nature Concervancy's Ramsey Canyon Preserve
Places Visited:
Arizona: Nature Concervancy's Ramsey Canyon Preserve

Wednesday, April 13 Gas City Travel Center (dry-camping/boondocking) Benson, Arizona--- $Free Paved truck stop parking lot N31° 57.622' W110° 20.609'.
We were in no hurry this morning since the water pump and radiator was out of the MH. We certainly weren't going anywhere until they were reinstalled. They were not able to deliver the radiator to the radiator shop until this morning and they were busy. It will not be ready today-----possibly tomorrow. With that information we decided to take the opportunity to visit Tombstone, Bisbee, Ramsey Canyon Preserve, and Sierra Vista today. The road from Tombstone through Bisbee to Sierra Vista (SR-80 & SR-92) is considered by many "scenic drive" publications to be one of the better scenic drives in the country. Now that we have driven it we would say that it is very interesting. There is a lot for the eye to see and concentrate on.
Minutemen with binoculars looking for illegals south of Benson, Arizona near the Mexican border
There is a LOT of activity along the route mostly from the Border Patrol, Arizona Highway Patrol, Local Sheriffs and the "Minutemen". If you have been watching national news the past few weeks you know that concerned citizens from around the country fed up with the Bush Administration not sealing our borders have gathered in Tombstone and other cities in this area to bring national media attention to the illegal immigrant problem. Their efforts are working and they are proud. We stopped and talked to some of them and they smiled when I asked if they had forced the administration to apply more resources to border patrol. SR-92 parallels the Mexican border with Arizona between Bisbee and a point south of Sierra Vista. These minutemen have set up camps along the highway, especially in high places. They sit under umbrellas to protect themselves from the hot sun; it was in the 80's today. They have good binoculars and scopes and are searching the terrain between SR-92 and the Mexican border for illegal aliens. None of them had guns but they all had cell-phones and said when they spotted an illegal a cell phone call brought the border patrol immediately.
A bit south of Sierra Vista on SR-92 we turned west on Ramsey Canyon Road that led to the Nature Conservancy property surrounding much of Ramsey Canyon. Ramsey Canyon has been billed by some as the hummingbird capitol of the US. Although, the Nature Conservancy representatives say that many places in the US have good populations of hummingbirds. In addition to hummingbirds Ramsey Canyon consists of a small creek running from high in the mountains. Along the creek are giant Arizona sycamore and cottonwood, trees native Emory oaks and alligator juniper, some apple trees and a variety of other native trees. Migratory birds of many species drop into this canyon in addition to the hummingbirds that summer there. There is a wonderful shaded walk back into the canyon that you can take alone or with a docent. Some hike past the parks boundary way up in the canyon.
Awesome sycamore tree in the Nature Concervancy Preserve at Ramsey Canyon, Arizona
Giant Arizona sycamore in Ramsey Canyon Preserve.
Joyce and another awesome sycamore tree in the Nature Concervancy Preserve at Ramsey Canyon, Arizona
Joyce posing with one of the giant Arizona sycamore trees in Ramsey Canyon Preserve.
Joyce and impressive alligator juniper tree in the Nature Concervancy Preserve at Ramsey Canyon, Arizona
Joyce posing with a large Alligator Juniper in Ramsey Canyon Preserve.
Joyce and I added two birds to the list of birds that we have never seen before a black throated hummingbird and a gray breasted jay. They were easily identified even though we had never seen either before. With time we could probably add 5 to 10 new birds to our list but we had other things to see and do.
Border Patrol blimp high above Ramsey Canyon Preserve in Arizona
On our way out of Ramsey Canyon we spotted a border patrol blimp high in the sky. From their vantage point they can survey large areas plus utilize a variety of technological gadgets to spot the illegal aliens crossing the border.
Until next time remember how good life is.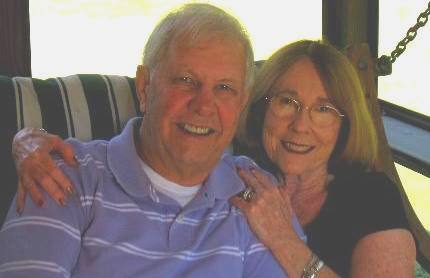 Mike & Joyce Hendrix who we are
We hope you liked this page. If you do you might be interested in some of our other Travel Adventures:
Mike & Joyce Hendrix's home page
Travel Adventures by Year ** Travel Adventures by State ** Plants ** Marine-Boats ** Geology ** Exciting Drives ** Cute Signs ** RV Subjects ** Miscellaneous Subjects
We would love to hear from you......just put "info" in the place of "FAKE" in this address: FAKE@travellogs.us
Until next time remember how good life is.