Wyoming: Thermopolis, Wind River Canyon, Gilette & Casper
South Dakota: Spearfish, Sturgis, Deadwood, 9-11, Mt. Rushmore & Crazy Horse, Custer SP, South Dakota
Colorado: Loveland
Places Visited: Wyoming: Thermopolis, Wind River Canyon, Gilette & Casper.
South Dakota: Spearfish, Sturgis, Deadwood, 9-11, Mt. Rushmore & Crazy Horse, Custer SP, South Dakota.
Colorado: Loveland, Colorado.
Sunday, September 9, 2001 Wall-Mart, Gillette Wyoming. Elevation: 4,700'
We did a lot of driving and sightseeing today. Central Wyoming is dry prairie broken up with scattered canyons and mountain ranges. We saw more antelope today than we have previously seen. Mule deer were also plentiful along the way. South of Gillette a gigantic ranch is raising buffalo. We passed by several large herds of buffalo and antelope on this ranch. Between Thermopolis and Casper, on Wyoming 20, we transversed the 15-mile long Wind River canyon. This is one of the more picturesque drives we have seen. There is a state park along much of the canyon with camping available for RV's. Anyone planning a trip between Casper and Yellowstone National Park should consider camping at one of the state park campgrounds along the river. The campgrounds did not look like they had hookups so be prepared to boondock. Views from these campgrounds were awesome. RV'ers beware the Wal-Mart Super Center in Casper does not allow overnight camping (they have a sign to that effect on the entrance road).
We have seen many oil and natural gas wells dotting the landscape. During much of the day we could see snow on the mountaintops of the Big Horn Mountain Range. The temperature was nice today for a change.
We had intended to stay in a local RV-Park, recommended by Woodall's, but when we arrived at the campground one look and we both decided Wal-Mart would be preferable. We had just passed the Wal-Mart, a few miles back, and it was already filling with motorhomes. We joined the dozen or so motorhomes settling in for the night.
Monday, September 10, 2001 City Park. Spearfish, South Dakota. Elevation: 3,500'
Gillette, Wyoming is COAL country. All around Gillette numerous open pit coal mines are in operation around the clock. After visiting the local museum in Gillette we drove 5-miles up the road to a pullout where we could view operations in a large open pit coal mine. While we were watching a 138-car coal train was being loaded. Engines pull the train under huge silos full of coal at about 1mph. The first silo fills about 90 percent of the coal in each car. The second silo tops off each car.
Coal in this seam is about 70 feet thick and is close to the surface. By close I mean within 150 feet of the surface. Huge dump trucks are moving coal from the seam to the loading area for the railroad. Other huge trucks are filling the hole left after the coal is removed. The fill is coming from the soil on top of the seam of coal about to be mined. Joyce is patient while I soak up this operation. I owe her a shopping trip.
After watching the mining operation we drove back to the motorhome and connected the Saturn then head to Spearfish, South Dakota. The drive to Spearfish was along Interstate 90 through rolling prairie. Herds of pronghorn antelope were visible all along the way. We have heard that Spearfish has a city operated RV-Park that is nice so we headed there. At the Chamber of Commerce and Visitors Center we are able to download e-mail and get information on local attractions. Spearfish Canyon was the top recommendation so we took off. The drive through this 11-mile canyon is scenic and worth doing but nothing to compare with the Wind River Canyon we went through yesterday. The town of Spearfish is just 12-miles from the Wyoming border. The Black Hills of South Dakota stretch to the south and Mount Rushmore is around 50-miles south. Upon crossing the border into South Dakota the prairie gives way to the Black Hills and ponderosa pine forest.
Tuesday, September 11, 2001 City Park. Spearfish, South Dakota. Elevation: 3,500'
Normally we do not watch TV. The first three months of this trip we were much too busy to even turn the TV on. However, the park we are in has cable and we are connected. This morning we turned on the TV to find the nation under siege. This is a day we will all remember. Both of us watched spellbound as events unfolded.
Trout in the Fish Hatchery next to the Spearfish City Park and Campground Spearfish, South Dakota
Around noon we decided to turn off the TV and go about our business. The first thing on our agenda was a tour of a fish hatchery adjacent to our RV-Park. Although it is advertised as a fish hatchery the facility was no longer actually hatching trout. A lake did contain numerous large trout, ducks and geese.
Our next stop was the High Plains Museum here in Spearfish. This was another good museum. Several hours later we emerged with a much better understanding and appreciation for the miners, farmers and ranchers that settled the Black Hills.
Wednesday, September 12, 2001 Custer Crazy Horse RV-Park. Cody, South Dakota. Elevation: 5,300'
The nation is still in shock. We watch national news for a few hours then connect the Saturn to the motorhome and drive to Deadwood where we park the motorhome and take the Saturn to the old mining town of Lead (pronounced Leed). Back in the 1870s placer gold was found in the canyon between Lead and Deadwood. Miners immediately set out to find the source of the placer deposits. The source was numerous veins in and around Lead. Hard rock mining in the area has produced more gold than any other mine in the world. Mining gold has just recently stopped in the Lead mines. They were mining deeper than 8,000'. It is just too costly to mine at depths of 8,000' and greater.
Huge open pit gold mine in Lead South Dakota
The city of Lead operates a wonderful gold mine museum in the downtown area. This is a very good museum. Also in Lead you can view an open pit where a mountain once stood. This pit looked to be every bit as large as the open pit copper mine we visited in Butte, Montana.
Back in Deadwood we drove around the old mining town. Deadwood is a picturesque old town with vintage hotels, saloons and restaurants and looks to be a good place to visit in the summer. In mid-September the town is rapidly shutting down.
Mount Rushmore and the town of Custer, South Dakota is 50-miles south of here and that is our destination so we hooked the Saturn to the motorhome and headed there.
While downloading e-mail tonight the park owner told me that the wife of the Captain of the aircraft that crashed in Pennsylvania was staying in an RV, in this RV-Park when the plane crashed. She received an e-mail telling her that it was her husband's plane that crashed in Pennsylvania. He was telling me that I was the first person to download e-mail from his jack since she had received her terrible news. Wow! We are so far from where the horrific events are unfolding yet so close to individuals actually experiencing personal loss.
Thursday, September 13, 2001 Custer Crazy Horse RV-Park. Cody, South Dakota. Elevation: 5,300'
This is the day we had planned to visit Mount Rushmore and Crazy Horse Monuments. However, the weather prohibited it. We did drive by Mount Rushmore but the fog was so thick we could barely see roadside signs so we kept driving. Three mountain goats were entertaining traffic within a mile of the entrance to Mount Rushmore. These goats were munching vegetation along the highway to the delight of all who passed by. Custer State Park, located south of Mount Rushmore, contains several scenic drives that we spent the day enjoying. One of the drives on SD-87 is called the needles highway that sports two incredible one-way tunnels with numerous switchbacks. This is an incredible drive that we highly recommend (not in your RV). SD-16A out of Keystone SD is called Iron Mountain Road. Iron Mountain Road contains several tunnels in addition to three "pig-tails".
Pigtail bridge and one of the tunnels on the Iron Mountain Road in the Black Hills of South Dakota
"Pigs-tails" are extra special engineering feats that enable the road to curl like a "pigs tail". These particular pigs tails are necessary to negotiate the grade. Usually bad grades are negotiated with a series of switchbacks. In these cases there was not enough mountainside to put switchbacks so these wooden "corkscrew bridges" accomplish the task. It is totally awesome to corkscrew down this highway that actually winds over and under itself. In addition to these "pigs tails" are a number of extremely narrow one-way tunnels.
Feeding the donkeys along Wildlife Loop in Custer State Park South Dakota
Custer State Park also has a drive designated as a "Wildlife Loop" that we decided to drive twice because of the remarkable amount of wildlife visible along this 20-mile route. Herds of buffalo and antelope were visible along the drive. Joyce spotted three flocks of turkeys each of which we stopped and watched. Prairie dog towns were visible along the route as were numerous deer. The hi-light of this drive had to be the wild donkeys. The donkeys are "BIG TIME" panhandlers. They get into groups of 8 to 10 that stand in the middle of the road stopping traffic. Once traffic is stopped they move to the windows for handouts. We saw one car that had 5 donkeys with their HEADS in the vehicle. I have no idea why the occupants did not hold the food out the window. It appeared to us that the cars occupants were trying to see how far into their car they could coax the donkeys. If that was their goal they were doing a remarkable job. We watched as a tour bus stopped in the road and unloaded passengers. We were stuck behind this bus while the passengers hand fed a large group of donkeys. Hundreds and hundreds of buffalo dotted the grasslands on both side of the highway although none were near the road. At another spot mountain goats were grazing within feet of the highway.
Buffalo along Wildlife Loop in Custer State Park South Dakota
Friday, September 14, 2001 Custer Crazy Horse RV-Park. Cody, South Dakota. Elevation: 5,300'
Pronghorn are numerous in both South Dakota and Wyoming
We tried to see Mount Rushmore again today, but to no avail, it was covered in thick clouds. After leaving Mount Rushmore we again drove over Iron Mountain Road with the "pigs tails" and one-way tunnels. Like yesterday we immensely enjoyed this drive. From the southern end of this highway we drove the "wildlife loop" in Custer State Park. Like yesterday the drive was alive with wildlife. Donkeys were panhandling just like yesterday. Antelope were in view along the highway. At one point, a line of several hundred buffalo crossing the road single file, blocked the road for over 30-minutes. Like soldiers walking single file these buffalo were following a narrow game trail through the prairie grass. They were visible coming over a rise about a mile to the north of the road and were heading south. A mixture of automobiles and tour busses were held up as we patiently sat and watched this procession cross the road just feet in front of us. I say we were held up but I do not think any of the vehicles would have traded that experience for anything in the world.
Not long after our experience with the buffalo fog became so thick we could barely see the road and stayed that way the remainder of the day.
Back at the motorhome we join the rest of the world watching news coverage of the tragic events of the week.
Saturday, September 15, 2001 Loveland RV Village: Loveland, Colorado. Elevation: 5,000'
We wanted to see Mount Rushmore but the weather was not cooperating. We have not seen the sun in three days. The weather report is predicting more of the same through the weekend. We give up on the idea of seeing Mount Rushmore and head 293-miles south to Loveland, Colorado. We chose Loveland because of its proximity to the east entrance to Rocky Mountain National Park.
Pronghorn are numerous in both South Dakota and Wyoming
The drive from the Black Hills of South Dakota to Loveland, Colorado was mostly through open prairie. Corn and sunflower fields began to appear. Large ranches with cattle were in evidence all along the way. In Cheyenne, Wyoming we saw a huge sugar refinery that reminds me of the sugar beets the book CENTENIAL described so eloquently. We were looking for sugar beet fields but did not recognize any. Possibly they have been harvested. Although we did not see any deer or buffalo, antelope were plentiful.
Mike & Joyce Hendrix
Until next time remember how good life is.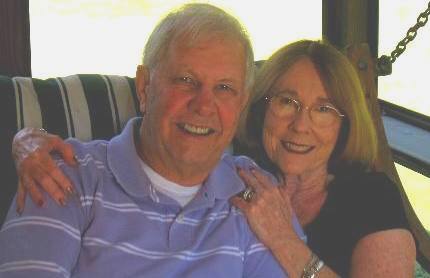 Mike & Joyce Hendrix who we are
We hope you liked this page. If you do you might be interested in some of our other Travel Adventures:
Mike & Joyce Hendrix's home page
Travel Adventures by Year ** Travel Adventures by State ** Plants ** Marine-Boats ** Geology ** Exciting Drives ** Cute Signs ** RV Subjects ** Miscellaneous Subjects
We would love to hear from you......just put "info" in the place of "FAKE" in this address: FAKE@travellogs.us
Until next time remember how good life is.