Benson, Arizona
Places Visited:
Benson, Arizona

Thursday, April 14 Gas City Travel Center (dry-camping/boondocking) Benson, Arizona--- $Free Paved truck stop parking lot N31° 57.622' W110° 20.609'.
We were traveling west on I-10 from Las Cruces, New Mexico into Benson, Arizona.
Pecan grove around Wilcox, Arizona
Around Wilcox, Arizona we started seeing pecan groves and what looked like apple orchards. We are totally amazed to see such large pecan groves out here. Water is obviously available from somewhere, presumably from deep wells. We even saw a large vineyard.
Our motorhome under repair in Benson, Arizona
There is a big/long grade in Benson. Somewhere on that long grade the temperature on the MH started to rise so I pulled off into the parking lot of a large truck stop that was handy. I was leaking coolant out the weep hole of my water pump. I called a repair shop that sent out a mechanic. It was a big job entailing more than just removing and replacing the water pump because in order to get to the water pump the mechanic had to remove the radiators (engine water, engine oil and transmission). Three hours later he had removed the water pump. The radiators needed to be cleaned so the mechanic carted them off to a radiator shop. The oil leak that I had been plagued with before leaving Pensacola had spread oil on the radiator that had attracted dirt and grime. The combination of oil, dirt and grime had clogged up much of the radiator. It was after 5PM when the mechanic returned to his shop with the radiator and water pump. We are spending the night in the truck stop. Hopefully, they can get a radiator shop to steam clean and pressure check the radiator tomorrow morning then he can start installing the water pump. We may or may not spend the night in the truck stop tomorrow night. It all depends.

We were in no hurry this morning since the water pump and radiator was out of the MH. We certainly weren't going anywhere until they were reinstalled. They were not able to deliver the radiator to the radiator shop until this morning and they were busy. It will not be ready today-----possibly tomorrow. With that information we decided to take the opportunity to visit Tombstone, Arizona then have lunch with virtual friends who are going to meet us here in Benson.
Our mechanic's workshop in Benson, Arizona
This is our mechanic's workshop in Benson. Ask me if I have a good feeling!
We checked with the mechanic this morning and found that the radiator shop would not have my radiator until late this afternoon probably 5:00 or around that time. They would pick up the radiator in the morning and start putting us back together. Ya gotta love these small towns and small town shops that run on their own time. To say that we are at their mercy would be an understatement.
Before we got off on our daily sightseeing adventure our phone rang and virtual friend Wayne McKenzie called to find out where we were. Wayne and I have been communicating for a few weeks since we both knew we were going to be in the same general area. In our communications we determined that our paths would cross somewhere between Balmorhea, Texas and Tucson, Arizona around April 12 to 15. Wayne and his wife Rita's plans had them heading east across southern Arizona into Texas while our plans had us heading west across the same path.
When we checked with the mechanic this morning one of their guys was driving to Tucson to pick up the radiator. I thought the radiator was being repaired locally, my bad, they had to take it to Tucson. The radiator shop is 50-miles from here. Wow! The mechanic working on our motorhome also runs a BIG wrecker. They had a job yesterday to deliver a broken down, brand new, MCI executive bus/coach. They were going to pick it up on the side of I-10 and deliver it to a shop in San Diego 455-miles away. I was at the repair shop when the mechanic was climbing in the huge wrecker to go get the bus. The mechanic delivered that bus to San Diego and started back before he got tired and pulled over near Yuma to sleep. He arrived back in Benson this afternoon and started working on the motorhome around 1:00. Another mechanic came to help and they had the motorhome back together by 5:00. However, we couldn't start the engine because the silicon sealer used to install the water pump needs to cure for 24-hours. We will be spending another night in the Gas City Travel Center parking lot with the big 18-wheelers.
It has been an interesting few days. The huge parking area is virtually empty during the day. Then about sunset the big rigs start piling in continuously for 3 or 4 hours. It has been interesting to see the loads these trucks are carrying up and down the highway.
Monster tires spending the night with us in the Benson Truck Stop
Several were hauling monster tires for specialized machinery. A number of oversize loads have spent the night with their escort party.
Huge 18-wheeler next to us in the truck stop parking lot
Some of these big rigs try to see how close to us they can get to our motorhome. They are doing what they have to do and that is get some much needed sleep before continuing their journey.
Reb's Cafey in Benson, Arizona
When Wayne called this morning we told him we were in the Gas City Travel Center parking lot at exit 302. He was leaving the Phoenix area so we scheduled to meet and have lunch. A bit before noon Wayne and Rita pulled into the parking lot next to us and it was like meeting old friends. Before long we were headed to exit 303 and Reb's Restaurant where we had a delightful lunch with great conversation.
Wayne & Rita happen to be birders or at least they enjoy looking for the different varieties along the way. Wayne shared with us some special places near here. One of them just happened to be very near a nature preserve we were going to visit in Patagonia. It was in someone's back yard of all places. Later this afternoon Joyce and I stopped and spent several hours in this amazing back yard in Patagonia, Arizona.
We have met so many of our virtual friends on this trip and it has been great. I know that when Joyce and I visit Vancouver Island, British Columbia we will have friends and guides to make our stay enjoyable.
A visit to Tombstone, Arizona:
Tombstone was not what we expected. Most old silver mining towns are located in rugged volcanic mountains…… like Silverton, Colorado or Deadwood, South Dakota or Silver City, New Mexico. Tombstone is conspicuously not in the lofty peaks of some mountain range.
OK Corral in downtown Tombstone, Arizona
Tombstone is a tourist destination par-excellence. From the looks of it everything in town was related to tourism. We stopped by the OK Corral where Doc Holliday, Wyatt Earp and others had the shoot out at OK Corral. We even stopped by Boot Hill. The city has done a good job preserving Boot Hill. The town itself does a good job of presenting and preserving history.
Sunset at at Border Patrol Checkpoint near Tombstone, Arizona
Sunset at at Border Patrol Checkpoint not far out of Tombstone. It just doesn't get any better than this.
We had a good day even if we aren't getting closer to California. Tombstone, Bisbee and Ramsey Canyon were things on our list of things to see and do someday. We just did not have plans to do them on this trip.
Until next time remember how good life is.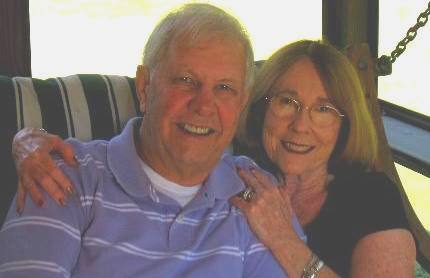 Mike & Joyce Hendrix who we are
We hope you liked this page. If you do you might be interested in some of our other Travel Adventures:
Mike & Joyce Hendrix's home page
Travel Adventures by Year ** Travel Adventures by State ** Plants ** Marine-Boats ** Geology ** Exciting Drives ** Cute Signs ** RV Subjects ** Miscellaneous Subjects
We would love to hear from you......just put "info" in the place of "FAKE" in this address: FAKE@travellogs.us
Until next time remember how good life is.