Patagonia, Arizona
Places Visited:
Patagonia, Arizona

Wednesday, April 13 Gas City Travel Center (dry-camping/boondocking) Benson, Arizona--- $Free Paved truck stop parking lot N31° 57.622' W110° 20.609'.
After having lunch with Wayne McKenzie and his wife we headed off to visit a birding hot spot in Patagonia, Arizona. The drive on Arizona 82 from Huachuca City to Nogales through the small communities of Sonoita and Patagonia is supposed to be a scenic drive according to some publications that print books on Scenic Drives. We did not find it to be anything special. Not bad but nothing special. There was no wildlife although there were signs every few miles cautioning about the wildlife. There wasn't any road kill either and that is generally a good indicator of how thick wildlife in the area is.
Beautiful front yard planting in the town of Patagonia, Arizona
Someone's front yard in Patagonia.
From downtown Patagonia signs led us to the preserve and the house Wayne had told us about. The people live adjacent to the preserve and have 9-humming bird feeders in their back yard in addition to feeding stations with oranges slices and several more feeders with different kinds of seeds. A water source was also available as was a large brush pile. It is totally amazing the huge variety of birds in this back yard.
Joyce and I were not at all sure about walking around in someone's back yard with a pair of binoculars. Our skepticism was unfounded. The place was easy to find by the cars parked on the street. We spoke with a birding couple who were returning to their automobile and they assured us that crowds in the back yard were normal. Normal is right. The nice people have seats to rest in under a large vinyl canopy that provided shade. The observation area was dynamic with from 10 to 20 people there most of the time with lots of turnover.
As is normal with birders they share information readily with the more experienced birders helping others identify the birds. There was such a variety of birds that different species were often identified by individuals from different areas of North America. Scotts Orioles, acorn woodpeckers and purple finches dined at the fruit stations. Goldfinches and purple finches dined on the sock of thistle seed. The seed feeders were frequented by cardinals, finches, phyrrhuloxia, lazudi bunting, white wing dove, morning dove, gambrels quail and white capped sparrows. White capped sparrows, curved bill thrasher and gambrels quail darted in and out of the brush pile. A covey of Gambrels quail scratched around under some huge cottonwood trees in the area. The male Gambrels are so beautiful but so are the hummingbirds. A vermillion flycatcher entertained from nearby trees. A wide variety of hummingbirds flitted from feeder to feeder. Thankfully, individuals were naming the hummingbirds at each feeder. Females are much harder to identify than the males. A Gila woodpecker stopped by one of the humming bird feeders and drank his fill. Everyone in attendance was surprised but we all saw it. The male broad-billed humming bird was the most colorful hummer at the feeders today eclipsing the black chinned, Costa's, and violet crowned hummers at least in my opinion.
Roadcut along Harshaw Creek Road south of Patagonia heading toward Harshaw, Arizona
Before leaving Patagonia we took a drive down Harshaw Creek Road toward the community of Harshaw south of Patagonia. The drive took us along a beautiful canyon with awesome road cuts. The geology through the canyon is much like the volcanic mixture we saw in the roadcut near McDonald Observatory out of Ft Davis, Texas.
Harshaw Creek Road south of Patagonia heading toward Harshaw, Arizona
We stopped at the end of the paved road and headed back. Harshaw Creek Road had a number of very nice boondocking areas and RV's were camping in many. In one nice area there were 4 or 5 motorhomes tucked away under some huge sycamore trees next to a steep canyon wall. All we could think of is how nice it must be to be sharing that experience with good friends.
In stark contrast to our scenic drive yesterday we only saw two Border Patrol vehicles and no Highway Patrol & Sheriffs on our ride today. Although probably 80-miles of our drive was parallel to the Mexican border only west of where we were yesterday. The major difference that we could see was the absence of the "Minutemen or Militia". We saw one of those Border Patrol vehicles on the road along Harshaw Creek.

Until next time remember how good life is.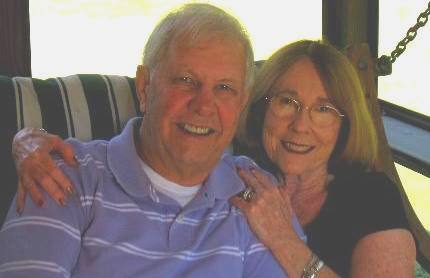 Mike & Joyce Hendrix who we are
We hope you liked this page. If you do you might be interested in some of our other Travel Adventures:
Mike & Joyce Hendrix's home page
Travel Adventures by Year ** Travel Adventures by State ** Plants ** Marine-Boats ** Geology ** Exciting Drives ** Cute Signs ** RV Subjects ** Miscellaneous Subjects
We would love to hear from you......just put "info" in the place of "FAKE" in this address: FAKE@travellogs.us
Until next time remember how good life is.