Colorado: Cortez, Durango, Silverton, Telluride
Places Visited: Colorado: Cortez, Durango, Silverton, Telluride.
Sunday, July 1, 2001 Sundance RV-Park, Downtown Cortez, Colorado, 970-565-0997 Elevation 6,200'
We slept late, went to church, ate out then visited with several couples in the RV-Park. Church was interesting. As so many churches are doing these days this church has instituted a section of praise songs. Several senior citizens were in charge of this music. It was so spirited that one of their cronies started his snoring early. A recommendation may be to try and find someone that does not remember the "BIG WAR" to lead the praise songs.
We drove to a strategic overlook to view the sunset. It was pretty but nothing to compare to the one we saw on the dinner cruise at Lake Powell.
Monday, July 2, 2001 Sundance RV-Park, Downtown Cortez, Colorado, 970-565-0997 Elevation 6,200'
Sleeping late is becoming a habit. We drove 48-miles to Durango, Colorado and spent the day "shopping". Durango is a tourist town. Everything is more expensive than the other towns around it. This is the town that infuriated many RV'ers when they passed a law banning RV's from overnighting in the Wal-Mart parking lot. Now that we have been there the Wal-Mart issue becomes trite. There is NO place to park in the city that is not metered or $7.00 per day. To ride the train (their biggest attraction) you have to park in a $7.00 per day lot. Others told us that the Durango RV-Parks were 50% higher than similar parks in Cortez where we are staying. Other than the parking situation they do have a good variety of shopping opportunities for those so inclined. From what I saw it would not surprise me if the city fathers constructed a tollbooth and charged admission to the town. In my opinion Durango is a place that could be avoided. Our next time through the area we will avoid it. We already have tickets for the Narrow Gauge train ride for Thursday or we would not be going back.
We attended a Native American Dance demonstration at the Cultural Center. Many communities have these "cultural" things that they do in their city park. Both of us enjoyed the demonstration, as did several hundred others.
Tuesday, July 3, 2001 Sundance RV-Park, Downtown Cortez, Colorado, 970-565-0997 Elevation 6,200'
We slept late AGAIN then headed to Telluride 75-miles north of Cortez on highway 145. This was an extremely scenic drive. Elevation in Cortez is 6,200' Telluride is 8,745' but it is on the other side of 10,222' Lizard Head Pass.
Highway, 145 that we were driving today used to be a railroad track and right-of-way. The track was removed in 1952 and is now highway 145 one of the most spectacular scenic drives in North America. Along the way we spot an old watering tower lift over from the days steam engines used to be the only way to traverse this valley.
Just 10-miles north of Cortez is Delores elevation 6,900 all along the way to Delores we pass irrigated fields of hay. Next is the town of Stoner 7,480' the hay fields are giving way to herds of cattle and we are in a broad valley. Stoner has a nice RV-park and several nice restaurants. Next comes Rico at 8,827'. Rico is Spanish for "rich". Rico's wealth was in its lead, zinc and silver mines. We are following the Delores River as we head up the valley. The climb to Lizard Head Pass has gentle curves with no switchbacks. The grades are as gentle as they are unremitting. The valley all along the route is filled with lush vegetation. In the early 1900's the railroad would haul thousands of cattle up the mountain in spring and back down in the fall, old loading pens are still visible along the road. Even today the area is "open range". Around Lizard Head Pass we see a large flock of sheep (a thousand or more) being tended by a Basque Shepard. What a unique story behind those guys who do not speak English. They come over from the Basque region of Spain, where they are Shepards, on contract for two years. They spend their entire contract time on the mountainsides with the sheep. We looked for his little covered wagon that transports his cooking gear and other belongings but it was no-where in sight. The mountainside they were grazing on was so steep that anything with wheels would not have fared well. Just over Lizard Head Pass is Trout Lake with an assortment of cottages around it.
Telluride, the mining town of the late 1800's, has transformed itself into one of Colorado's most spectacular ski resorts. The views are spectacular. From downtown, on the 3rd of July, we can see a large waterfall coming from the snow pack on the mountain at the end of Main Street.
This is probably one of the most beautiful places we will ever see. Telluride is situated in a box canyon surrounded by 14,000-foot peaks of the San Juan Mountains. Extensive Victorian architecture sets the town apart.
Telluride is an area of paradoxes. There is the "old" historical town of Telluride that is fashionably expensive. Then across the mountain is Telluride Mountain Village, truly another world. Telluride Mountain Village is the essence of posh. It separates Dallas aristocrats from the backwoods boors back in "old-historic" Telluride. Movie stars, Tom Cruise, Opra Winfrey, Sylvester Stallone and Christy Brinkley have homes in the area. I don't know what the land cost but the houses, excuse me, "25,000 sq. ft. Chalets" were mega-multi-million. A free high-speed gondola transports passengers high over Gold Mountain connecting the two communities.
"Old-historic" Telluride has a population of modern day hippies with all their accoutrements, déjà vu early 70's in San Francisco. They are a coterie of boys and girls, each with a big dog. None wash their hair and all seem to be vying for a grungiest award. They do not work, they just hang out with their dogs in public places. Abhorrence of washing machines appears to be a core-value. Then there are the ones with blue and orange hair. I often wonder if they grow up to be senior citizens that dye their hair that "sick-yellow" color.
Other than the hippies, Old historic Telluride is a fashionable high-end tourist destination. 1890's buildings are still evident among the posh surroundings. Several ski lifts operate from downtown. Other ski lifts were over the mountain at Telluride Mountain Village and Resort. The resort had many lifts taking bikers to the top for awesome down hill runs.
We shared a gondola ride with a nanny and her three charges. They were from Dallas. The nanny and children were staying in "old-historic" Telluride for the month of July. They were taking the gondola over to Mountain Village Resort for pizza. It is a tough life but someone has to do it, right?
The temperature in Telluride must have been in the 70's at most. Then after an afternoon shower it dropped into the 50's. How is that for a prelude to the 4th of July?
Wednesday, July 4, 2001 Sundance RV-Park, Downtown Cortez, Colorado, 970-565-0997 Elevation 6,200'
Today is a day to reflect on our nations history and rest up for our train ride tomorrow. The RV-Park we are staying in sponsored a cook out just before the big fireworks show. We are located across the street from City Park where the fireworks show took place so we had ringside seats to the fireworks.
Thursday, July 5, 2001 Sundance RV-Park, Downtown Cortez, Colorado, 970-565-0997 Elevation 6,200'
We got up early and headed to Durango to catch the bus to Silverton where we are scheduled to ride the 2:00pm train (Durango & Silverton Narrow Gauge Railroad) back to Durango. The bus ride from Durango to Silverton was a scenic drive going over two mountain passes in excess of 10,000' before dropping into Silverton at 9,400'. The ride takes you through several plant/life zones. These zones contain distinctive assemblages of plants and animals that have achieved a balance between local climate and elevation. Major species of trees delineate zonal boundaries; these boundaries are not sharp but merge and overlap each other. Within each life zone, various ecosystems comprise specific biological differences. Each ecosystem attracts and supports a distinct variety of plants and animals. Commonly, the north-facing slope of a valley supports a different ecosystem from that found on an opposite south-facing slope. Along the way our driver explained how the value of property changes with the amount of snowfall each year. Just a few miles north of Durango, and before you get to Purgatory Ski Resort they start getting in excess of 25' of snow each year. Our driver recommended prospective property buyers check snowfall averages prior to purchase, unless of course the prospective buyer liked to shovel snow. On the other hand, if the prospective purchaser loathes yard work he might like to try Silverton where they have an 8-day growing season (frost free days). Rhubarb is the vegetable of choice. The train and road do not follow the same route. The train follows the Animas River from Silverton all the way to Durango. The highway follows a route a mountain or so to the west.
I am intrigued with how the loaded and fully air-conditioned bus is able to climb these steep passes with relative ease. The driver tells me that he carries 55-gallons of water that he uses to fog/mist the radiator on the hard climbs. None of my internet friends or mechanics has mentioned this ingenious device. The driver said that it enabled him to keep the petal to the metal; all he had to do was flip a switch activating a high-pressure pump that sprayed water on the radiator.
Silverton is an authentic Victorian-era mining town. Many buildings still in use on Main Street were constructed in the 1870's to 1890's with others in the early 1900's. Main Street was paved, none of the others were.
Friday, July 6, 2001 Sundance RV-Park, Downtown Cortez, Colorado, 970-565-0997 Elevation 6,200'
After hitting it so hard yesterday we had to take today off. Joyce mentioned that there just might be such a thing as "too much fun".
Mike & Joyce Hendrix
Until next time remember how good life is.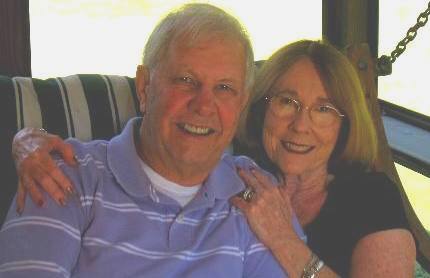 Mike & Joyce Hendrix who we are
We hope you liked this page. If you do you might be interested in some of our other Travel Adventures:
Mike & Joyce Hendrix's home page
Travel Adventures by Year ** Travel Adventures by State ** Plants ** Marine-Boats ** Geology ** Exciting Drives ** Cute Signs ** RV Subjects ** Miscellaneous Subjects
We would love to hear from you......just put "info" in the place of "FAKE" in this address: FAKE@travellogs.us
Until next time remember how good life is.